It's never too late!
2018-10-15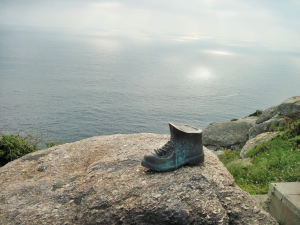 English  |  Español  |  Français  |  日本語訳
It's never too late!
Our human tendency is to set expectations for ourselves, resisting the creativity of the Holy Spirit within us. We want to know how and when things will take their course. When life does not go as we wish, we believe that God is not really listening to us. Some people think it is too late to explore new ways because they are too old.
Let us imagine what it meant to a 49-year-old woman to leave everything behind. When Philippine entered the Order of the Visitation in Grenoble, France, at the age of 18, she could not imagine the French Revolution that would force her to leave only five years later. She waited for nine years to return to her monastic life, and then for three years, she tried to reorganize the Order in Grenoble, with little success. Then, at the age of 35, she met Madeleine Sophie Barat, joining her with the Society of the Sacred Heart. This encounter gave her new goals and perspectives. Once again, she was able to leave everything behind. It was not until she was 48 years old that Philippine sailed to America, responding to her missionary call.
What did Philippine need to take these difficult decisions? Openness, faith, courage, patience, and strong inner freedom. She did not compare herself with others or her contemporaries in terms of how she evaluated her life or what she had achieved in her life so far. Instead, through constant prayer, with persistence in the presence of God, her deep desires were satisfied. The fire of the Heart of Jesus, the love and acceptance of her lived reality, gave her strength to endure.
Lord Jesus, create in us inner freedom, space where we can accept our reality with love. Open our hearts to listen to your Spirit, alive in our hearts and in our world.
Erika Tornya, RSCJ, Province of Central Europe, Hungary
Image: Erika Tornya, RSCJ
¡Nunca es demasiado tarde!
Nuestra tendencia humana es establecer expectativas para nosotras mismas, resistiendo a la creatividad del Espíritu Santo dentro de nosotras. Queremos saber cómo y cuándo las cosas tomarán su curso. Cuando la vida no sale como deseamos, creemos que Dios no nos está escuchando realmente. Algunas personas piensan que es demasiado tarde para explorar nuevos caminos porque son demasiado ancianas.
Imaginemos lo que significó para una mujer de 49 años dejar todo a sus espaldas. Cuando Filipina entró en la Orden de la Visitación en Grenoble, Francia, a la edad de 18 años, no podía imaginar la Revolución Francesa que la obligaría a partir sólo cinco años más tarde. Ella esperó nueve años para volver a su vida monástica y luego, durante tres años, trató de reorganizar la Orden en Grenoble, con poco éxito. Después, a la edad de 35 años, conoció a Magdalena Sofía Barat, uniéndose a la Sociedad del Sagrado Corazón. Este encuentro le dio nuevos objetivos y perspectivas. Una vez más, ella fue capaz de dejar todo. Y tuvo que esperar hasta los 48 años para navegar hacia América, respondiendo a su llamada misionera.
¿Qué necesitaba Filipina para tomar estas difíciles decisiones? Apertura, fe, valentía, paciencia y fuerte libertad interior. Ella no se comparó con otros ni con sus contemporáneos en evaluar su vida o en los logros conseguidos. En cambio, a través de la oración constante, con persistencia en la presencia de Dios, sus deseos profundos fueron satisfechos. El fuego del Corazón de Jesús, el amor y la aceptación de su realidad vivida, le dieron fuerzas para soportar.
Señor Jesús, crea en nosotras la libertad interior, un espacio donde podamos aceptar nuestra realidad con amor. Abre nuestros corazones para escuchar a tu Espíritu, vivo en nuestros corazones y en nuestro mundo.
Erika Tornya, RSCJ, Provincia de Centro Europa, Hungría
Imagen: Erika Tornya, RSCJ
Il n'est jamais trop tard !
En tant qu'êtres humains, nous avons tendance à nous imposer diverses exigences, nous opposant ainsi à la créativité de l'Esprit Saint qui est en nous. Nous voulons savoir quand et comment les choses suivront leur cours. Lorsque la vie ne va pas comme nous le souhaiterions, nous croyons que Dieu ne nous écoute pas vraiment. Certaines personnes pensent qu'il est trop tard pour explorer de nouveaux chemins car elles sont trop âgées.
Tentons d'imaginer ce que signifiait pour une femme de 49 ans tout laisser derrière elle. Lorsque Philippine entra dans l'Ordre de la Visitation à Grenoble (France), à l'âge de 18 ans, elle ne s'imaginait pas que la Révolution française la forcerait à s'en aller cinq ans plus tard. Elle attendit neuf ans pour retourner à sa vie monastique puis tenta, pendant trois ans, de réorganiser l'Ordre de Grenoble, sans grand succès. Puis, à l'âge de 35 ans, elle rencontra Madeleine Sophie Barat et entra dans la Société du Sacré-Cœur. Cette rencontre lui permit de se fixer de nouveaux objectifs et lui ouvrit de nouvelles perspectives. Une fois de plus, elle laissa tout derrière elle. Ce n'est qu'à l'âge de 48 ans que Philippine navigua vers l'Amérique, répondant ainsi à l'appel de la mission.
De quoi Philippine avait-elle besoin pour prendre ces décisions difficiles ? D'ouverture, de la foi, de courage, de patience et d'une forte liberté intérieure. Elle ne se comparait ni aux autres ni à ses contemporains lorsqu'elle évaluait sa vie ou ce qu'elle avait accompli jusque-là. À travers la prière constante, avec persévérance et en présence de Dieu, ses désirs profonds furent satisfaits. Le feu du Cœur de Jésus ainsi que l'amour et l'acceptation de sa réalité vécue lui ont donné la force de résister.
Seigneur Jésus, crée en nous la liberté intérieure, l'espace où nous pouvons accepter notre réalité avec amour. Ouvre nos cœurs pour écouter ton Esprit, qui vit dans nos cœurs et dans notre monde.
Erika Tornya, RSCJ, Province de Centre Europe, Hongrie
Image:  Erika Tornya, RSCJ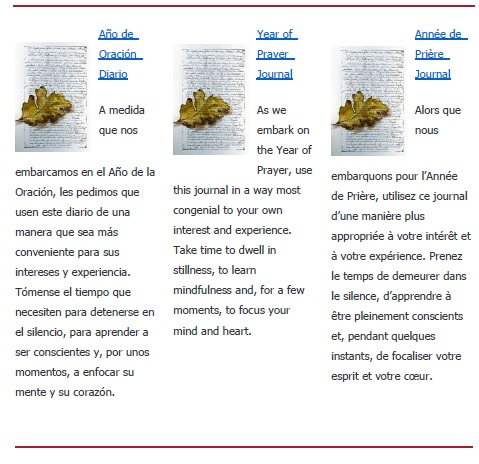 If you received this message from a friend and would like to receive our messages directly in the future, please sign up on our website.
Has your contact information changed recently? Update your full contact information and your mailing preferences.


Society of the Sacred Heart
4120 Forest Park Avenue, Saint Louis, MO 63108