Our Timeless Source of Inspiration
2018-09-24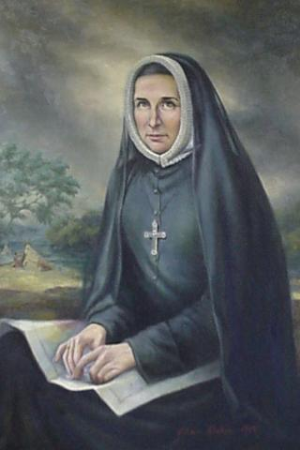 English  |  Español  |  Français  |  日本語訳
Our Timeless Source of Inspiration
 
The map held by St. Rose Philippine Duchesne could not suffice; she needed the guidance of the Spirit. The Spirit led our dear Philippine to the unknown and to becoming our pioneer missionary to the Americas. This was the beginning of the outward movement of our little Society, the spread of her mission to many other lands, including Africa.
Her courage in crossing ever-new frontiers remains overwhelming! Philippine looks straight into our eyes, inviting us to respond to God's callings in our world today, troubled yet rich in God's graces. By her example, she reminds us that a journey marked by faith is never straight. Some days may be green and others grey, cloudy, sooty and unbearable.
Against all odds we face today, for example, wars, terrorism, the immigration crisis, climate change and its threat to human life, Philippine challenges us to dare not give up but to persevere until our dreams come to fruition. She is a voice whispering to us, sharing her impeccable admirable spirit, calling us to live more humanly, united as one body.
May we set out, fearlessly, with our sails raised high, guided by God's map, with Jesus Christ on our Rebecca. Ours is a journey of faith, mapped out as we navigate our own high seas to reach new frontiers, where human life is being threatened and needs to be defended. We look upon you, Philippine, to intercede for us, to have the same zeal for prayer and readiness to set out, and to set sail as a whole family of the Sacred Heart to new frontiers that beckon in our hearts.
Betty Susan Nankya Nsanja, RSCJ, Province of Uganda – Kenya
Image: Glenn Bahm
Nuestra fuente eterna de inspiración
El mapa que Santa Rosa Filipina Duchesne poseía, no bastaba; necesitaba la guía del Espíritu. El Espíritu llevó a nuestra querida Filipina a lo desconocido y a convertirse en nuestra misionera pionera en las Américas. Este fue el principio del movimiento de salida de nuestra pequeña Sociedad, para extender su misión a muchas otras tierras, incluso a África.
¡Su valentía en el cruzar fronteras siempre nuevas, sigue siendo incontenible! Filipina nos mira directamente a los ojos, invitándonos a responder a las llamadas de Dios en nuestro mundo turbulento, pero rico de la gracia de Dios. Con su ejemplo, nos recuerda que un camino marcado por la fe, nunca es recto. Algunos días pueden ser verdes y otros grises, nublados, tiznados e insoportables.
Hay muchas situaciones a las que hoy nos enfrentamos, como por ejemplo las guerras, el terrorismo, la crisis de inmigración, el cambio climático y su amenaza a la vida humana. Filipina nos desafía a no atrevernos a renunciar, sino a perseverar hasta que nuestros sueños den frutos. Ella es una voz que susurra en nuestros oídos y que comparte su impecable espíritu admirable, llamándonos a vivir más humanamente, unidas como un solo cuerpo.
Que salgamos sin temor con nuestras velas alzadas, guiadas por el mapa de Dios, con Jesucristo en nuestro Rebeca. El nuestro es un camino de fe, trazado mientras navegamos nuestra alta mar para alcanzar nuevas fronteras donde la vida humana viene amenazada y necesita que la defendamos. Contamos contigo, Filipina, para que intercedas por nosotras, para que tengamos el mismo celo por la oración y la destreza a salir y zarpar, como una única familia del Sagrado Corazón, hacia nuevas fronteras atraídas por nuestros corazones.
Betty Susan Nankya Nsanja, RSCJ, Province d'Ouganda – Kenya 
Imagen: Glenn Bahm
Notre source d'inspiration intemporelle
La carte que possédait Ste Rose Philippine Duchesne ne pouvait suffire ; elle avait besoin des conseils de l'Esprit. L'Esprit a conduit notre chère Philippine vers l'inconnu et lui a permis de devenir notre missionnaire pionnière aux Amériques. Cela marquait le début du mouvement extérieur de notre petite Société, pour étendre sa mission à de nombreuses autres terres, y compris l'Afrique.
Le courage avec lequel elle a traversé de nouvelles frontières est impressionnant ! Philippine nous regarde droit dans les yeux, nous invitant à répondre aux appels de Dieu dans notre monde actuellement si troublé, néanmoins riche en grâces de Dieu. Son exemple nous rappelle qu'un voyage marqué par la foi n'est jamais direct. Certains jours peuvent être verts et d'autres gris, nuageux, aussi noirs que la suie et insupportables.
Envers et contre tout nous faisons face aujourd'hui, par exemple, aux guerres, au terrorisme, à la crise de l'immigration, au changement climatique et à sa menace pour la vie humaine. Philippine nous met au défi de ne pas renoncer et de persévérer jusqu'à ce que nos rêves se réalisent. Elle est la voix qui murmure à nos oreilles, partageant son irréprochable et admirable esprit, nous appelant à vivre plus humainement, unies comme un seul corps.
Puissions-nous naviguer sans crainte, en hissant bien haut nos voiles, guidées par la carte de Dieu et avec Jésus-Christ dans notre Rebecca. Notre voyage est un chemin de foi que nous traçons en naviguant en haute mer, pour atteindre de nouvelles frontières où la vie humaine est menacée et doit être défendue. Nous te comptons sur toi, Philippine, afin que tu intercèdes pour nous, afin que nous ayons le même zèle pour la prière et la volonté de partir, de naviguer comme la famille tout entière du Sacré-Cœur vers de nouvelles frontières qui attirent nos cœurs.
Betty Susan Nankya Nsanja, RSCJ, Province d'Ouganda – Kenya 
Image : Glenn Bahm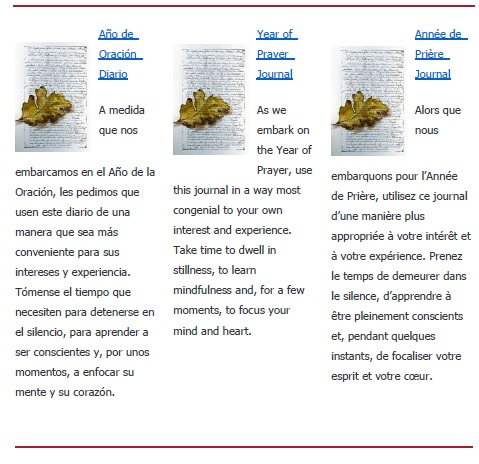 If you received this message from a friend and would like to receive our messages directly in the future, please sign up on our website.
Has your contact information changed recently? Update your full contact information and your mailing preferences.


Society of the Sacred Heart
4120 Forest Park Avenue, Saint Louis, MO 63108