Prayer to St. Philippine from Soboba Indian Reservation
2018-08-27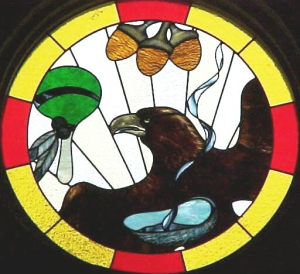 English  |  Español  |  Français  |  日本語訳
Prayer to St. Philippine from Soboba Indian Reservation
O holy woman, who prays always, we honor you
You are like Eagle, soaring high to Creator
Your prayer is like sweet-smelling smoke of sage and cedar
Your presence with us is acorn meal, feeding our spirits and drawing us to Grandfather
O holy woman, who prays always, we thank you
You brought your Society to us long years ago
Your sisters are with us even now, in your name
Your love and prayer help us walk the Red Road
O holy woman, who prays always, we ask your blessing
Bless us, your Indian children, and stay with us always
Bless our land, Mother Earth, given by Creator
Bless all people who walk on Mother Earth. May we live together in peace.
Amen, Aho!
Legend:
Window in St. Joseph Mission Church
Soboba Indian Reservation
The Eagle is Sacred—the carrier of our prayers to God.
The Smoke from the sage represents our prayers arising.
The Acorns symbolize the meal we celebrate, and
The Gourd-rattle is the music of our songs to God.
Marianna Torrano, RSCJ, Province of the United States – Canada
Oración de la reserva indígena de Soboba por Santa Filipina
O mujer santa, que reza siempre, te honramos  
Eres como un águila, que vuela alto hasta el Creador
Tu oración es como un humo con olor dulce a salvia y cedro
Tu presencia entre nosotros es como harina de bellota, que alimenta nuestro espíritu y nos guía hasta el Abuelo.
O mujer santa, que reza siempre, te damos las gracias
Trajiste tu Sociedad hacia nosotras hace muchos años
Tus hermanas están todavía con nosotras, en tu nombre
Tu amor y oración nos ayudan a caminar por la Vía Roja.
O mujer santa, que reza siempre, te pedimos tu bendición
Bendícenos, a tus hijos indios, y permanece siempre con nosotros
Bendice nuestra tierra, Madre de la Tierra, dada por el Creador
Bendice a todas las personas que caminan por la Madre Tierra. Que podamos vivir todos juntos en Paz.
Amén, Aho!
Leyenda:
Vitrina de la Iglesia Misionaria de San José
Reserva indígena de Soboba
El Águila es sagrada—la que lleva nuestras plegarias a Dios.
El Humo de la salvia representa nuestras plegarias elevándose.
Las Bellotas simbolizan la comida que celebramos, y
El Sonajero de Calabaza es la melodía de nuestras canciones a Dios.
Marianna Torrano, RSCJ, Provincia de los Estados Unidos – Canadá
Prière de la Réserve indienne de Soboba à Ste Philippine
Ô sainte femme, qui prie toujours, nous te louons
Tu es comme un aigle, qui vole haut dans le ciel jusqu'au Créateur,
Ta prière est comme la douce odeur de la fumée de sauge et de cèdre
Ta présence parmi nous est un plat de glands, qui nourrit nos esprits et nous mène au Grand-père
Ô sainte femme, qui prie toujours, nous te remercions
Tu nous as apporté la Société il y a bien des années
Tes sœurs sont encore avec nous aujourd'hui, en ton nom
Ton amour et ta prière nous aident à marcher sur la Route Rouge
Ô sainte femme, qui prie toujours, nous demandons ta bénéndiction
Bénis-nous, tes enfants indiens, et demeure avec nous pour toujours
Bénis notre terre, la Terre Mère, donnée par le Créateur,
Bénis notre peuple qui marche sur la Terre Mère. Puissions-nous vivre ensemble en paix.
Amen, Aho!
Légende :
Vitrail de l'Église de la Mission de St Joseph
Réserve indienne de Soboba
L'Aigle est sacré—porteur de nos prières à Dieu.
La Fumée de la sauge représente nos prières qui s'élèvent.
Les Glands symbolisent le repas que nous célébrons, et
Le Hochet de Calebasse est la musique de nos chants pour Dieu.
Marianna Torrano, RSCJ, Province des États-Unis – Canadá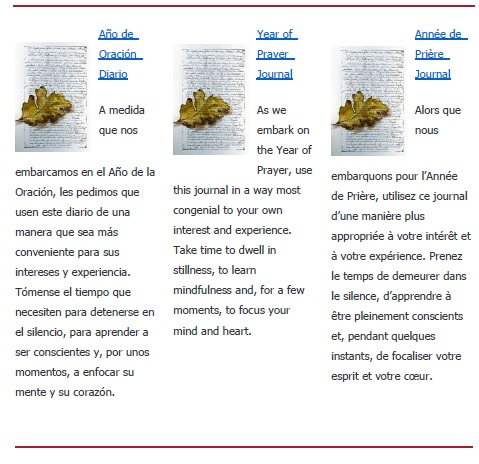 If you received this message from a friend and would like to receive our messages directly in the future, please sign up on our website.
Has your contact information changed recently? Update your full contact information and your mailing preferences.


Society of the Sacred Heart
4120 Forest Park Avenue, Saint Louis, MO 63108