Lights on Philippine Duchesne
2018-06-25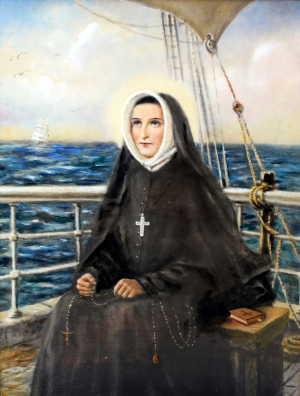 English  |  Español  |  Français | 日本語
Lights on Philippine Duchesne 
 
Appeal to the Young. Some years ago, two boys aged about twelve came to our house to ask for help with their school project on religious life. We told them a few facts about our Society and gave them some booklets and pictures. A short time later, we were invited to their exhibition. On entering the hall, our attention was drawn immediately to a six-foot high poster of Philippine sitting on the deck of the Rebecca, and in their presentation, the boys made clear by their enthusiasm that Philippine was just the kind of religious they could understand and admire. Her daring, dedication and her selfless loving had captured their imagination. I learned from children that day a new appreciation for the gift to the Society of Philippine Duchesne.
Social Justice. In 1988, I had the privilege of making a pilgrimage organised by our French sisters. We visited the great house in Grenoble where the Duchesne and Perier families grew up, Philippine's beloved Ste Marie d'En-Haut, and the Grande Chartreuse high in the majestic Alps. But the place that left the strongest impression on me was the Chateau de Vizille. In 1988, many banners around Vizille proclaimed it "Le Berceau de la Révolution!" ("The Cradle of the Revolution"). On display was the Charter of Human Rights, drawn up there in 1788, a document which triggered the Revolution and was partly the work of Philippine's Uncle Claude. How much did Philippine hear of the political discussions going on around her? How did this affect her championship of the poor and the oppressed? For me, Vizille opened another window into the mind and heart of Philippine.
The Pioneer. The third memorable moment was my visit to Florissant on a bitterly cold March day. As I shivered in the spacious dormitory, my companion spoke to me about life in the boarding school in Philippine's time. She assured me that things would have been even more austere then. As she spoke, I imagined Philippine walking around at night, trying to bring comfort and warmth to the pupils, then going to break the ice on the water jugs. Sitting in that comfortless room, I felt over-awed by the sheer heroism of this valiant woman.
Moira Donnelly, RSCJ, Province of Ireland – Scotland 
Artist: Margaret Mary Nealis, RSCJ
Un nuevo enfoque sobre Filipina Duchesne
Atraer a los jóvenes. Hace algunos años, dos chicos de aproximadamente doce años, vinieron a nuestra casa para pedir nuestra ayuda con su proyecto escolar sobre la vida religiosa. Les dimos algunas informaciones sobre nuestra Sociedad y les dimos algunos folletos y fotos. Poco después, nos invitaron a su exposición. Al entrar en la sala, un poster de seis pies de alto de Filipina, sentada en la cubierta del "Rebecca", llamó inmediatamente nuestra atención y en su presentación, los chicos aclararon con su entusiasmo que Filipina era exactamente el tipo de religiosa que podían comprender y admirar. Su intrépida dedicación y su amor desinteresado capturaron su imaginación. Aquel día los niños me dieron la posibilidad de apreciar de una manera nueva el don de Filipina Duchesne a la Sociedad.
Justicia social. En 1998, tuve el privilegio de hacer un peregrinaje organizado por nuestras hermanas francesas. Visitamos la grande casa en Grenoble donde crecieron las familias Duchesne y Perier, la tan querida por Filipina Ste Marie d'En-Haut, y la grande Chartreuse en los majestuosos Alpes. Pero el lugar que más me ha impresionado ha sido el Castillo de Vizille. En 1988, muchos carteles alrededor de Vizille lo proclamaron "Le Berceau de la Révolution!" ("¡La cuna de la revolución!"). Se proyectó la Carta de los Derechos Fundamentales, elaborada ahí en 1788, un documento que dio vida a la Revolución y que fue en parte trabajo del tío de Filipina, Claude. ¿Cuánto había escuchado Filipina de las discusiones políticas que se desarrollaban a su alrededor? ¿De qué manera esto ha afectado su defensa de los pobres y de los oprimidos? Para mí, Vizille ha abierto una ventana en la mente y el corazón de Filipina.
La pionera. El tercer momento memorable fue la visita a Florissant, durante un día de marzo terriblemente frio. Mientras temblaba en el amplio dormitorio, mi compañera me contó cómo era la vida en el internado en la época de Filipina. Me explicó que en aquella época la situación hubiera sido aún más austera. Mientras hablaba, me imaginé a Filipina caminando en la noche, intentando confortar y traer calor a los alumnos, y luego rompiendo el hielo en las jarras de agua. Sentada en aquel cuarto sin comodidades, me impresionó el auténtico heroísmo de esta valiente mujer.
Moira Donnelly, RSCJ, Provincia de Irlanda – Escocia
Imagen: Margaret Mary Nealis, RSCJ
Regards sur Philippine Duchesne
Appel aux jeunes. Il y a quelques années, deux garçons âgés de douze ans environ, sont venus à la maison nous demander de l'aide pour réaliser leur projet scolaire sur la vie religieuse. Nous leur avons décrit quelques faits concernant notre Société et leur avons donné des livrets et des images. Peu de temps après, nous avons été invitées à assister à leur présentation. En entrant dans le hall, nos regards se sont immédiatement tournés vers cette affiche de près de deux mètres de haut, qui représentait Philippine assise sur le pont de la Rebecca. L'enthousiasme avec lequel ces jeunes garçons ont présenté leur exposé prouvait à quel point Philippine était le type de religieuse qu'ils pouvaient comprendre et admirer. Son audace, son dévouement et sa générosité ont stimulé leur imagination. Ce jour-là, des enfants m'ont appris à apprécier d'une nouvelle manière le don de Philippine Duchesne à la Société.
Justice sociale. En 1988, j'ai eu le privilège de participer à un pèlerinage organisé par nos sœurs françaises. Nous avons visité la grande maison de Grenoble où les familles Duchesne et Perier ont vécu, le couvent Sainte-Marie-d'En-Haut si cher à Philippine et la Grande Chartreuse située dans les majestueuses Alpes. Mais l'endroit qui m'a le plus marquée a été le Château de Vizille. En 1988, de nombreuses banderoles à travers Vizille proclamaient cet endroit comme étant « Le Berceau de la Révolution ! ». La Charte des Droits de l'Homme y était exposée. Rédigé en ce lieu en 1788, ce document a provoqué la Révolution et correspondait en partie au travail de l'oncle de Philippine, Claude. Qu'aura retenu Philippine des conversations politiques de son entourage ? À quel point cela a-t-il pu influencer son envie de soutenir les pauvres et les opprimés ? Selon moi, Vizille n'a fait qu'ouvrir une autre fenêtre dans l'esprit et le cœur de Philippine.
La Pionnière. J'ai vécu un troisième moment mémorable lorsque j'ai visité Florissant, lors d'une journée de mars extrêmement froide. Alors que je grelottais dans le vaste dortoir, mon amie me parla de la vie à l'internat aux temps de Philippine. Elle m'assura que cela devait être plus austère en ces temps-là. Pendant qu'elle me parlait, j'imaginais Philippine marcher en pleine nuit pour essayer d'apporter réconfort et chaleur aux élèves et aller rompre la glace dans les carafes d'eau. Assise dans cette chambre inconfortable, je me suis sentie subjuguée par le véritable héroïsme de cette courageuse femme.
Moira Donnelly, RSCJ, Province d'Irlande – Écosse 
Image :  Margaret Mary Nealis, RSCJ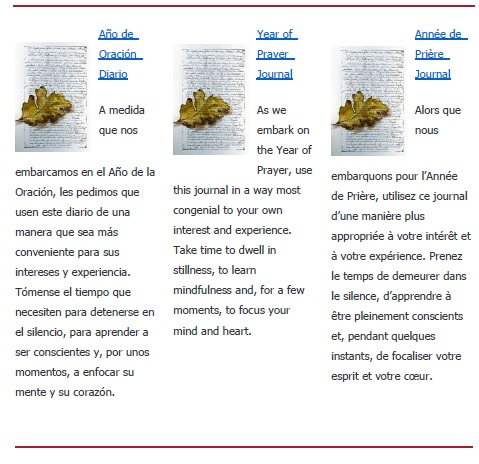 If you received this message from a friend and would like to receive our messages directly in the future, please sign up on our website.
Has your contact information changed recently? Update your full contact information and your mailing preferences.


Society of the Sacred Heart
4120 Forest Park Avenue, Saint Louis, MO 63108