Bicentennial Prayer
2018-11-12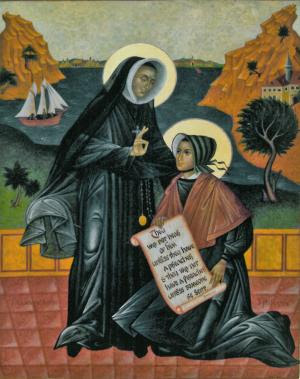 English  |  Español  |  Français  |  日本語訳
Bicentennial Prayer
Spirit of the living God, 
you first breathed over the waters of creation, 
and one day you breathed a passion
     into the heart of Philippine Duchesne.
You called her to cross the waters to a New World,
to bring the message of your compassion and love 
to a land and peoples already dear to your heart.
Not knowing the language of the land,
she spoke the language of the heart – 
         of love and prayer, 
         of attention and openness, 
         of steadfast purpose and living faith.
As the Sacred Heart family around the world,
we are the harvest of the seeds she sowed. 
            
Bless, now, our ever-new world,               
with Philippine's spirit of great-hearted courage.
Fill us with her desire to cross frontiers,        
especially those furthest from the touch of hope.            
Renew the whole Church in its missionary spirit 
     and give us Philippine's zeal 
     to spread your compassion and love to the ends of the earth.
  
We ask all this in your name, triune God,
whose love knows no borders or boundaries,
and who sends us to make known that love in the heart of the world
now and forever. Amen.
Image: Patricia Reid, RSCJ, Province of the United States – Canada
Oración del Bicentenario
Espíritu del Dios de la Vida, 
al principio, tu aliento se cernía sobre las aguas de la creación. 
Un día tu aliento sacudió el corazón de Filipina Duchesne 
con un deseo apasionado: 
La impulsabas a cruzar los mares hacia un Mundo Nuevo, 
para anunciar tu compasión y tu amor a una tierra 
y a unos pueblos ya amados por ti.
Sin conocer el idioma del país, 
habló el idioma del corazón – 
 de amor y de oración, 
 de ternura y sencillez, 
 de perseverancia y fe viva. 
La familia del Sagrado Corazón, extendida por toda la tierra, 
somos la cosecha de las semillas que ella esparció.
Bendice ahora nuestro mundo siempre nuevo 
con el espíritu valiente y magnánimo de Filipina. 
Infúndenos su deseo de cruzar fronteras, 
sobre todo, las más alejadas de la caricia de la esperanza. 
Renueva el espíritu misionero de toda la Iglesia, 
    y danos el celo de Filipina 
    para derramar tu ternura y tu amor hasta en los confines de la tierra.
Pedimos todo esto en tu Nombre, Dios Trinidad, 
cuyo amor no sabe de fronteras ni de trabas, 
tú que nos envías a manifestar este amor tuyo al corazón del mundo, 
ahora y por siempre. Amén.
Imagen: Patricia Reid, RSCJ, Provincia de los Estados Unidos – Canada
Prière du Bicentenaire
Esprit du Dieu vivant,
ton souffle planait d'abord au-dessus des eaux de la création,
puis un jour tu as insufflé une passion
dans le cœur de Philippine Duchesne.
Tu l'as encouragée à traverser les eaux vers le Nouveau Monde,
pour apporter le message de ta compassion et de ton amour
à des terres et à des peuples qui étaient déjà chers à ton cœur.
Ne connaissant pas le langage de ces terres,
Elle parla le langage du cœur – 
     celui de l'amour et de la prière,
 de l'attention et de l'ouverture d'esprit,
 de la résolution inébranlable et de la foi vivace.
La famille du Sacré-Cœur, à travers le monde,
représente la récolte des graines qu'elle a semées.
Bénis, aujourd'hui, notre monde toujours plus nouveau,
avec l'esprit courageux et généreux de Philippine.
Comble-nous de son désir de traverser les frontières,
surtout celles qui sont les plus éloignées de ce soupçon d'espoir.
Renouvelle l'esprit missionnaire de l'Église tout entière
     et donne-nous l'ardeur de Philippine
     pour répandre ta compassion et ton amour aux confins de la Terre.
Nous demandons tout cela en ton nom, Dieu Trinitaire,
dont l'amour ne connaît ni frontières ni limites,
et qui nous envoie au cœur du monde pour exprimer cet amour 
aujourd'hui et pour toujours. Amen.
Image : Patricia Reid, RSCJ, Province des États Unis – Canada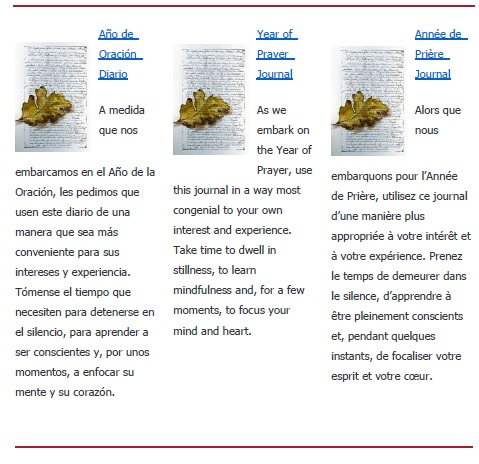 If you received this message from a friend and would like to receive our messages directly in the future, please sign up on our website.
Has your contact information changed recently? Update your full contact information and your mailing preferences.


Society of the Sacred Heart
4120 Forest Park Avenue, Saint Louis, MO 63108