Oak Leaves
2018-10-08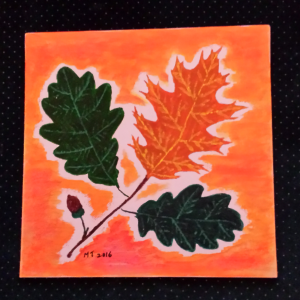 Oak Leaves
Philippine's surname, Duchesne, means "of oak." For this reason we have always associated Philippine with the oak tree – the white oak that has leaves with rounded lobes. Another major species is the red oak with leaves with pointed lobes. Last year, the cabin in which I made my retreat was surrounded by white and red oaks. This cabin was also built by an aboriginal man. In this environment, while pondering our 2016 General Chapter Calls, I found myself painting a red oak leaf growing between two white oak leaves. 
Philippine sailed from France in a ship across stormy seas in 1818 and landed in New Orleans, a rough journey that took over two months. This French woman who spoke only French crossed many frontiers – geographical, cultural, spiritual, social – in faith, as she responded to God's call. 
What might this painting be saying to us? Two white oak leaves supporting the growth of a red oak leaf may be Philippine protecting and blessing us as we explore new and different frontiers, holding our ventures close. "New frontiers," today, may be very different from what they were for Philippine. We are invited to be open to listening/hearing as new frontiers beckon. Some of us may be called afar, but new frontiers can also appear just where we are, inviting us to go to new peripheries "to accompany the life that is emerging there, to defend justice, peace and the integrity of creation in response to those who are searching for meaning in their lives, those who have been wounded, displaced, and excluded because of poverty, violence and environmental degradation." In the painting, St. Philippine Duchesne is saying, "Have courage, have faith." This holy woman, who was known to the Potawatomi as "the woman who prays always," prays with us now as we face and respond to the challenges of our time.
Marianne Tavares, RSCJ, Province of England – Wales
Image: Marianne Tavares, RSCJ
Hojas de roble
El apellido de Filipina Duchesne, significa "de roble". Por esa razón, hemos asociado siempre a Filipina con el árbol de roble – el roble blanco que tiene hojas con lóbulos redondos. Otra especie importante es el roble rojo con hojas con lóbulos puntiagudos. El año pasado, la cabaña en la que hice mi retiro estaba rodeada por robles blancos y rojos. Esta cabaña fue construida por un hombre aborigen. En este ambiente, mientras reflexionaba sobre nuestras llamadas del Capítulo General 2016, me encontré pintando una hoja de roble rojo creciendo entre dos hojas de roble blanco.
En 1818 Filipina zarpó de Francia en un barco cruzando los mares tempestuosos y llegó a Nueva Orleans habiendo realizado un viaje dificultoso que le llevó más de dos meses. Esta mujer francesa que sólo hablaba francés cruzó muchas fronteras – geográficas, culturales, espirituales, sociales – en la fe, para responder a la llamada de Dios.
¿Qué nos podría decir esta pintura? Dos hojas de roble blanco que ayudan a crecer a una hoja de roble rojo pueden significar que Filipina nos protege y bendice, sostiene nuestras aventuras mientras exploramos nuevas y diferentes fronteras. Las "nuevas fronteras" de hoy pueden ser muy diferentes de lo que eran para Filipina. Se nos invita a mantenernos abiertas a la escucha cuando las nuevas fronteras nos llamen. A algunas de nosotras nos pueden llamar a marchar lejos, pero las nuevas fronteras pueden aparecer también donde estamos, invitándonos a ir hacia nuevas periferias "para acompañar la vida que brota, defender la justicia, la paz y la integridad de la creación, en respuesta a todos los que buscan sentido a su vida, los que han sido heridos, desplazados y excluidos por la pobreza, la violencia y la degradación ambiental". En la pintura, Santa Filipina Duchesne está diciendo: "tengan coraje, tengan fe". Esta mujer santa que era conocida por los Potawatomi como "la mujer que siempre reza", reza con nosotras ahora que enfrentamos y respondemos a los desafíos de nuestro tiempo.
Marianne Tavares, RSCJ, Provincia de Inglaterra – País de Gales 
Imagen: Marianne Tavares, RSCJ
Feuilles de chêne
Le nom de Philippine est Duchesne ; c'est pour cette raison que nous l'avons toujours associée au chêne – le chêne blanc avec ses feuilles aux lobes arrondis. Le chêne rouge, avec ses feuilles aux lobes pointus, est une autre espèce importante. La cabane dans laquelle j'ai passé ma retraite l'année dernière était entourée de chênes blancs et rouges. Cette cabane avait été construite par un aborigène. Dans cet environnement, alors que je réfléchissais aux Appels de notre Chapitre général 2016, je me suis mise à peindre une feuille de chêne rouge entre deux feuilles de chêne blanc. 
Philippine embarqua en France sur un vaisseau en 1818 pour traverser les mers tempétueuses et atteindre la Nouvelle-Orléans ; un voyage éprouvant qui dura plus de deux mois. Cette femme française, qui ne parlait que le français, traversa bien des frontières – géographiques, culturelles, spirituelles, sociales – dans la foi, répondant ainsi à l'appel de Dieu. 
Que peut bien nous dire ce tableau ? Deux feuilles de chêne blanc aidant une feuille de chêne rouge à croître ; cela peut signifier que Philippine nous protège et nous bénit et soutient nos projets alors que nous explorons de nouvelles et de différentes frontières. De nos jours, les « nouvelles frontières » sont certainement très différentes de ce qu'elles l'étaient pour Philippine. Nous sommes invitées à nous ouvrir à l'écoute car les nouvelles frontières nous appellent. Certaines d'entre nous seront peut-être appelées à partir loin, mais les nouvelles frontières peuvent aussi se présenter juste là où nous sommes, nous invitant ainsi à aller vers de nouvelles périphéries « pour accompagner la vie en train de naître, défendre la justice, la paix et l'intégrité de la création en réponse à tous ceux qui cherchent un sens à leur vie, ceux qui ont été blessés, déplacés et exclus par la pauvreté, la violence et la dégradation de l'environnement ». À travers ce tableau, Philippine Duchesne nous dit : « Ayez du courage, ayez la foi ». Cette femme sainte, qui était connue des Potawatomi comme « la femme qui prie toujours », prie aujourd'hui avec nous alors que nous faisons face et répondons aux défis de notre temps.
Marianne Tavares, RSCJ, Province d'Angleterre – Pays de Galles
Image : Marianne Tavares, RSCJ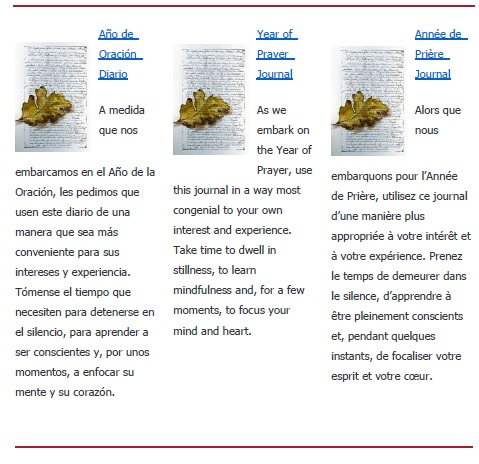 If you received this message from a friend and would like to receive our messages directly in the future, please sign up on our website.
Has your contact information changed recently? Update your full contact information and your mailing preferences.


Society of the Sacred Heart
4120 Forest Park Avenue, Saint Louis, MO 63108