Education: A Frontier
2018-10-01
English  |  Español  |  Français  |  日本語訳
Education: A Frontier
The missionary spirit of Philippine Duchesne is an endless source of inspiration which stimulates us to carry on a prophetic mission on our daily frontier. I dare say that our educational mission in today's world is a battlefield on the frontier. Faced with the greed generated by a neoliberal model of life, our service of education cannot stand in any comfort zone or neutral position.
 
Every day, as a school teacher, I am confronted with unjust policies based on human greed. Recently, the political situation in Korea caused us much suffering and soul-searching, particularly because President Park, who was removed from office through impeachment, is our alumna. The corruption of our government challenges us to reflect on our service of education with fundamental questions: Whom, how and why do we educate? Do we teach our students to be active citizens or just part of a passive mass?
Hannah Arendt maintained that evil comes from the tendency of ordinary people to obey orders and conform to mass opinion without critical evaluation. Such thoughtlessness, I think, is our sin in Korean society, and educators have a great responsibility. If we cannot contribute to a radical reshaping of society, our institutions have no meaning.
To overcome the unjust realities in Korea, we RSCJs are trying to renew our ways of being, ways of teaching and ways of organizing ourselves. It demands our discerning efforts with analysis, logical reasoning and critical vision as we are faced with hidden intentions and manipulations in the social and political agenda. It demands our intellectual asceticism. On  this battlefield, we hear the voice of Philippine: "Go! Be courageous and be patient!"
Lim, Tae Youn, RSCJ, Province of Korea – Chinese
Image: Students at candlelight demonstration in Korea 
photographer unknown
La educación: una frontera
El espíritu misionero de Filipina Duchesne es una fuente inagotable de inspiración que nos anima a llevar a cabo una misión profética en nuestra frontera diaria. Me atrevo a decir que nuestra misión educativa en el mundo de hoy es un campo de batalla en la frontera. Frente a la codicia generada por un modelo neoliberal de vida, nuestro servicio de educación no puede soportar ninguna zona de confort ni posición neutral.
Cada día, como maestra de escuela, me enfrento a políticas injustas basadas en la codicia humana. Recientemente, la situación política en Corea nos causó mucho sufrimiento y búsqueda de conciencia, sobre todo porque la Presidenta Park, quien fue despedida de su carga por destitución, es nuestra alumna. La corrupción de nuestro gobierno nos desafía a reflexionar sobre nuestro servicio de educación con preguntas fundamentales: ¿A quién, cómo y por qué educamos? ¿Enseñamos a nuestros estudiantes a ser ciudadanos activos o simplemente parte de una masa pasiva?
Hannah Arendt afirmó que el mal proviene de la tendencia de la gente común a obedecer las órdenes y a conformarse a la opinión de las masas sin una evaluación crítica. Creo que esa desconsideración es nuestro pecado en la sociedad coreana, y los educadores tienen una gran responsabilidad. Si no podemos contribuir a una reestructuración radical de la sociedad, nuestras instituciones no tienen sentido.
Para superar las realidades injustas en Corea, las RSCJ estamos tratando de renovar nuestros modos de ser, formas de enseñanza y maneras de organizarnos. Son necesarios esfuerzos de discernimiento con análisis, razonamiento lógico y visión crítica cuando nos enfrentamos a intenciones y manipulaciones ocultas en la agenda social y política. Necesitamos nuestro ascetismo intelectual. En este campo de batalla, escuchamos la voz de Filipina: "¡Vete! ¡Sé valiente y paciente"!
Lim, Tae Youn, RSCJ, Provincia de Corea-China 
Imagen: Estudiantes durante una manifestación con velas en Corea
Éducation : une frontière
L'esprit missionnaire de Philippine Duchesne est une source intarissable d'inspiration qui nous encourage à mener à bien une mission prophétique à la frontière de notre quotidien. Je dirais même que notre mission éducative, dans le monde d'aujourd'hui, est un champ de bataille à la frontière. Face à la cupidité engendrée par un modèle de vie néolibéral, notre service d'éducation ne peut tolérer aucune zone de confort ni aucune position neutre.
En tant qu'enseignante, je suis confrontée chaque jour à des politiques injustes basées sur la cupidité humaine. Récemment, la situation politique en Corée nous a causé beaucoup de souffrance et de remise en question, en particulier car la présidente Park, relevée de ses fonctions suite à une mise en accusation, est une de nos anciennes élèves. La corruption de notre gouvernement nous invite à réfléchir à notre service éducatif, en nous posant des questions fondamentales : qui, comment et pourquoi éduquons-nous ? Enseignons-nous à nos étudiants à être des citoyens actifs ou à faire simplement partie d'une masse passive ?
Hannah Arendt a soutenu que le mal vient de la tendance des gens ordinaires à obéir aux ordres et à se conformer à l'opinion de masse sans évaluation critique. Je pense que cette imprudence est notre péché dans la société coréenne et que les éducateurs ont une grande responsabilité. Si nous ne pouvons pas contribuer à une refonte radicale de la société, nos institutions n'ont alors aucun sens.
Pour surmonter les réalités injustes en Corée, nous tentons, en tant que RSCJ, de renouveler nos façons d'être, d'enseigner et de nous organiser. Cela nous demande des efforts de discernement en matière d'analyse, de raisonnement logique et de vision critique car nous sommes confrontées à des intentions et des manipulations cachées dans le programme social et politique. Cela exige notre ascétisme intellectuel. Sur ce champ de bataille, nous entendons la voix de Philippine : « Allez ! Soyez courageuses et patientes ! ».
Lim, Tae Youn, RSCJ, Province de Corée-Chinoise
Image : Étudiantes à un rassemblement aux chandelles, Corée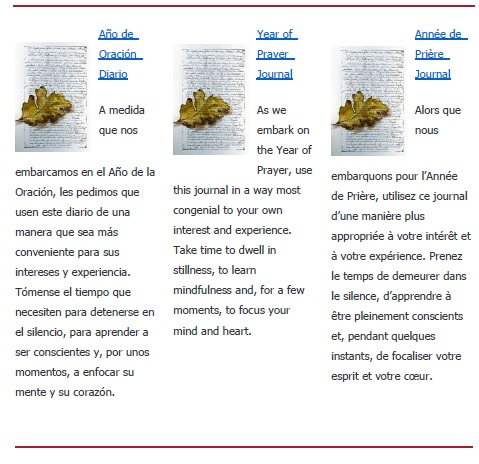 If you received this message from a friend and would like to receive our messages directly in the future, please sign up on our website.
Has your contact information changed recently? Update your full contact information and your mailing preferences.


Society of the Sacred Heart
4120 Forest Park Avenue, Saint Louis, MO 63108