Darkness into Light
2018-09-17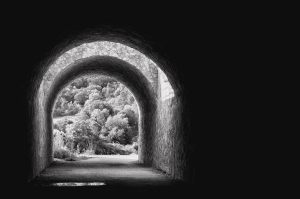 English  |  Español  |  Français | 日本語訳
Darkness into Light
Dark and light, not knowing where to go, what to do, chaos or creation – what was it that Rose Philippine Duchesne had to face in her life?
She felt herself called to be a missionary, and it took her a long way until Madeleine Sophie Barat let her undertake the adventure of setting sail to North America. Longing to live with the Indians, she had, first of all, to deal with the children in Missouri. When, after an almost life-long journey, she went to the Potawatomi, she had to accept that she was not able to learn their language. But she didn't give up; she simply did what she could do, she prayed for them – so that the Potawatomi called her "The woman who always prays."
Philippine Duchesne didn't give up when she had to face difficulties or when she had to accept that her dreams were far from reality. She had the capacity to discover light in every darkness; she was able to find ways where there seemed to be no pathway. Going to the frontiers of her abilities, she didn't give up when she failed but opened herself to new horizons.
 
Is this the nature of a person who thinks positively? More than that, it is the strength of somebody who lets herself be guided by the Lord. It is the strength and the power of a woman who follows God through every darkness, step by step, trusting that every tunnel leads into light. Not her own will and desire determined what to do, but the reality in which she discovered God's call.
Ilsemarie Weiffen, RSCJ, Province of Central Europe, Germany
Image: Mag. Radoslaw Celewicz, Vienna
De la oscuridad a la luz
Oscuridad y luz, sin saber a dónde ir, qué hacer, caos o creación – ¿qué fue lo que Rosa Filipina Duchesne tuvo que enfrentar en su vida?
Se sintió llamada a ser misionera, y le llevó mucho tiempo hasta que Magdalena Sofía Barat le permitió emprender la aventura de navegar hacia América del Norte. Anhelando vivir con los indios, tuvo primero que tratar a los niños en Missouri. Cuando, después de un viaje que duró casi toda su vida, llegó a los Potawatomi, tuvo que aceptar que no podría aprender su lengua. Pero ella no se dio por vencida; simplemente hizo lo que podía hacer, rezar por ellos – por eso los Potawatomi la llamaban "la mujer que siempre reza".
Filipina Duchesne no se rindió ante las dificultades o cuando tuvo que aceptar que sus sueños estaban lejos de la realidad. Tenía la capacidad de descubrir la luz en todas las tinieblas; era capaz de encontrar caminos donde no parecía haber ninguna vía. Yendo hacia las fronteras de sus habilidades, no se dio por vencida ante los fracasos, pero se abrió a nuevos horizontes.
¿Es esta la naturaleza de una persona que piensa positivamente? Más que eso, es la fuerza de alguien que se deja guiar por el Señor. Es la fuerza y el poder de una mujer que sigue a Dios a través de cada oscuridad, paso a paso, confiando en que cada túnel conduce a la luz. No fueron su propia voluntad y deseo a determinar lo qué hacer, sino la realidad en la que ella descubrió la llamada de Dios.
Ilsemarie Weiffen, RSCJ, Provincia Centro Europa, Germany
Image: Mag. Radoslaw Celewicz, Viena
De l'ombre à la lumière
L'ombre et la lumière, ne pas savoir où aller, que faire, le chaos ou la création – à quoi Philippine Duchesne a-t-elle dû faire face dans sa vie ?
Elle s'est sentie appelée à être missionnaire et il lui a fallu attendre longtemps avant que Madeleine Sophie Barat ne la laisse entreprendre l'aventure de s'embarquer pour l'Amérique du Nord. Souhaitant vivre avec les Indiens, elle dut d'abord s'occuper des enfants du Missouri. Lorsqu'elle alla vivre auprès des Potawatomi, après un voyage qui dura quasiment toute sa vie, elle dut accepter le fait de ne pas pouvoir apprendre leur langue. Mais elle n'abandonna pas. Elle fit simplement ce qu'elle savait faire ; elle pria pour eux – c'est pourquoi les Potawatomi l'appelèrent « la femme qui prie toujours ».
Lorsqu'elle devait faire face aux difficultés ou accepter que ses rêves étaient loin de la réalité, Philippine Duchesne n'abandonnait pas. Elle avait une grande capacité à découvrir la lumière dans toute forme d'obscurité ; elle était capable de trouver des chemins à prendre, même lorsqu'il semblait ne pas y en avoir. Rejoignant les frontières de ses capacités, au lieu d'abandonner lorsqu'elle échouait, elle s'ouvrait à de nouveaux horizons.
Est-ce la nature d'une personne qui pense de manière positive ? C'est plus que cela. C'est la force de quelqu'un qui se laisse guider par le Seigneur. C'est la force et le pouvoir d'une femme qui suit Dieu à travers toute forme d'obscurité, pas à pas, en croyant au fait que tout tunnel mène à la lumière. Ce n'est ni sa propre volonté ni son désir qui ont déterminé ce qu'elle devait faire, mais c'est la réalité avec laquelle elle a découvert l'appel de Dieu.
Ilsemarie Weiffen, RSCJ, Province de Centre Europe, Germany
Image : Mag. Radoslaw Celewicz, Vienne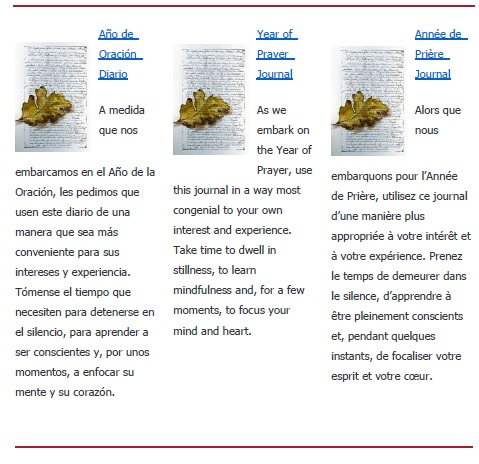 If you received this message from a friend and would like to receive our messages directly in the future, please sign up on our website.
Has your contact information changed recently? Update your full contact information and your mailing preferences.


Society of the Sacred Heart
4120 Forest Park Avenue, Saint Louis, MO 63108