With Dirt Under Her Fingernails
2018-09-10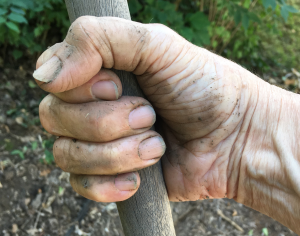 English  |  Español  |  Français  |  日本語訳
With Dirt Under Her Fingernails
Philippine's attempts to reopen Sainte Marie d'en Haut must have demanded skills that were not normally in the repertoire of wealthy young women. Had she been observant of trades people or did she simply problem-solve when taking on practical tasks? When Sophie asked her to prepare the house on the Rue des Postes, we hear that she not only scrubbed and cleaned but replaced window panes and assisted in applying the mortar when the builders were too slow.
We know that after a few years on the American frontier, Philippine was mending furniture and had mastered gardening, milking and mucking out the barn. When "difficult" children were sent out into the garden to spend time with her, who did they meet? Philippine was that old nun with the mended habit and dirt under her nails. She was not piously snipping off a few daisy heads but laboring to produce vegetables for the table.
In the early foundations, such practical tasks were necessary for survival and none of them were beneath Philippine. She rose to each new occasion and accepted the challenges with generosity, good humor, intelligence and a dash of Duchesne determination. There must have been errors and failures, but Philippine was not afraid to try. There would also have been occasions when her patience was tested in helping the impractical, the less competent and those not as willing to get their hands dirty.
Are we willing to get dirt beneath our nails as we labor alongside Philippine?
Donna Collins, RSCJ, Province of the United States – Canada
Image: Donna Collins, RSCJ
Con las uñas sucias
Los intentos de Filipina de abrir de nuevo Sainte Marie d'en Haut debieron pedirle habilidades que no eran frecuentes en la vida de una joven con fortuna. ¿Se habría fijado en los comerciantes o sencillamente resolvía los problemas cuando surgían al realizar trabajos  prácticos? Nos cuentan que cuando Sofia le pidió que preparase la casa de Rue des Postes, Filipina no sólo se puso a fregar y limpiar sino que remplazaba los marcos de ventanas y ayudaba a los constructores a poner la argamasa cuando eran demasiado lentos.
Después de unos años en la frontera Americana sabemos que Filipina arreglaba muebles, era una buena jardinera, ordeñaba vacas y limpiaba el granero. Cuando le mandaban las niñas "difíciles" al jardín para pasar un rato con ella, ¿con quién se encontraban? Filipina era una de esas monjas mayores con el hábito remendado y con las uñas sucias. No estaba cortando piadosamente unas margaritas sino que trabajaba para que hubiese verduras para la comida.   
Estas tareas prácticas fueron muy necesarias en las primeras fundaciones para poder sobrevivir y ninguna le pesó demasiado a Filipina. Supo ponerse a la altura en todas las ocasiones y aceptó los retos con generosidad, buen humor, inteligencia y con el ardor y determinación de los Duchesne. Por supuesto que hubo errores y fallos pero Filipina no tenía miedo de probar. Probablemente hubo ocasiones en que, las que no tenían un sentido práctico, o eran menos competentes o no estaban dispuestas a ensuciarse las manos,  pusieron a prueba su paciencia.
¿Estamos dispuestas a tener las uñas sucias por trabajar con Filipina?
Donna Collins, RSCJ, Provincia des Estados Unidos – Canada
Imagen: Donna Collins, RSCJ
Avec les ongles sales
Les tentatives de Philippine de rouvrir Sainte-Marie d'en-Haut ont certainement demandé des compétences qui ne font normalement pas partie du répertoire d'une jeune nantie. A-t-elle observé les gens du métier ou simplement résolu les problèmes en assumant certaines tâches pratiques ? Lorsque Sophie lui a demandé de préparer la maison de la Rue des Postes, nous avons su qu'elle avait non seulement passé du temps à récurer et nettoyer, mais elle avait aussi remplacé les carreaux des fenêtres et appliqué le mortier lorsque les ouvriers étaient trop lents.
Après quelques années sur le territoire américain, nous savons que Philippine restaurait des meubles et qu'elle était capable de jardiner, traire et nettoyer l'étable. Lorsque les enfants « difficiles » étaient envoyés dans le jardin pour passer du temps avec elle, qui rencontraient-ils ? Philippine était une de ces religieuses âgées, aux vêtements raccommodés et aux ongles sales. Elle ne se contentait pas de cueillir pieusement quelques marguerites, elle travaillait dur et cultivait des légumes pour la table.
Au tout début, de telles tâches pratiques étaient nécessaires pour survivre et aucune d'entre elles n'était indigne de Philippine. Elle se montrait à la hauteur et acceptait les défis avec générosité, bonne humeur, intelligence et un soupçon de détermination Duchesne. Elle a certainement commis des erreurs et essuyé des échecs, mais Philippine n'a jamais eu peur de tenter. Sa patience a également dû être mise à rude épreuve lorsqu'elle aidait les personnes peu compétentes, qui manquaient d'esprit pratique ou qui n'étaient pas prêtes à se salir les mains.
Sommes-nous prêtes à nous salir les mains et travailler dur aux côtés de Philippine ?
Donna Collins, RSCJ, Province des Etats Unis – Canada
Image : Donna Collins, RSCJ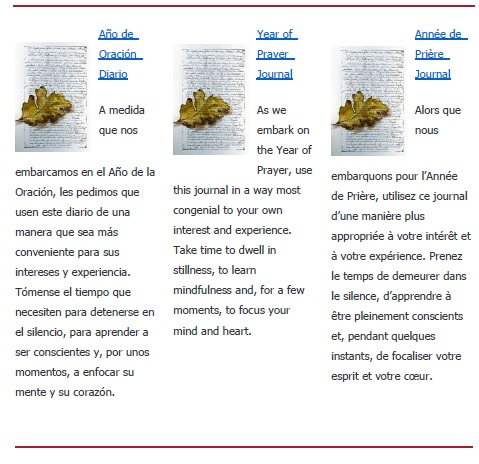 If you received this message from a friend and would like to receive our messages directly in the future, please sign up on our website.
Has your contact information changed recently? Update your full contact information and your mailing preferences.


Society of the Sacred Heart
4120 Forest Park Avenue, Saint Louis, MO 63108