The "Rebecca Moment" in the Philippines
2018-08-20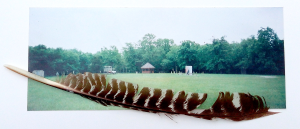 English  |  Español  |  Français |  日本語訳
The "Rebecca Moment" in the Philippines
Ever since Philippine Duchesne and her companions set sail for the New World on a ship named Rebecca, we have come to speak about "Rebecca moments" as times of choice, sometimes in perilous situations or when facing similar uncertainty about the future as Philippine faced when she boarded the Rebecca in 1818.
In the Philippines our "Rebecca" moment came on August 22, 1969, when the first two Filipino RSCJ "set sail" from Japan in response to the Second Vatican Council's call for the renewal of religious life. It was 151 years earlier on August 21, 1818 that Philippine Duchesne set foot on Market Street Landing in St. Louis, Missouri.
 
More Filipino RSCJ joined them to start a "little society," living in a rented apartment in the midst of the inner city of Manila and seeking to discover how religious life for them as RSCJ would take form. The community participated in political action and education for the next twenty years of martial law until the People Power Revolution overthrew the dictatorship in 1986.
Soon after, as our contribution to nation-rebuilding, we went to Northern Samar, one of the poorest and most neglected provinces of the Philippines. This year we celebrate thirty years of presence in this Duchesne-like mission.
Together, our little community of the Philippine District prayed, discerned decisions, and eventually evolved a post-Vatican religious life form that was considered a breakthrough in the lifestyle and ministries of the Society of the Sacred Heart. 
Maribel V. Carceller, RSCJ, District of the Philippines
Image: Maribel Carceller, RSCJ
El "Momento Rebecca" en Filipinas
Desde cuando Filipina Duchesne y sus compañeras se embarcaron para el Nuevo Mundo en un barco llamado Rebecca, hemos empezado a hablar de "momentos Rebecca" como momentos de elección, a veces en situaciones peligrosas o cuando se enfrenta una incertidumbre similar sobre el futuro, como la afrontó Filipina cuando se embarcó en el Rebecca en 1818.
En Filipinas nuestro momento "Rebecca" llegó el 22 de agosto de 1969, cuando las dos primeras RSCJ filipinas "zarparon" de Japón en respuesta a la llamada del Concilio Vaticano II para la renovación de la vida religiosa. Fue 151 años antes, el 21 de agosto de 1818, que Filipina Duchesne puso los pies en la calle Market Street Landing en St. Louis, Missouri.
Más religiosas como Filipina se unieron a ellas para iniciar una "pequeña sociedad" viviendo en un apartamento alquilado en el centro de la ciudad de Manila y tratando de descubrir cómo habría tomado forma su vida religiosa como RSCJ. La comunidad participó en la acción política y en la educación durante los sucesivos veinte años de ley marcial hasta que la Revolución del Poder Popular derrocó la dictadura en 1986.
Poco después, como nuestra contribución a la reconstrucción de la nación, fuimos al norte de Samar, una de las provincias más pobres y olvidadas de Filipinas. Este año celebramos treinta años de presencia en esta misión, parecida a la de Filipina Duchesne.
Toda nuestra pequeña comunidad del Distrito de Filipinas rezó y discernió las decisiones y al final desarrolló una forma de vida religiosa post-vaticana que fue considerada un avance en el estilo de vida y en los ministerios de la Sociedad del Sagrado Corazón.
Maribel V. Carceller, RSCJ, Distrito de Filipinas
Imagen: Maribel V. Carceller, RSCJ
Le « Moment Rebecca » aux Philippines
Depuis que Philippine Duchesne et ses amies ont embarqué pour le Nouveau Monde sur un navire appelé Rebecca, nous avons parlé des « moments Rebecca » comme des moments de choix, parfois dans des situations périlleuses ou face à une incertitude concernant l'avenir similaire à celle de Philippine lorsqu'elle a embarqué sur la Rebecca en 1818.
Aux Philippines, nous avons vécu notre moment « Rebecca » le 22 août 1969, lorsque les deux premières RSCJ philippines « ont embarqué » du Japon pour répondre à l'appel du Concile Vatican II au renouvellement de la vie religieuse. 151 ans plus tôt, le 21 août 1818, Philippine Duchesne foulait le sol de Market Street Landing à Saint Louis, Missouri.
D'autres RSCJ philippines les ont rejointes pour fonder une « petite société ». Elles vivaient dans un appartement loué au beau milieu du centre-ville de Manille et cherchaient à découvrir, pour elles, RSCJ, comment la vie religieuse prendrait forme. La communauté a participé à l'action politique et à l'éducation pendant les vingt ans de loi martiale suivants, jusqu'à ce que la Révolution du Pouvoir Populaire renverse la dictature en 1986.
Peu de temps après, dans notre processus de contribution à la reconstruction nationale, nous sommes allées au Samar du Nord, l'une des provinces les plus pauvres et les plus négligées des Philippines. Cette année, nous célébrons les trente ans de présence dans cette mission similaire à celle de Philippine Duchesne.
Ensemble, notre petite communauté du district des Philippines a prié, discerné les décisions et finalement développé une forme de vie religieuse post-Vatican, considérée comme une avancée dans le style de vie et les services apostoliques de la Société du Sacré-Cœur.
 
Maribel V. Carceller, RSCJ, District des Philippines
Image : Maribel Carceller, RSCJ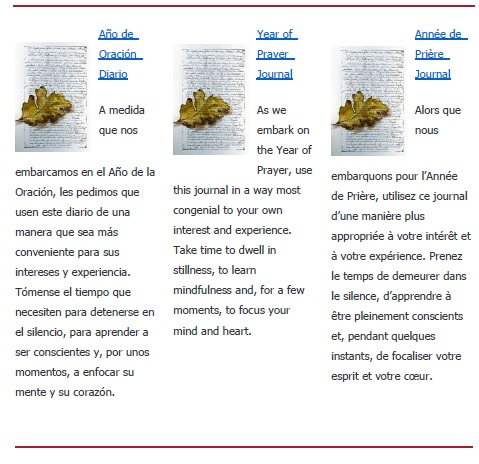 If you received this message from a friend and would like to receive our messages directly in the future, please sign up on our website.
Has your contact information changed recently? Update your full contact information and your mailing preferences.


Society of the Sacred Heart
4120 Forest Park Avenue, Saint Louis, MO 63108