Philippine's Return to Ste Marie d'En-Haut
2018-08-13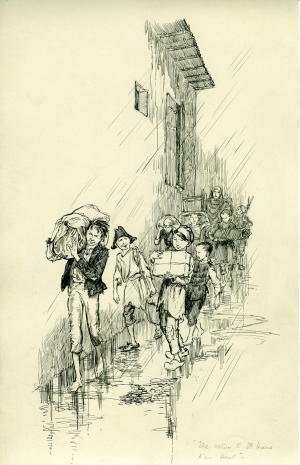 English  |  Español  |  Français | 日本語訳
Philippine's Return to Ste Marie d'En-Haut
In 1801, in the midst of a glacial winter's cold, some Grenoble youngsters hanging around the streets were called by Philippine for a rather extraordinary task: to help her refurbish her dear Monastery of the Visitation, badly damaged by the French Revolution.
We see them carrying heavy packages.
We picture them cheerful and noisy …
The mission with these children was clearly received at the time of her pilgrimage to La Louvesc in May 1800, a village evangelised by Saint Francis Regis. She returned then, having decided "to provide instruction for the poor, following the example of Saint Francis Regis."
Tenacity, courage and generosity energised Philippine in this step, and even more, because "in the faces of these boys, I saw the reflection of the Lord's gaze," she stated.
A contemplative gaze? Yes, her whole happiness lay in being there, as it was on that blessed Holy Thursday night, April 1806: "I was happier among them than among all the grandees of the world."
Today? A mission always of today, according to Pope Francis: "Illiteracy still remains very present … a great injustice striking at the dignity of the human person. Instruction is truly a particular (special) form of evangelisation."
With Philippine's tenacity, courage and generosity, together with the strength of our charism, may we respond to this ever relevant call: to work for the integral development of the person, to build a world of justice and peace; and in response to the cry of the poor, to proclaim the Gospel (Cf. Constitutions §13)
Colette Mercier, RSCJ, Province of Belgium – France – Netherlands
Image: Robin (Catherine Blood, RSCJ)
Vuelve Filipina a Sta Marie d'en-Haut
En 1801, en medio del frio glacial de aquel invierno, Filipina llama a unos chicos que andaban rodando por las calles de Grenoble y les ofrece un trabajo poco frecuente: ayudarla a rehacer su querido monasterio de la Visitación devastado por la Revolución francesa.
Los vemos cargados con paquetes pesados.
Nos los imaginamos alegres y alborotados…
    
Una misión con los niños que recibió de una manera muy clara en mayo de 1800 durante su peregrinación a La Louvesc, aldea evangelizada por San Francisco Regis. Vuelve decidida a "enseñar a los pobres como hizo San Francisco Regis".
Tenacidad, valentía, generosidad animan a Filipina en esta misión y más aún porque "yo veía en el rostro de esos chicos el reflejo de la mirada del Señor", afirma ella.
¿Mirada Contemplativa? Sí, toda su felicidad era estar ahí, como ella estuvo, en aquella noche bendita del jueves santo en abril 1806: "Era más feliz entre ellos que todos los potentados de la tierra".
¿Hoy? Misión siempre actual según el Papa Francisco: "El analfabetismo existe todavía… es una gran injusticia que toca la dignidad de la persona humana. La enseñanza es de verdad una forma específica de evangelización".
Con la valentía, la tenacidad, la generosidad de Filipina, y la fuerza de nuestro carisma, respondamos a esta llamada de todos los tiempos: trabajar por el crecimiento integral de la persona, por construir un mundo de justicia y de paz en respuesta al grito de los pobres, por anunciar el Evangelio. (Según las Constituciones nº 13)
Colette Mercier, RSCJ, Provincia de Belgica – Francia- Paises Bajos
Imagen: Robin (Catherine Blood, RSCJ)
Retour de Philippine à Ste Marie d'en Haut
En 1801, dans le froid d'un hiver glacial, des garçons de Grenoble qui trainent dans la rue, sont appelés par Philippine pour un travail peu ordinaire : l'aider à réaménager son cher monastère de la Visitation dévasté par la Révolution Française.
Nous les voyons chargés de lourds paquets.
Nous les imaginons gais et bruyants…
Mission auprès de ces enfants reçue clairement lors de son pèlerinage à La Louvesc, mai 1800, village évangélisé par Saint François Régis. Elle en revint décidée de « procurer l'instruction des pauvres à l'exemple de Saint François Régis ».
Ténacité, courage, générosité animent Philippine dans cette démarche et plus encore car « je voyais dans le visage de ces garçons le reflet du regard du Seigneur » affirme-t-elle.
Regard Contemplatif ? Oui, tout son bonheur était d'être là, comme il l'était, dans la nuit bénite du jeudi saint, avril 1806 : « J'étais plus contente au milieu d'eux que tous les potentats du monde ».
Aujourd'hui ? Mission toujours actuelle selon le Pape François : « L'analphabétisme est encore très présent…grande injustice qui porte atteinte à la dignité de la personne humaine. L'instruction est vraiment une forme particulière d'évangélisation ».
Avec le courage, la ténacité, la générosité de Philippine, et la force de notre charisme, répondons à cet appel de tous les temps : de travailler à la croissance intégrale de la personne, de construire un monde de justice et de paix et en réponse au cri des pauvres, d'annoncer l'Evangile. (d'après les Constitutions §13)
Colette Mercier, RSCJ, Province de Belgique – France – Nederland
Image : Robin (Catherine Blood, RSCJ)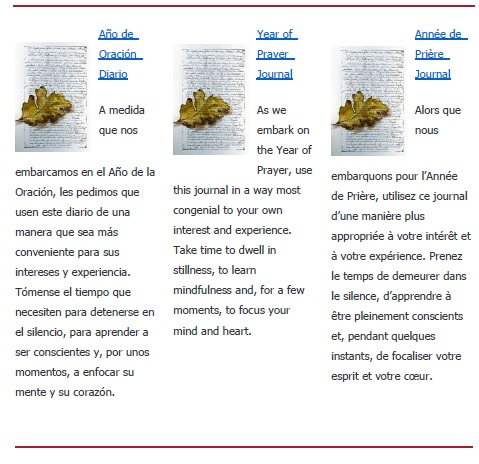 If you received this message from a friend and would like to receive our messages directly in the future, please sign up on our website.
Has your contact information changed recently? Update your full contact information and your mailing preferences.


Society of the Sacred Heart
4120 Forest Park Avenue, Saint Louis, MO 63108