Philippine, woman of yesterday … woman for today
2018-07-23

 English  |  Español  |  Français |  日本語
Philippine, woman of yesterday … woman for today
When I think of Rose Philippine Duchesne as a person – with her courage and commitment, her need to go to the peripheries and her contemplative being – I am connected immediately to where we are today. She speaks as a woman of yesterday but with a deep, clear, solid perception which the world of today so needs.
Philippine could go step-by-step in fidelity to the Lord, a woman of profound hope in tumultuous and difficult times. She had hope, trust and fidelity for an unfolding future.
And it is that patient step-by-step approach that our world so needs. In times where immediacy, consumerism and superficiality race together, we too are sometimes caught up in this race and unwittingly lose our very essence, our deepest identity, our freedom. There is no time for silence; there is no time for encounter. There is time for doing but not for being in the doing.
She knew how to be and manifested the love of the Heart of Jesus wherever she was. A woman of deep availability, she knew how to put herself aside so as to bring Jesus to the poor of the Kingdom.
Today, our times too are tumultuous and difficult, though in a different way. We live in a moment of history where there is more and more oppression, violence, inequality and injustice, where there are more and more barriers. We live in a moment when Mother Earth cries out along with our brothers and sisters. This is a moment needing calculated risk-taking, generous availability, a loving look towards the margins. It is there that we find the Potawatomies of today. It is there that He awaits us – and they too await us.
Philippine, woman of yesterday, who speaks so much to us, today, tells us that fidelity to God is the most important. It is that which brings us to the most fragile. It is that which enables us to overcome obstacles and incomprehension. It is that fidelity which empowers us to be loving as she loved and to live, out of love, in union and conformity with the Heart of Jesus.
When one lives like this, one can transcend everything, and we are capable of communicating in a different way, as she did.
Isabel Rocha, RSCJ, Province of Argentina – Uruguay
Image: Artist Unknown
Filipina, mujer de ayer … mujer para hoy
Cuando pienso en Rosa Filipina Duchesne, en su persona, su audacia y entrega, su necesidad de ir a las periferias y su ser contemplativo, me conecta inmediatamente con el hoy. Me habla de una mujer del ayer, con una mirada honda, clara y sólida, que tanto necesita el mundo de hoy.
Filipina supo andar paso a paso, siendo fiel al Señor; mujer de espera profunda en tiempos tan convulsionados y difíciles, con la esperanza, la confianza y la fidelidad por delante.
 
Ese mismo paso a paso que necesita tanto nuestro mundo. En tiempos donde el inmediatismo, consumismo y superficialidad juegan carrera, y donde los seres humanos entramos a veces en ese juego, sin darnos cuenta, perdiendo nuestra esencia, nuestra identidad más honda, nuestra libertad. No hay tiempo para el silencio, no hay tiempo para el encuentro. Hay tiempo para hacer, no para Ser en el hacer.
Ella supo Ser, manifestando el amor del Corazón de Jesús allí donde estuvo. Mujer de honda disponibilidad, que supo soltarse a sí misma para ser enteramente de Jesús junto a los pobres del Reino.
Hoy, los tiempos en nuestro mundo siguen siendo difíciles y convulsionados, aunque diferentes. Vivimos en un momento de la historia donde cada vez hay más oprimidos, más violencia, desigualdad e injusticia, donde cada vez son más las fronteras; en un momento en que nuestra Madre Tierra grita, también junto a nuestros herman@s; en un momento que necesita tanto del riesgo coherente, de la disponibilidad gratuita, de la mirada amorosa hacia las márgenes. Es allí donde están los Potowatomíes de hoy. Es allí donde El nos espera… y nos esperan.
Filipina, mujer del ayer, que nos dices tanto al hoy. Nos dice que la fidelidad a Dios es lo más importante, es la que nos lleva a los más frágiles, es la que nos lleva a traspasar obstáculos e incomprensiones. Es la que nos lleva a  vivir amando como ella amó. Vivir desde el amor, en unión y conformidad con el Corazón de Jesús.
Cuando se vive desde ahí todo se trasciende y somos capaces de comunicarnos de maneras diferentes, como ella lo hizo.
Isabel Rocha, RSCJ, Provincia de Argentina – Uruguay
Imagen: Artista desconocida
Philippine, femme d'hier … femme pour aujourd'hui
Lorsque je pense à Rose Philippine Duchesne, à elle en tant que personne, à son audace et son engagement, à son besoin d'aller aux périphéries et à sa façon d'être contemplative, je me connecte immédiatement avec le monde d'aujourd'hui. Cela m'évoque une femme d'hier, avec une vision profonde, claire et solide dont le monde d'aujourd'hui a tant besoin.
Philippine a su avancer pas à pas, en étant fidèle au Seigneur ; une femme pleine d'espoir dans une époque tumultueuse et difficile, avec l'espérance, la confiance et la fidélité nécessaires pour le futur.
Cette même approche pas à pas dont notre monde a besoin. À une époque où l'immédiateté, le consumérisme et la superficialité participent à une course, et où nous, êtres humains, participons aussi parfois à cette course, sans nous en rendre compte, perdant ainsi notre essence, notre identité la plus profonde, notre liberté. Il n'y a pas de temps pour le silence, il n'y a pas de temps pour la rencontre. Il y a du temps pour faire, non pas pour Être dans ce qu'il y a à faire.
Philippine, quant à elle, a su Être, manifestant l'amour du Cœur de Jésus partout où elle se trouvait. Femme d'une grande disponibilité, qui a su mettre sa propre personne de côté pour se livrer entièrement à Jésus et aux pauvres du Royaume.
Aujourd'hui, notre monde continue à vivre des moments difficiles et tumultueux, bien que différents. Nous vivons un moment de notre histoire où il y a de plus en plus d'opprimés, de violence, d'inégalité et d'injustice, et où il y a de plus en plus de frontières ; un moment où l'on entend les clameurs de notre Terre Mère et celles de nos frères et sœurs ; un moment qui a tant besoin d'un risque cohérent, de la disponibilité gratuite, d'un regard affectueux tourné vers les marges. C'est là où se trouvent les Potawatomi d'aujourd'hui. C'est là où Il nous attend… et où eux aussi nous attendent.
Philippine, femme d'hier, qui a tant à nous dire aujourd'hui. Elle nous dit que la fidélité à Dieu est la chose la plus importante, c'est elle qui nous mène aux plus démunis, c'est elle qui nous pousse à surmonter les obstacles et les incompréhensions. C'est elle qui nous pousse à vivre en aimant comme elle a aimé. Vivre d'amour, en union et en accord avec le Cœur de Jésus.
En vivant de cette manière, tout se transcende et nous sommes capables de communiquer de bien des manières différentes, comme Philippine l'a fait.
Isabel Rocha, RSCJ, Provincia de Argentina – Uruguay
Image : Artiste inconnue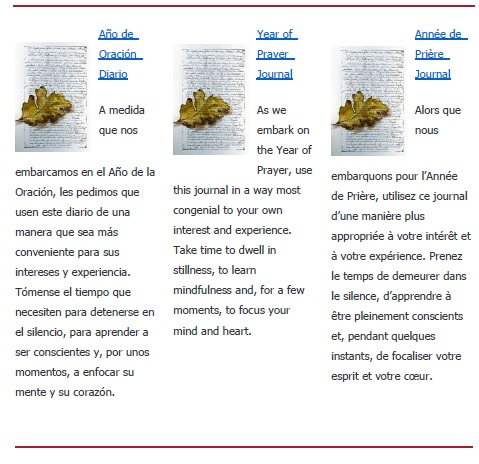 If you received this message from a friend and would like to receive our messages directly in the future, please sign up on our website.
Has your contact information changed recently? Update your full contact information and your mailing preferences.


Society of the Sacred Heart
4120 Forest Park Avenue, Saint Louis, MO 63108