Philippine Duchesne in Ormoc
2018-07-16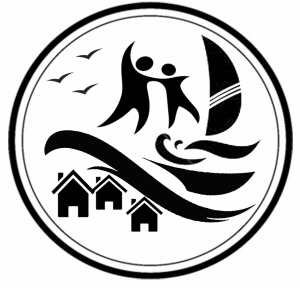 English  |  Español  |  Français | 日本語
Philippine Duchesne in Ormoc
In 1991, about 8,000 lives were lost in flash floods in Ormoc, Philippines due to the deforestation of the mountains and the wanton destruction of the environment. Religious of the Sacred Heart felt the need to respond to this terrible tragedy, and I was sent to help in the rehabilitation of the families that had lost their shelters and their loved ones, most of whom were exploited workers in a sugar cane plantation. From the beginning, Philippine Duchesne served as my silent guide and provider, for I felt that this mission frontier would be close to her heart.
Sacred Heart provinces around the world had spontaneously sent financial help, so we were able to acquire a one-hectare property and subdivide it among the families. For the first time in their lives, they could settle down in homes they could call their own. They continued to live simple and laborious lives, but they found hope for their daily needs in the words of Philippine: "God knows our need. He knows what we want and in His own time He will grant it."
A community gradually was organized with childhood education as its center. Here the children could receive the love and care of Philippine transmitted to them. Through their new life together, the whole community experienced a taste of the reign of God through peace and stability and a brighter future for their children.
After 26 years in Ormoc, the RSCJ are handing over the administration of the St. Philippine Duchesne Ormoc Workers Foundation Incorporated (SPDOWFI), assured that the people have been empowered and that Philippine's mission will continue. As I leave, Philippine's words are etched in my heart: "We cultivate a very small field for Christ, but we love it, knowing that God does not require great achievements but a heart that holds back nothing for self … The one who has Jesus has everything."
Iraida Sua-an, RSCJ, District of the Philippines
Image: St. Rose Philippine Producers' Cooperative Logo depicting the community sailing on with Philippine to new frontiers
Filipina Duchesne en Ormoc
En 1991, se perdieron en las Filipinas alrededor de 8.000 vidas a causa de inundaciones repentinas en Ormoc, debido a la deforestación de las montañas y a la destrucción ilícita del ambiente. Las religiosas del Sagrado Corazón sintieron la necesidad de responder a esta terrible tragedia y me enviaron a ayudar en la rehabilitación de las familias que habían perdido sus casas y sus seres queridos, la mayoría de los cuales eran trabajadores explotados en una plantación de caña de azúcar. Desde el principio, Filipina Duchesne fue mi guía silenciosa y mi sostén, porque sentía que esta misión en la frontera, estaría cerca de su corazón.
Las provincias del Sagrado Corazón de todo el mundo habían enviado espontáneamente ayuda financiera, por lo que pudimos adquirir una propiedad de una hectárea y subdividirla entre las familias. Por primera vez en sus vidas, podían establecerse en hogares que podrían llamar suyos. Siguieron viviendo vidas sencillas y de trabajo, pero encontraron esperanza para sus necesidades diarias en las palabras de Filipina: "Dios conoce nuestras necesidades. Él sabe lo que queremos y en Su propio tiempo Él lo concederá".
Gradualmente fue organizada una comunidad que tenía como centro la educación infantil. Aquí los niños podían recibir el amor y cuidado de Filipina. A través de sus nuevas vidas, la comunidad percibió el sabor del reino de Dios a través de la paz y de la estabilidad y un futuro mejor para sus hijos.
Después de 26 años en Ormoc, las RSCJ están cediendo la administración de la Fundación Incorporada de Trabajadores Santa Filipina Duchesne de Ormoc (SPDOWFI), estando seguras de que la gente ha sido capacitada y que la misión de Filipina continuará. Mientras me marcho, las palabras de Filipina están grabadas en mi corazón: "Cultivamos un campo muy pequeño para Cristo, pero lo amamos, sabiendo que Dios no requiere grandes logros, sino un corazón que no retiene nada para sí mismo … Él que tiene a Jesús, lo tiene todo".
Iraida Sua-an, RSCJ, Distrito de Filipinas
Imagen: Logotipo de la Cooperativa de Productores de St. Rose Philippine que representa la comunidad navegando con Filipinas hacia nuevas fronteras
Philippine Duchesne à Ormoc
En 1991, environ 8.000 âmes ont disparu suite à des crues soudaines à Ormoc (Philippines), survenues à cause de la déforestation des montagnes et de la destruction injustifiée de l'environnement. Les Religieuses du Sacré-Cœur ont ressenti le besoin de répondre à cette terrible tragédie ; c'est ainsi que j'ai été envoyée en mission pour aider à la réinsertion des familles qui ont perdu leurs refuges et leurs proches, dont la plupart étaient des travailleurs exploités dans une plantation de canne à sucre. Dès le début, Philippine Duchesne m'a servi de guide silencieux et de soutien car j'avais senti que cette mission à la frontière serait proche de son cœur.
Les provinces du Sacré-Cœur des quatre coins du monde avaient spontanément envoyé une aide financière ; nous avons ainsi pu acquérir une propriété d'un hectare, que nous avons subdivisée par familles. Pour la première fois de leurs vies, toutes ces personnes pouvaient s'installer dans une maison qu'ils pouvaient considérer comme la leur. Ils ont continué à vivre de manière simple et laborieuse mais ont trouvé l'espoir nécessaire pour leurs besoins quotidiens dans les mots de Philippine : « Dieu sait ce dont nous avons besoin. Il sait ce que nous voulons et nous le concède sur Son propre temps ».
Une communauté s'est progressivement organisée autour de l'éducation des enfants. Les enfants pouvaient y recevoir l'amour et l'attention que Philippine leur transmettait. Grâce à cette nouvelle vie ensemble, la communauté tout entière a fait l'expérience du règne de Dieu à travers la paix et la stabilité, et a pu envisager un avenir plus radieux pour les enfants.
Après 26 années passées à Ormoc, les RSCJ cèdent l'administration de la SPDOWFI – St. Philippine Duchesne Ormoc Workers Foundation Incorporated [trad. « Fondation incorporée Ste Philippine Duchesne des Travailleurs d'Ormoc »], en étant assurées que les personnes sont bien habilitées et que la mission de Philippine perdurera. Alors que je m'en vais, les mots de Philippine sont gravés dans mon cœur : « Nous cultivons un très petit champ pour le Christ mais nous l'aimons, en sachant que Dieu ne nous demande de grands exploits sinon un cœur qui ne retient rien pour soi… Celui qui a Jésus a tout ».
Iraida Sua-an, RSCJ, District des Philippines
Image : Logo de la Coopérative des Producteurs Ste Rose Philippine, illustrant la communauté embarquant avec Philippine vers de nouvelles frontières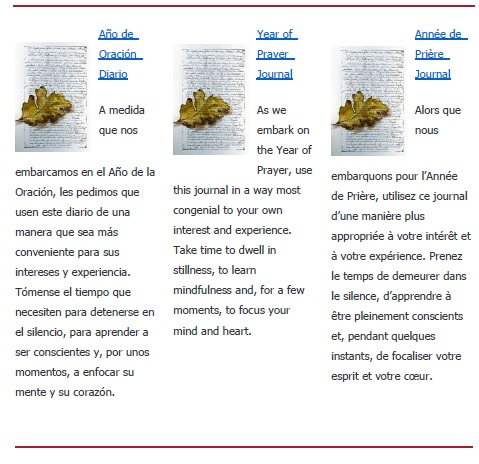 If you received this message from a friend and would like to receive our messages directly in the future, please sign up on our website.
Has your contact information changed recently? Update your full contact information and your mailing preferences.


Society of the Sacred Heart
4120 Forest Park Avenue, Saint Louis, MO 63108