My Friendship with Philippine
2018-07-02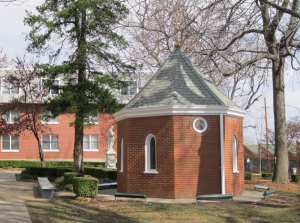 My Friendship with Philippine
Rose Philippine Duchesne was beatified in 1940. Four years later, at age thirteen, I began high school as a weekly boarder at the Academy of the Sacred Heart in St. Charles, Missouri. The school was first opened by Philippine in 1818. Each night, I was one of the students who went to close up the shrine where Philippine was buried. Sometimes we would be wrapped up in the nuns' black shawls to go out and say goodnight to our "Mother Duchesne." I think I learned to pray as we knelt around the marble tomb with only flickering light from the amber and green vigil lights that decorated it. For me, Mother Duchesne was a real mother: tender, loving, interested in all that I did each day and ready to help me. Those nightly conversations began a real friendship with Philippine that continues even today.
Sent straight from Rome to Chile after my final profession, Philippine Duchesne accompanied me in a special way. It was her courage and fortitude that carried me through the first year when I struggled to control 157 middle school children without knowing the language. Philippine had managed to start schools without a command of the language and so I turned to her for strength and to keep my sense of humor. Then, an earthquake destroyed our convent and school. Living without running water or electricity, the thought of what Philippine had suffered made it easy to stay cheerful. Philippine faced so many great hardships and stayed serene. Our friendship deepened as she helped me to find more time for prayer. My twenty years as a missionary in Chile owe much to the example of our Saint.
Helen Rosenthal, RSCJ, Province of the United States – Canada
Image: Academy of the Sacred Heart, St. Charles, MO
Mi amistad con Filipina
Rosa Filipina Duchesne fue beatificada en 1940. Cuatro años después, a la edad de trece años, comencé la escuela en la Academia del Sagrado Corazón en St. Charles, Missouri, durmiendo allí durante la semana. La escuela fue abierta por primera vez por Filipina en 1818. Cada noche, era una de las estudiantes que cerraban el santuario donde Filipina estaba enterrada. A veces nos llevábamos los chales negros de las monjas para salir y decirle buenas noches a nuestra "Madre Duchesne". Creo que aprendí a rezar cuando me arrodillaba alrededor de la tumba de mármol alumbrada solo con una llama intermitente procedente de las velas encendidas de color ámbar y verde que decoraban el lugar.
Para mí, la Madre Duchesne era una verdadera madre: tierna, cariñosa, interesada en todo lo que hacía cada día y dispuesta a ayudarme. Esas conversaciones nocturnas comenzaron una verdadera amistad con Filipina que todavía continua.
Después de mi profesión perpetua, me enviaron de Roma a Chile y Filipina Duchesne me acompañó de una manera especial. Fueron su coraje y fortaleza los que me acompañaron durante mi primer año, mientras lidiaba con 157 niños de la escuela intermedia sin saber el idioma. Filipina había logrado iniciar las escuelas sin conocer el idioma, así que le pedí que me diese fuerza para mantener mi sentido del humor. Luego, un terremoto destruyó nuestro convento y la escuela. Viviendo sin agua corriente ni electricidad, contemplando lo que Filipina había sufrido nos ayudaba a mantenernos alegres. Filipina enfrentó muchas dificultades y se mantuvo siempre serena. Nuestra amistad se intensificó cuando ella me ayudó a encontrar más tiempo para la oración. Mis veinte años como misionera en Chile deben mucho al ejemplo de nuestra Santa.
Helen Rosenthal, RSCJ, Provincia d'Estados Unidos – Canada
Imagen: Academy of the Sacred Heart, St. Charles, MO
Mon Amitié avec Philippine
Rose Philippine Duchesne a été béatifiée en 1940. Quatre ans plus tard, à l'âge de treize ans, je suis entrée en tant qu'interne à l'Académie du Sacré-Cœur à St Charles, Missouri. L'école avait été ouverte par Philippine en 1818. Chaque nuit, je faisais partie des élèves qui allaient fermer le sanctuaire où Philippine était enterrée. Parfois, nous nous enveloppions dans les châles noirs des religieuses pour sortir et souhaiter bonne nuit à « Mère Duchesne ». Je crois que j'ai appris à prier en m'agenouillant au pied de sa tombe en marbre, à la lumière vacillante des chandelles ambres et vertes qui la décoraient. Mère Duchesne était une véritable mère pour moi : tendre, affectueuse, s'intéressant à tout ce que je faisais chaque jour et prête à m'aider. Ces conversations nocturnes ont donné jour à une réelle amitié avec Philippine, qui continue encore aujourd'hui.
Après ma profession perpétuelle, j'ai été envoyée directement de Rome au Chili et Philippine Duchesne m'a accompagnée d'une manière très spéciale. Son courage et sa force morale m'ont permis de surmonter la première année, alors que j'éprouvais des difficultés à contrôler 157 collégiens sans connaître leur langue. Philippine avait réussi à ouvrir des écoles sans pour autant maîtriser la langue ; je me suis donc tournée vers elle pour trouver la force nécessaire et garder mon sens de l'humour. Puis un tremblement de terre a détruit notre couvent et notre école. Vivant sans eau courante ni électricité, penser à ce que Philippine avait enduré nous a permis de continuer à être heureux. Philippine a rencontré bien des difficultés et a toujours fait preuve de sérénité. Notre amitié s'est consolidée lorsqu'elle m'a aidée à consacrer plus de temps à la prière. Mes vingt années de missionnaire au Chili sont en grande partie dues à l'exemple de notre Sainte.
Helen Rosenthal, RSCJ, Province d'Etats Unis – Canada
Image : Academy of the Sacred Heart, St. Charles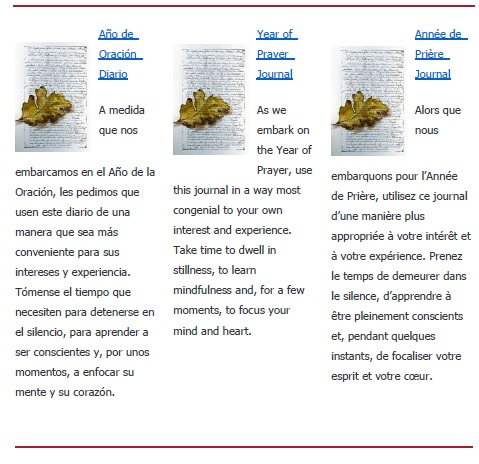 If you received this message from a friend and would like to receive our messages directly in the future, please sign up on our website.
Has your contact information changed recently? Update your full contact information and your mailing preferences.


Society of the Sacred Heart
4120 Forest Park Avenue, Saint Louis, MO 63108