The woman who prays always
2018-06-18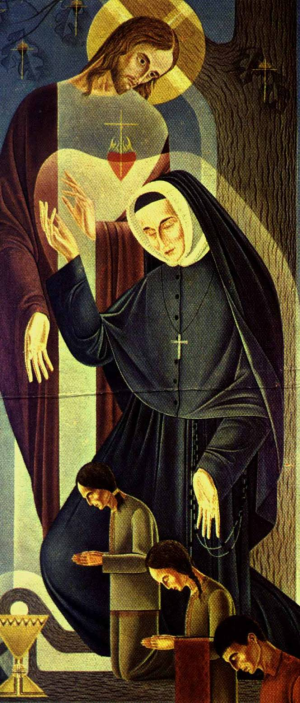 The woman who prays always
Since we were children, educated in a Sacred Heart school, we learnt to recognize the name of Philippine Duchesne as the first missionary of the congregation, without many details, but we knew of whom we were speaking.
Now, as a religious, the invocation of this outstanding woman is embedded in my heart; she was courageous in feeling herself insignificant, the good sister of the community who hastened to offer her services without being noticed, who tenderly welcomed the little ones in the school and who made up for the difficulty of making herself understood in a language that she never mastered.
One wonders how she was able to pass just as one among others, without the gift of a foreign language, but the Potawatomi give us the clue: she was the woman who prays always. That is her great gift, not just to our congregation but to the Church and the world of today. She gave that powerful witness of being the woman in whom people felt and experienced the presence of God.
The truly effective witness is that of a life in which the greatness of the humility of God vibrates. The deep and effective lesson of total self-giving in Jesus, who accepted to become one of us: limited but not worthless, powerless but not useless, close to us yet containing all the potential of the Trinitarian God, is what Philippine understood and what we and all the family of the Sacred Heart feel and love.
Philippine: the woman who prays always
Allow us to draw near very quietly, 
While you pray, caught up in this thirsting world
And to learn as you did, the wise way 
Of serving the water that springs up from the Eternal.
May we be always watchful
And allow God to pour forth his torrent
And reinvigorate the development of a people
Who are seeking solutions in the puddles
And are unable to find in our lives
The overflowing selflessness of God.
Help us to pray as you did
To pay the price of silence
And to receive joyfully the gift of a prayer
In which God's gift of self
Overflows among God's people.
Estela Henao, RSCJ, Province of Colombia
Image: Milton Frenzel
La mujer que siempre ora
Desde pequeñas, educadas en un colegio del Sagrado Corazón, aprendimos a distinguir el nombre de Rosa Filipina Duchesne como la primera misionera de la congregación. Sin muchos distintivos, pero sabíamos a quién nombrábamos.
Ahora como religiosa está incrustado en mi corazón la invocación de esa mujer gigante, valiente en la pequeñez de su sentir, la hermana buena de la comunidad que se apresuraba a prestar servicios sin hacerse notar, que recibía con ternura las pequeñas del colegio y que suplía su dificultad de hacerse entender en otro idioma que nunca logró dominar.
Uno se pregunta cómo hizo para pasar como una más, sin el don de la lengua extranjera, pero los indios Potawatomi nos dieron la clave: es la mujer que siempre ora. Ese es, el gran don no solo a nuestra congregación. Sino a la Iglesia y al mundo de hoy. Dar ese testimonio tan eficaz de ser la mujer en quien la gente sentía y captaba la presencia de Dios.
El testimonio verdaderamente eficaz es el de una vida en la que palpita la grandeza de la humildad de Dios. La profunda y eficaz lección de entrega total y en Jesús, que acepta hacerse uno como nosotros: limitado, pero no miserable- impotente, pero no inútil- cercano, pero abarcando toda la potencialidad de Dios Trinitario- eso lo entendió ella, Filipina, eso lo sentimos y amamos nosotros religiosas y toda la familia del Sagrado Corazón.
Filipina: La mujer que siempre ora
Permítenos acercarnos muy quedo,
Mientras oras sumida en este mundo tan sediento
Y aprender como tú, la forma sabia
De servir agua que brota del Eterno. 
Permítenos conservar siempre la guardia
y permitir a Dios que brote su torrente
y refresque los ímpetus de un pueblo
que busca por los charcos soluciones
y no logra encontrar en nuestras vidas
el desborde de entrega del Dios Bueno.
Ayúdanos a orar como sabías
Saber pagar el precio del silencio
Y recibir gozosas el don de una oración
Donde Dios se desborde entre su pueblo.
Estela Henao, RSCJ, Provincia de Colombia
Imagen: Milton Frenzel
La femme qui prie toujours
 
Depuis toutes petites, nous avons été éduquées au sein d'une école du Sacré-Cœur et avons appris à distinguer le nom de Rose Philippine Duchesne comme la première missionnaire de la congrégation. Même sans avoir beaucoup de détails, nous savions de qui nous étions en train de parler.
Aujourd'hui, en tant que religieuse, l'invocation de cette femme remarquable est gravée dans mon cœur. Courageuse quant au fait de se sentir insignifiante, elle était la gentille sœur de la communauté celle qui s'empressait de rendre service sans se faire remarquer, qui accueillait avec tendresse les petites filles de l'école et qui remédiait à la difficulté de se faire comprendre dans une autre langue qu'elle n'a jamais maîtrisée.
D'aucuns se demandent comment elle s'y est prise pour s'intégrer, sans le don de la langue étrangère, mais les Indiens Potawatomi nous ont donné la clé : elle n'est autre que la femme qui prie toujours. C'est le grand don qu'elle a fait non seulement à notre congrégation, mais aussi à l'Église et au monde d'aujourd'hui. Donner ce témoignage si efficace d'être la femme en qui les gens sentent et captent la présence de Dieu.
Le témoignage véritablement efficace est celui d'une vie où palpite la grandeur de l'humilité de Dieu. La leçon profonde et efficace du don total de soi à Jésus, qui accepte de devenir quelqu'un comme nous : limité mais pas misérable, impuissant mais pas inutile, proche mais englobant tout le potentiel de Dieu Trinitaire, c'est ce qu'avait compris Philippine et ce que nous, religieuses et toute la famille du Sacré-Cœur, ressentons et aimons.
Philippine : la femme qui prie toujours
Laisse-nous doucement nous approcher,
Alors que tu pries, plongée dans ce monde assoiffé,
Et apprendre comme tu l'as fait la manière sage
De servir l'eau qui jaillit de l'Éternel.
Laisse-nous toujours conserver notre vigilance
Et permettre à Dieu de faire jaillir son torrent 
Et rafraîchir les élans d'un peuple
Qui cherche parmi les flaques des solutions
Et ne réussit pas à trouver dans nos vies
Le don débordant du Bon Dieu.
Aide-nous à prier comme tu savais si bien le faire,
À savoir payer le prix du silence
Et à recevoir avec joie le don d'une prière 
Où Dieu déborde parmi son peuple.
Estela Henao, RSCJ, Province de Colombie
Image : Milton Frenzel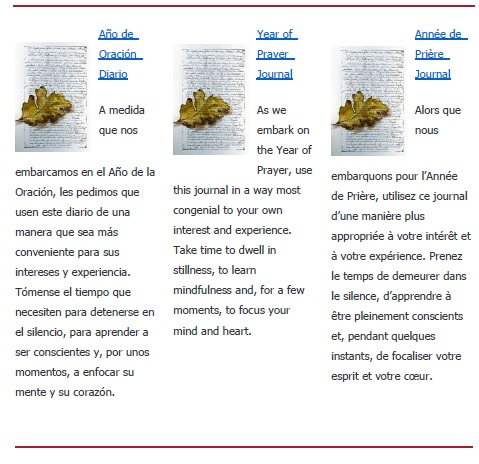 If you received this message from a friend and would like to receive our messages directly in the future, please sign up on our website.
Has your contact information changed recently? Update your full contact information and your mailing preferences.


Society of the Sacred Heart
4120 Forest Park Avenue, Saint Louis, MO 63108