Crossing Boundaries – Breaking Barriers
2018-06-11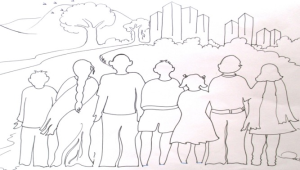 English  |  Español  |  Français | 日本語訳
Crossing Boundaries – Breaking Barriers
Philippine Duchesne offers us the heart of a "frontier woman." She was a woman of deep prayer, as others described her, and a woman who spoke with her heart in the Saint Charles and Florissant world of her time. She was undaunted by language, culture, climate, distances and uncertainties of every kind. Instead, like a humble seed in the earth, she garnered a rich harvest in the slow process of dying and birthing.
Over the centuries, like Philippine, many young women and men felt "a call to mission" in distant lands and made immeasurable contributions in these places. Today, however, in several countries, missionaries are not so welcome. Their work is often considered controversial and their presence experienced as a threat to certain age-old traditions and cultures. Moreover, the internet is a great means of communication today. So, where do the frontiers exist? What would the 'frontier woman' be like today?
Perhaps Philippine, our frontier woman, has a question or two for us: Do we need to strengthen our internal bonds – spiritual and material? At the same time, should we turn outward to new life-giving sources, there to discover our place and spirituality anew? Where, for example, do we see ourselves in relation to the young who are being drawn by the Spirit to differently expressed spiritual commitments and involvement in the service of humanity?
Saint Philippine calls us today to respond to the promptings of the Spirit. In this lies our hope. How best can we address these realities in the midst of uncertainties and even, humanly speaking, at the risk of possible failure? Philippine beckons us to courage, unceasing prayer and contemplation in order to let go of all that hinders us and to let come the powerful work of the Spirit in our lives.
Mary Varghese, RSCJ, Province of India
Image: Mary Verghese, RSCJ
Cruzando fronteras – Rompiendo barreras
Filipina Duchesne nos ofrece el corazón de una "mujer de la frontera". Era una mujer de oración profunda, como otros la describieron, y una mujer que habló con su corazón al mundo de su época de Saint Charles y Florissant. No se dejaba intimidar por el lenguaje, la cultura, el clima, las distancias y las incertidumbres de todo tipo. En cambio, como una semilla humilde en la tierra, ella cosechó una rica cosecha en el lento proceso de morir y de nacer.
A lo largo de los siglos, como Filipina, muchas mujeres y hombres jóvenes sintieron "una llamada a la misión" en tierras lejanas e hicieron contribuciones inconmensurables en estos lugares. Hoy en día, sin embargo, en varios países los misioneros no son tan bienvenidos. Su trabajo es a menudo considerado controvertido y su presencia vivida como una amenaza a ciertas tradiciones y culturas seculares. Además, el Internet es un gran medio de comunicación hoy. Entonces, ¿dónde están las fronteras? ¿Cómo sería hoy la "mujer de la frontera"?
Tal vez Filipina, nuestra mujer de la frontera, tiene una pregunta o dos para nosotras: ¿Necesitamos fortalecer nuestros vínculos internos – espirituales y materiales? Al mismo tiempo, ¿debemos dirigirnos hacia nuevas fuentes vivificantes, para descubrir nuevamente nuestro lugar y nuestra espiritualidad? ¿Por ejemplo, dónde nos ponemos en relación a los jóvenes que son atraídos por el espíritu a compromisos espirituales diferentes y están involucrados en el servicio para la humanidad?
Santa Filipina nos llama hoy a responder a los impulsos del Espíritu. En esto reside nuestra esperanza. ¿Cuál es la mejor manera en la que podemos abordar estas realidades en medio de las incertidumbres e incluso, hablando humanamente, con el riesgo de un posible fracaso? Filipina nos invita al coraje, a la oración incesante ya la contemplación para dejar ir todo lo que nos entorpece y dejar pasar la poderosa obra del Espíritu en nuestras vidas.
Mary Varghese, RSCJ, Provincia de India
Imagen: Mary Varghese, RSCJ
Traverser les Frontières – Détruire les Barrières
Philippine Duchesne nous offre le cœur d'une « femme frontière ». C'était une femme de profonde prière, comme les autres la décrivaient, et une femme qui parlait avec son cœur dans le monde de Saint Charles et de Florissant de son époque. La langue, la culture, le climat, les distances et les incertitudes de toutes sortes ne l'effrayaient pas. Au contraire, telle une modeste graine dans la terre, elle récoltait une abondante moisson dans le lent processus de mort et de naissance.
Au fil des siècles, plusieurs jeunes femmes et hommes ont ressenti, tout comme Philippine, un « appel à la mission » vers des terres lointaines et y ont apporté leur incommensurable contribution. Toutefois, de nos jours, les missionnaires ne sont pas forcément les bienvenus dans plusieurs pays. Leur travail est souvent considéré comme controversé et leur présence ressentie comme une menace pour les traditions et les cultures antiques. De plus, l'internet représente aujourd'hui un grand moyen de communication. Donc, où sont les frontières ? À quoi ressemblerait la « femme frontière » aujourd'hui ?
Philippine, notre femme frontière, a peut-être une question ou deux pour nous : Avons-nous besoin de consolider les liens internes – spirituels et matériels ? En même temps, devrions-nous nous tourner vers de nouvelles sources vivifiantes, pour découvrir à nouveau notre place et notre spiritualité ? Par exemple, où nous voyons-nous par rapport aux jeunes qui sont attirés par l'Esprit à des engagements spirituels exprimés différemment et à l'implication au service de l'humanité ?
Sainte Philippine nous appelle aujourd'hui à répondre aux incitations de l'Esprit. Notre espoir repose sur cela. Comment pouvons-nous répondre au mieux à ces réalités en pleine incertitude et, humainement parlant, au risque d'un possible échec ? Philippine nous appelle au courage, à la prière et à la contemplation continues, de manière à abandonner tout ce qui nous nuit et laisser place au puissant travail de l'Esprit dans nos vies.
Mary Varghese, RSCJ, Province d'Inde
Image : Mary Varghese, RSCJ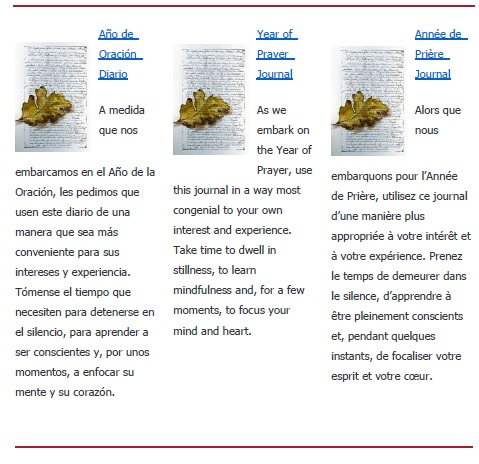 If you received this message from a friend and would like to receive our messages directly in the future, please sign up on our website.
Has your contact information changed recently? Update your full contact information and your mailing preferences.


Society of the Sacred Heart
4120 Forest Park Avenue, Saint Louis, MO 63108