A Community of Three
2018-05-28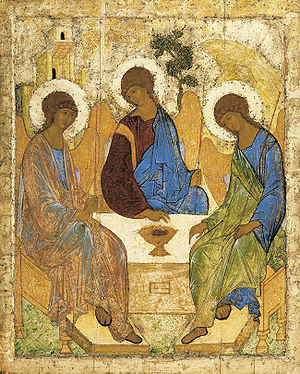 A Community of Three
My first community was named "Duchesne," and it was on the Feast of Philippine that I entered the novitiate in the Philippines. Since then Philippine has had a place in my heart, and I have been deeply inspired by her life of prayer and zeal for mission. From her story, I learned that her first desire for mission was to go to my country but that God had another plan for her. With all these connections, I felt close to her and often turned to her for help. 
Four years ago, after my final profession, I was sent to my homeland for mission. I was excited but also filled with fear and uncertainty. I was afraid of being alone, without a community. Also, my presence was no longer just as an individual but as a member of the Society. This was a weight on my heart.
On the airplane, I read a small book written by Janet Erskine Stuart, RSCJ. Each word spoke to me deeply. I started to feel the strong connection with the Society and especially the presence of Sophie and Philippine. I conversed with them about many things, especially on the life of prayer and on "failure," the latter often Philippine's experience. This gave me much strength and courage for the journey.
Before leaving the plane, I realized that I was in a community of three – Sophie and Philippine had joined me. Together we would start a new mission. This mission is now called the Duchesne Project. How blessed I am to be a member of this community!
Stella S., RSCJ, Province of Korea-Chinese
Image: Andrei Rublev
Una comunidad de tres
Mi primera comunidad se llamaba "Duchesne" y fue en ocasión de la Fiesta de Filipina que entré en el noviciado en Filipinas. Desde entonces, Filipina ha tenido un lugar en mi corazón, y he sido profundamente inspirada por su vida de oración y celo por la misión. De su historia, supe que su primer deseo de misión era ir a mi país, pero que Dios tenía otro plan para ella. Con todas estas conexiones, me sentía cerca de ella y muchas veces recurría a ella para pedir ayuda.
Hace cuatro años, después de mi profesión final, fui enviada a mi país natal para la misión. Estaba emocionada pero también llena de miedo e incertidumbre. Tenía miedo de estar sola, sin una comunidad. Además, mi presencia ya no era sólo como individuo sino como miembro de la Sociedad. Esto era un peso en mi corazón.
En el avión, leí un pequeño libro escrito por Janet Erskine Stuart, RSCJ. Cada palabra me hablaba profundamente. Comencé a sentir la fuerte conexión con la Sociedad y en particular la presencia de Sofía y Filipina. Conversé con ellas acerca de muchas cosas, especialmente sobre la vida de oración y sobre el "fracaso", este último a menudo era la experiencia de Filipina. Esto me dio mucha fuerza y valentía para el viaje.
Antes de salir del avión, me di cuenta de que estaba en una comunidad de tres – Sofía y Filipina se habían unido a mí. Juntas comenzaríamos una nueva misión. Esta misión se llama ahora el Proyecto Duchesne. ¡Qué bendita soy de ser miembro de esta comunidad!
Stella S., RSCJ, Provincia des Corea – China 
Image: Andrei Rublev
Une Communauté de Trois
Ma première communauté s'appelait « Duchesne » et c'est le jour de la Fête de Philippine que je suis entrée au noviciat, aux Philippines. Depuis lors, Philippine a occupé une place dans mon cœur et j'ai profondément été inspirée par sa vie de prière et son zèle pour la mission. En me penchant sur son histoire, j'ai appris que son premier désir pour la mission était d'aller dans mon pays mais que Dieu avait un autre projet pour elle. Tous ces liens m'ont permis de me rapprocher d'elle et de m'adresser à elle lorsque j'avais besoin d'aide.
Il y a quatre ans, après ma profession perpétuelle, j'ai été envoyée dans mon pays natal pour accomplir ma mission. J'étais très excitée mais je ressentais également beaucoup de crainte et d'incertitude. J'avais peur de me retrouver seule, de ne plus faire partie d'une communauté. De plus, je n'étais plus présente uniquement en tant qu'individu mais en tant que membre de la Société. C'était un poids que j'avais sur le cœur.
Dans l'avion, j'ai lu un petit bouquin écrit par Janet Erskine Stuart, RSCJ. Chaque mot résonnait en moi profondément. Je commençais à sentir une forte connexion avec la Société et, en particulier, la présence de Sophie et Philippine. Je leur ai parlé de nombreuses choses, surtout de la vie de prière et de « l'échec », dont Philippine a souvent fait l'expérience. Cela m'a donné beaucoup de force et de courage pour ce voyage.
Avant de descendre de l'avion, j'ai réalisé que je faisais partie d'une communauté de trois : Sophie et Philippine m'avaient rejointe. Ensemble, nous allions commencer une nouvelle mission. Cette mission s'appelle désormais le Projet Duchesne. Quelle bénédiction de faire partie de cette communauté !
Stella S., RSCJ, Province de Corée-Chinoise
Image : Andrei Rublev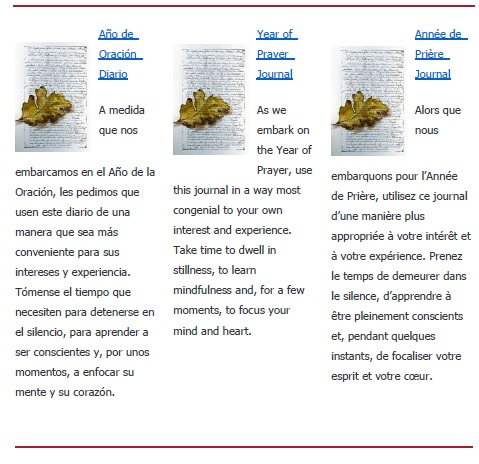 If you received this message from a friend and would like to receive our messages directly in the future, please sign up on our website.
Has your contact information changed recently? Update your full contact information and your mailing preferences.


Society of the Sacred Heart
4120 Forest Park Avenue, Saint Louis, MO 63108