Silence
2018-05-21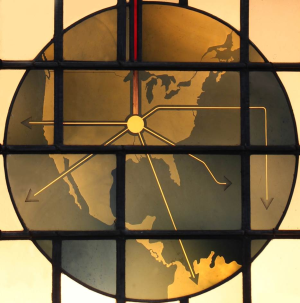 Silence
Philippine's life is marked by many qualities. What stands out for me is her silence, which attracted many in her day and still seizes our hearts today. This legacy of silence was at the heart of Philippine's life, enabling her to remain focused on the Lord's ways interiorly and to act radically. The interior life she lived enabled her to risk new frontiers in response to calls of her time. She lived a life like that of Mary the mother of Jesus. Philippine's silence is a lesson we want to understand as we navigate our own lives. We want to be silent interiorly and present to others, even though not using many words. Her extraordinary way of living daily in deep contemplation enabled her to grow in union with Jesus. 
I pray that Philippine intercede for us so that we too may grow in interior life for mission, wherever God sends us. Even if the ordinary language of communication fails, dear Philippine, let your example and God's graces make us believe in the quality of silence. May we walk unabated into untrodden paths to discover a language without words that seizes our hearts for things of God. Pray for us to remain anchored in our source of life, the Lord, who prepared you for mission in the New World. The Lord had all the instruments needed implanted in the storehouse of your heart. May you obtain for us the same graces to help us wait patiently, silently, and trustingly as God is preparing our hearts for new frontiers, our new callings today in the twenty-first century.
Ursula N. Bugembe, RSCJ, Province of Chad
Image: Emil Frei
Silencio
La vida de Filipina está marcada por muchas cualidades. La más significativa para mí es su silencio, que atrajo a muchas personas en su época y que todavía hoy afianza nuestros corazones. Esta herencia del silencio era primordial en la vida de Filipina, le permitió permanecer centrada en los caminos interiores del Señor y actuar radicalmente. La vida interior que vivía, le permitía aventurarse a nuevas fronteras en respuesta a las llamadas de su tiempo. Vivió una vida como la de María, la madre de Jesús. El silencio de Filipina es una enseñanza que queremos entender mientras navegamos en nuestras vidas. Queremos ser silenciosas interiormente y estar presentes, para los demás sin usar muchas palabras. Su manera extraordinaria de vivir cada día en profunda contemplación le permitió crecer en unión con Jesús.
 
Rezo para que Filipina interceda por nosotras de manera que podamos también crecer en la vida interior para la misión, dondequiera que Dios nos envíe. Aunque el lenguaje habitual de comunicación falle, querida Filipina, deja que tu ejemplo y las gracias de Dios nos hagan creer en la calidad del silencio. Que podamos caminar sin descanso por senderos inexplorados para descubrir un lenguaje sin palabras que afiance nuestros corazones a las cosas de Dios. Reza por nosotras para que permanezcamos ancladas en nuestra fuente de vida, el Señor, que te preparó para la misión en el Nuevo Mundo. El Señor tenía todos los instrumentos necesarios implantados en el almacén de tu corazón. Que puedas obtener para nosotras las mismas gracias para ayudarnos a esperar con paciencia, silencio y confianza, mientras Dios prepara nuestros corazones para nuevas fronteras, nuestras nuevas llamadas en el siglo veinte y uno.
Ursula N. Bugembe, RSCJ, Provincia de Chad
Imagen: Emil Frei
Silence
La vie de Philippine se caractérise par de nombreuses qualités. Ce qui me frappe en particulier, c'est son silence ; il a attiré de nombreuses personnes à son époque et continue de s'emparer de nos cœurs aujourd'hui. Cet héritage du silence, qui était au cœur de la vie de Philippine, lui permettant ainsi de rester intérieurement concentrée sur les voies du Seigneur et d'agir de façon radicale. Sa vie intérieure lui a permis de prendre le risque d'aller vers de nouvelles frontières, afin de répondre aux appels de son temps. Elle a vécu de la même manière que Marie, mère de Jésus. Le silence de Philippine est une leçon que nous voulons comprendre alors que nous naviguons sur la route de nos propres vies. Nous voulons être silencieuses intérieurement et présentes pour les autres en utilisant peu de mots. Grâce à la manière extraordinaire avec laquelle elle a vécu quotidiennement en profonde contemplation, elle a pu grandir en union avec Jésus.
Je prie pour que Philippine intercède pour nous, afin que nous puissions aussi grandir dans notre vie intérieure pour la mission, partout où Dieu nous enverra. Même si le langage ordinaire de communication échoue, chère Philippine, que ton exemple et les grâces de Dieu nous permettent de croire en la qualité du silence. Que nous marchions sans relâche vers de nouveaux horizons et découvrir un langage sans paroles qui s'empare de nos cœurs pour les choses de Dieu. Prie pour que nous restions ancrées dans notre source de vie, le Seigneur, qui t'a préparée pour la mission dans le Nouveau Monde. Le Seigneur avait tous les instruments nécessaires implantés dans l'entrepôt de ton cœur. Puisses-tu obtenir pour nous les mêmes grâces, afin de nous aider à attendre patiemment, en silence et en toute confiance, alors que Dieu prépare nos cœurs pour les nouvelles frontières, qui sont aujourd'hui nos nouveaux appels du vingt et unième siècle.
Ursula N. Bugembe, RSCJ, Province de Tchad
Image : Emil Frei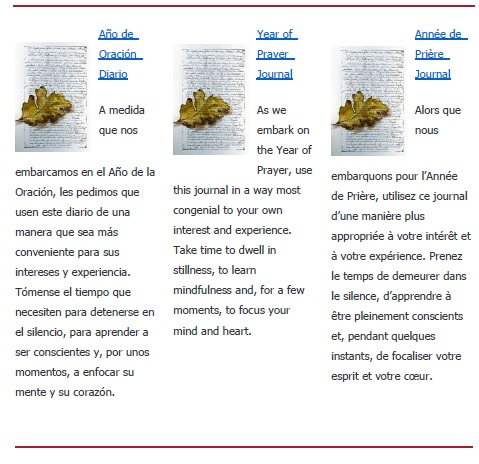 If you received this message from a friend and would like to receive our messages directly in the future, please sign up on our website.
Has your contact information changed recently? Update your full contact information and your mailing preferences.


Society of the Sacred Heart
4120 Forest Park Avenue, Saint Louis, MO 63108