Staying
2018-05-07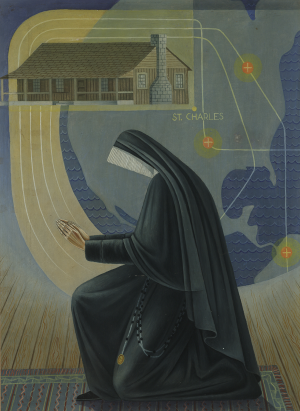 English  |  Español  |  Français | 日本語訳
Staying
I think that Philippine would be very surprised by the admiration and inspiration that she arouses in us. Years ago, when I heard about her for the first time, I was impressed by her desire to be a missionary. I was struck by the fact that, with all that needed to be done in her country, with the great needs and challenges of the society of her time, she looked beyond her own frontiers and wanted to bring the love of the heart of Christ "to the ends of the earth".
It has always seemed to me a great risk, full of courage, to decide to leave everything and to cross the immense ocean, knowing that it would be almost impossible to return. I admired her courage and the deep desire that encouraged her to embark on this voyage.
Now, years after first knowing her story, I discover that what I love most about her is what happened afterwards: meeting the practical difficulties of this new country where she had arrived, suffering from the lack of understanding of her own sisters, having to wait so long to live with the indigenous people for whom she longed to be in mission, and not to be able to learn their language. And on this journey, so full of obstacles, Philippine remained rooted in the love of Jesus, that love that had driven her on this adventure and which accompanied her in the midst of apparent failure.
When I think of how to be faithful to our charism today, I admire Philippine's daring, but I also pray for her ability to stay in the midst of difficulties, to stay close to those realities which make us touch our own limits, to know how to embrace misunderstandings and mistakes, because there too a sacred space is revealed to us where we can discover and reveal the love of the One who loves us and wants to give us life in abundance so that we may share it with all God's sons and daughters.
Paula Grillo, RSCJ, Province of Argentina-Uruguay
Image: Milton Frenzel
Permanecer
Creo que Filipina debe estar muy sorprendida de la admiración e inspiración que ella nos provoca.
Hace años, cuando escuché por primera vez hablar sobre ella, me impactó su deseo de ser misionera.  Me llamó la atención de que aún con todo lo que había para hacer en su país, con los grandes desafíos y necesidades de la sociedad de su tiempo, ella mirase más allá de sus propias fronteras y desease llevar el amor del Corazón de Jesús hacia "los confines de la tierra".
Siempre me ha parecido un gran riesgo, lleno de coraje, el animarse a dejarlo todo para cruzar el inmenso océano, sabiendo que era casi imposible regresar.  Admiré su valentía y el deseo profundo que la animaba a embarcarse en ese viaje.
Ahora, años después de ese primer encuentro con su historia, descubro que me apasiona mucho más todo lo que Filipina vivió después: encontrarse con las dificultades concretas de esa tierra nueva a la que llegaba, sufrir la incomprensión de sus propias hermanas, tener que esperar tantos años para poder vivir con los pueblos indígenas, que tanto anhelaba misionar, y, además, no poder aprender su lengua.  Y en ese camino lleno de obstáculos, Filipina permaneció arraigada en el amor de Jesús, ese mismo amor que la lanzó a la aventura y que la acompañó en medio del aparente fracaso.
Cuando pienso en cómo ser fieles a nuestro carisma hoy, miro la audacia de Filipina, pero también pido su capacidad de permanecer en medio de las dificultades, de hermanarnos con aquellas realidades que nos hacen tocar nuestros propios límites, de saber abrazar las incomprensiones y desaciertos, porque también allí se nos revela un espacio sagrado donde descubrir y manifestar el amor de Aquél que nos ama y quiere regalarnos vida en abundancia para compartir con todos sus hijos e hijas.
Paula Grillo, RSCJ, Provincia de Argentina – Uruguay
Imagen: Milton Frenzel
Demeurer
Je pense que Philippine doit être très surprise de l'admiration et de l'inspiration qu'elle provoque en nous. Il y a quelques années, lorsque j'ai entendu parler d'elle pour la première fois, son désir d'être missionnaire m'a impressionnée. J'ai été frappée par le fait que, malgré tout ce qu'il y avait à faire dans son pays, avec les grands défis et les besoins de la société de son époque, elle a regardé au-delà de ses propres frontières et souhaitait emporter l'amour du Cœur de Jésus jusqu'aux « confins de la terre ».
Trouver la force de tout quitter pour traverser un immense océan, tout en sachant qu'il était quasiment impossible de revenir, m'a toujours paru être un grand risque, plein de courage. J'ai admiré son courage et le profond désir qui l'ont poussée à embarquer pour ce voyage.
Aujourd'hui, plusieurs années après cette première rencontre avec son histoire, je découvre que tout ce que Philippine a vécu par la suite me passionne davantage : affronter les difficultés concrètes de ce nouveau territoire qu'elle venait d'atteindre, subir l'incompréhension de ses propres sœurs, devoir attendre de nombreuses années pour pouvoir vivre avec les peuples indigènes, alors qu'elle avait hâte de partir en mission, et ne pas pouvoir apprendre leur langue. Et, sur ce chemin semé d'embûches, Philippine demeura enracinée dans l'amour de Jésus, ce même amour qui la fit partir à l'aventure et l'accompagna au beau milieu d'un échec apparent.
Lorsque je pense à la manière avec laquelle nous devons être fidèles à notre charisme aujourd'hui, je salue l'audace de Philippine. Mais je prie également pour sa capacité à demeurer au milieu des difficultés, à nous associer à ces réalités qui nous font toucher nos propres limites, à savoir accepter les incompréhensions et les erreurs, car là aussi se révèle à nous un espace sacré, où l'on peut découvrir et manifester l'amour de Celui qui nous aime et qui souhaite nous offrir la vie en abondance, afin de le partager avec tous ses fils et filles.
Paula Grillo, RSCJ, Province d'Argentine – Uruguay
Image : Milton Frenzel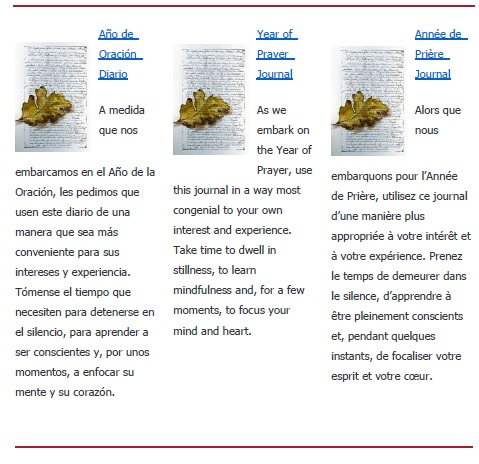 If you received this message from a friend and would like to receive our messages directly in the future, please sign up on our website.
Has your contact information changed recently? Update your full contact information and your mailing preferences.


Society of the Sacred Heart
4120 Forest Park Avenue, Saint Louis, MO 63108