Beyond the Limits of our Sight
2018-04-30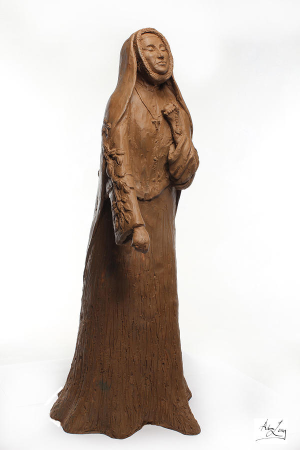 Beyond the Limits of our Sight
Philippine dreamed big and listened wide for the voice, the call, of God. Whether working with those in need closer to home in Grenoble, or giving herself to a pull that would take her away from that which was physically familiar and ever deeper into the diverse terrain of the Heart where she made her true home, Philippine responded with disponibilité, creativity, and a broad, inclusive desire to make God's love known.
With fervor, she talked and wrote openly of her desires, her thoughts, her discernment with God. My contemporary imagination easily hears her saying year after year "and, oh, by the way … if you need someone to cross an ocean and start something new … I'm still open because that is where I believe God is calling me to go."
It is one thing to have the dream. It is another still to voice it. But it is something else altogether to drop everything and go forward once approval comes … to go when the cost is dear and the unknowns looming; to go prayerfully and with courage; to say Yes and walk on knowing that doubt, fear, and challenge will be probable companions and might sometimes even gain the upper hand temporarily; to say Yes, above all else, to sharing the Love to which I too have given my life.
That level of freedom, that intensity of commitment to dreaming and discerning, to the Society, to God, and to God's people, is one of the qualities I admire most about Philippine.
Kim King, RSCJ, Province of the United States – Canada
Image: Adam Long
Más allá de los límites de nuestra mirada
 
Filipina soñaba en grande y escuchaba profundamente la voz, la llamada de Dios. Ya sea trabajando con aquellos necesitados en la cercanía de la casa en Grenoble, o dando a sí misma un tirón que la alejaría de aquello que le era familiar y la adentraría en el terrero del corazón donde ella hizo su verdadero hogar, Filipina respondió con disponibilidad, creatividad y amplitud, a su deseo de conocer el amor de Dios.
Con fervor, ella habló y escribió abiertamente de sus deseos, sus pensamientos, su discernimiento con Dios. Mi imaginación contemporánea la escucha fácilmente año tras año diciendo: "y, oh, por cierto… Si necesitas a alguien que cruce un océano y comience algo nuevo… yo estoy abierta porque es donde yo creo que Dios me está llamando a ir".
Una cosa es tener el sueño. Otra es la de darle voz. Pero es algo más el conjunto de dejar todo y seguir adelante cuando llega la aprobación… cuando el coste es estimado y las incógnitas se avecinan; rezando y yendo con valentía; diciendo si y caminando aun sabiendo que la duda, el miedo y el desafío serán probables compañeros y a veces, incluso, nos sacarán ventaja por un momento; a decir que sí por encima de todo para compartir el Amor a que yo también he ofrecido mi vida.
Ese nivel de libertad, esa intensidad de compromiso a soñar y discernir, a la Sociedad, a Dios y al pueblo de Dios, es una de las cualidades que más admiro de Filipina.
Kim King, RSCJ, Provincia de los Estados Unidos – Canadá
Imagen: Adam Long
Au-delà des limites de ta vision
Philippine voyait grand et cherchait à entendre la voix, l'appel de Dieu. Que ce soit en travaillant avec les plus démunis près de chez elle, à Grenoble, ou en étant attirée par quelque chose qui l'aurait éloignée de tout ce qui lui était physiquement familier et l'aurait plongée davantage dans le territoire varié du Cœur où elle avait fondé son véritable foyer, Philippine a toujours répondu avec disponibilité, créativité et un immense désir d'ouverture pour faire connaître l'amour de Dieu.
Avec ferveur, elle a écrit et parlé ouvertement de ses désirs, ses pensées, son discernement avec Dieu. Mon imagination contemporaine peut facilement l'entendre dire, année après année : « Et, oh, à propos… si vous avez besoin de quelqu'un pour traverser un océan et commencer quelque chose de nouveau… je reste ouverte car je pense que c'est là où Dieu m'appelle à aller ».
Avoir un rêve est une chose. Continuer à l'exprimer en est une autre. Mais il est totalement différent de tout laisser tomber et d'aller de l'avant une fois l'accord obtenu… de partir lorsque le prix est cher à payer et que l'inconnu se profile ; de partir dans la prière et avec courage ; de dire Oui et de continuer à marcher en sachant que ce doute, cette crainte et ce défi seront de probables compagnons de route et pourront parfois prendre temporairement le dessus ; de dire Oui avant tout, dans le but de partager l'Amour pour lequel j'ai, moi aussi, donné ma vie.
Ce degré de liberté, cette intensité dans l'engagement à rêver et à discerner envers la Société, envers Dieu et envers le peuple de Dieu, sont les qualités que j'admire le plus chez Philippine. 
Kim King, RSCJ, Province des Etats-Unis – Canada
Image : Adam Long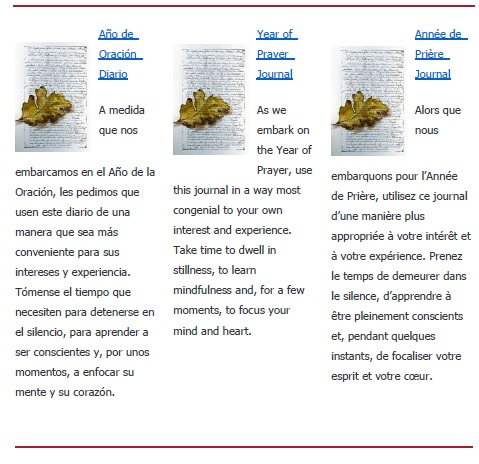 If you received this message from a friend and would like to receive our messages directly in the future, please sign up on our website.
Has your contact information changed recently? Update your full contact information and your mailing preferences.


Society of the Sacred Heart
4120 Forest Park Avenue, Saint Louis, MO 63108