Living with Philippine's Heart
2018-04-23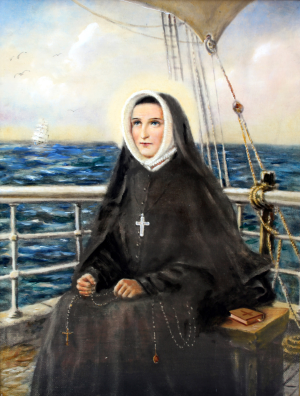 Living with Philippine's Heart
I came to know Philippine Duchesne through stories told by one or other RSCJ, and from writings about her. Later I had the grace of visiting some places where she lived in the United States. With Philippine Duchesne, I have seen how my life is a physical, intellectual, human, psychic and spiritual journey with an open heart, like Abraham, moving towards myself, others, nature and God with a deep inner joy. Something I continue to experience linked with her is the openness in contemplating her picture on the Rebecca, crossing cultural, religious, North/South and social frontiers.
Setting out with nothing at the start of her mission, Philippine teaches me that real human poverty is not a lack of money, but rather the lack of heart or of love towards others. As Helder Camara puts it, "Nobody is so poor that he has nothing to offer; nobody is so rich that [she] does not need help." By her person, Philippine enriches each of us. Temple of the living God, Philippine Duchesne has enabled me to see, through her being, that "to discover and manifest the love of the Heart of Christ by the service of education" is a universal heritage lived daily by every RSCJ and by everyone who decides to live by it.
N'guemta Nakoye Mannta (Juliette), RSCJ, Province of Tchad
Image: Margaret Mary Nealis, RSCJ
Vivir con el corazón de Filipina
He conocido a Filipina Duchesne a través las historias que distintas RSCJ contaban y a través de lo que se ha escrito sobre ella. Después tuve la ocasión de visitar en Estados Unidos algunos lugares donde vivió. Con Filipina, he visto con el corazón en la mano como mi vida ha sido, como la de Abraham, una marcha física, intelectual, psíquica y espiritual, un caminar que me conducía a mi interior, a los demás, a la naturaleza y a Dios, con una alegría interior profunda. Lo que sigo experimentando relacionado con ella, cuando contemplo su apertura en el Rebecca según el retrato, es la importancia de cruzar fronteras, las fronteras culturales, religiosas, Norte/Sur, sociales (ricos/pobres).
Empezando su misión sin nada, Filipina me enseña que la verdadera pobreza humana no está en la falta de dinero sino más bien en no tener corazón y en la falta de amor al otro. Como lo dice Don Helder Camara "Nadie es tan pobre que no tenga algo que ofrecer, nadie es tan rico que no necesite ayuda". Filipina nos enriquece a todos con su persona. Templo del Dios vivo, Filipina Duchene me ha hecho experimentar con su persona que: "Descubrir y manifestar el amor del Corazón de Cristo por el servicio de la educación" es un patrimonio universal vivido en lo cotidiano por toda RSCJ y por todos aquellos que decidan vivirlo.
N'guénta Nakoye Mannta (Juliette), RSCJ, Provincia de Chad
Image: Margaret Mary Nealis, RSCJ
Vivre avec le cœur de Philippine
J'ai connu Philippine Duchesne à travers les histoires narrées par l'une ou l'autre RSCJ et à travers les œuvres écrites à son sujet. Plus tard j'ai eu la grâce de visiter certains endroits où elle a vécu aux États-Unis. Avec Philippine Duchesne, j'ai vu comment ma vie est une marche physique, intellectuelle, humaine, psychique et spirituelle à cœur ouvert, comme Abraham, en allant vers moi-même, les autres, la nature et Dieu avec une joie intérieure profonde. Ce que je continue d'expérimenter en lien avec elle dans l'ouverture à travers la contemplation de son portrait dans le Rebecca c'est de franchir les frontières culturelles, religieuses, Nord/Sud, sociales (riches/pauvres). 
Partant de rien au début de sa mission, Philippine m'apprend que la vraie pauvreté humaine n'est pas le manque d'argent mais plutôt le manque de cœur ou d'amour envers autrui. Comme le dit Dom Helder Camara « Personne n'est si pauvre qu'il n'ait rien à offrir, personne n'est si riche qu'il n'ait pas besoin d'aide ». Philippine nous enrichit en tout le monde par sa personne. Temple du Dieu vivant, Philippine Duchesne m'a fait expérimenter par sa personne que : « Découvrir et manifester l'amour du Cœur de Christ par le service de l'éducation » est un patrimoine universel vécu au quotidien par toute RSCJ et toute personne qui décide d'en vivre.
N'guémta Nakoye Mannta (Juliette), RSCJ, Province de Tchad
Image: Margaret Mary Nealis, RSCJ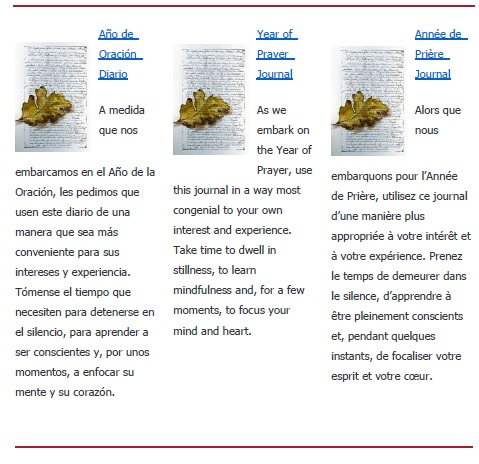 If you received this message from a friend and would like to receive our messages directly in the future, please sign up on our website.
Has your contact information changed recently? Update your full contact information and your mailing preferences.


Society of the Sacred Heart
4120 Forest Park Avenue, Saint Louis, MO 63108