Learning from Philippine, Woman of Faith
2018-04-16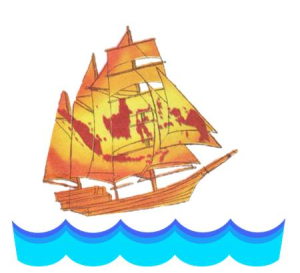 English  |  Español  |  Français  |  日本語訳
Learning from Philippine, Woman of Faith
What comes to mind when you hear Philippine's name? This question surfaced one day for us when younger members of the Indonesian region had gathered. We were delighted to learn that the Indonesian mission began when Philippine was canonized. We are blessed that Philippine, a woman of courage and faithfulness, is patron of our area.
To imagine what Philippine and her companions felt during their voyage to the New World helps us to understand that they were all woman of faith. They only saw the sea and sky. They suffered from illness; they had no appropriate food. The sea terrorized them with winds and waves. Uncertainty awaited in the new land. Philippine's close relationship with Jesus sustained her and enabled her to live with hope during these perilous times. Her prayer, "My God, I have left all things for you," reveals that she was a "woman who prays always" even before the Potawatomi said so.
We experience terrifying moments like hers nowadays, but in different ways. When we leave home to seek what God wants of us, we are uncertain and fearful. When everything seems uncertain, when people feel hopeless, when hatred and jealousy increase while love and forgiveness decrease, can we become a sign of hope for people around us?
Philippine shows the way. Strength for the journey of life comes from contemplation of the pierced Heart of Jesus. May the Love of the Heart of Jesus, which sustained Philippine, mold us to be holy and to be a blessing for others!
Henni Sidabungke, RSCJ, Area of Indonesia
Image: Henni Sidabungke, RSCJ
Aprendiendo de Filipina, Mujer de Fe
¿Qué te viene a la mente cuando oyes el nombre de Filipina? Un día, cuando los miembros más jóvenes del área de Indonesia se habían reunido, nos surgió esta pregunta. Nos alegró saber que la misión en Indonesia comenzó cuando Filipina fue canonizada. Tenemos la bendición de que Filipina, una mujer de valor y fidelidad, es la patrona de nuestra área.
Imaginar lo que Filipina y sus compañeras sintieron durante su viaje al Nuevo Mundo nos ayuda a entender que eran todas mujeres de fe. Sólo vieron el mar y el cielo. Sufrieron de enfermedad; no tenían una comida apropiada. El mar las aterrorizaba con vientos y olas. La incertidumbre esperada en la nueva tierra. La estrecha relación de Filipina con Jesús la sostuvo y le permitió vivir con esperanza durante estos tiempos peligrosos. Su oración, "Dios mío, dejé todo para ti", revela que ella era una "mujer que reza siempre" incluso antes de que los Potawatomi lo dijeran.
Hoy en día, experimentamos momentos aterradores como los de ella, pero de diferentes maneras. Cuando salimos de casa para buscar lo que Dios quiere de nosotras, estamos inciertas y temerosas. Cuando todo parece incierto, cuando la gente se siente desesperada, cuando el odio y los celos aumentan y el amor y el perdón disminuyen, ¿podemos convertirnos en un signo de esperanza para la gente que nos rodea?
Filipina nos muestra el camino. La fuerza para el camino de la vida viene de la contemplación del Corazón traspasado de Jesús. ¡Que el Amor del Corazón de Jesús que sustentó Filipina nos moldee para ser santos y ser una bendición para los demás!
Henni Sidabungke, RSCJ, Area de Indonesia
Imagen: Henni Sidabungke, RSCJ
Apprendre de Philippine, Femme de Foi
Qu'est-ce qui vous vient à l'esprit lorsque vous entendez le nom de Philippine ? Cette question nous est apparue un jour, lorsque de jeunes membres de la région d'Indonésie se sont réunies. Nous étions ravies d'apprendre que la mission indonésienne commençait au moment où Philippine avait été canonisée. Nous sommes bénies d'avoir Philippine, femme de courage et de fidélité, pour patronne de notre région.
Imaginer ce que Philippine et ses compagnes ont ressenti durant leur voyage vers le Nouveau Monde nous aide à comprendre que chacune d'entre elles était une femme de foi. Elles ne voyaient que la mer et le ciel. Elles souffraient de maladies et ne disposaient pas de nourriture appropriée. Les vents et les vagues de la mer les terrorisaient. L'incertitude les guettait sur ces nouvelles terres. La relation étroite que Philippine entretenait avec Jésus lui était d'une grande aide et lui permettait de vivre ces dangereux moments en gardant espoir. Sa prière – « Mon Dieu, j'ai tout quitté pour toi » – prouve qu'elle était bien la « femme qui prie toujours », avant même que les Potawatomi l'aient appelée ainsi.
Tout comme elle, nous vivons aujourd'hui des moments terrifiants mais nous les vivons différemment. Lorsque nous quittons notre foyer pour chercher ce que Dieu veut de nous, nous sommes animées par l'incertitude et la crainte. Lorsque tout paraît incertain, lorsque les gens n'ont plus d'espoir, lorsque la haine et la jalousie prennent le pas sur l'amour et le pardon, pouvons-nous redonner espoir aux personnes qui nous entourent ?
Philippine nous montre le chemin. La force du parcours de la vie vient de la contemplation du Cœur transpercé de Jésus. Puisse l'Amour du Cœur de Jésus qui a soutenu Philippine nous façonner, afin que nous soyons sanctifiées et devenions une bénédiction pour les autres !
Henni Sidabungke, RSCJ, Région d'Indonésie
Image: Henni Sidabungke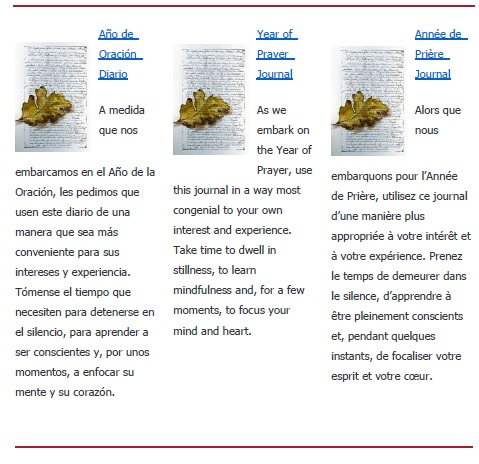 If you received this message from a friend and would like to receive our messages directly in the future, please sign up on our website.
Has your contact information changed recently? Update your full contact information and your mailing preferences.


Society of the Sacred Heart
4120 Forest Park Avenue, Saint Louis, MO 63108