The New Frontier
2018-04-09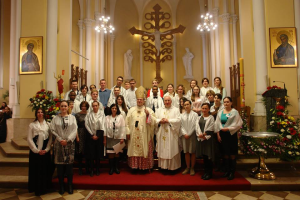 The New Frontier
"Domine, in simplicitate cordis meus laetus obtuli universa…"
After the fall of communism in Russia, Moscow became a special place of mission for RSCJ. In the time of Philippine, numbers of residents of the village of Florissant were baptized each Easter. Every year, numbers of adults, prepared by the RSCJ of Moscow, receive the sacraments of Christian initiation at Easter.
After the Revolution, France needed "workers" for a new evangelization, but the call of America was still more important to Philippine because the Indian peoples had heard nothing of the Good News of God. "Here I am!" was Philippine's answer.
Philippine encountered many difficulties in the New World: poverty, sickness, hard work, loneliness, and corrupt ways. In all those contradictions a LIVELY FAITH was her support. This faith was expressed for her by obedience through an ongoing relationship with Sophie. It was also expressed in an honest dialogue with the clergy of Louisiana.
The fruitfulness of her labours came from her acceptance of suffering of all kinds, of humiliations and failures.  Her consolation came from long hours of prayer at night before the Blessed Sacrament, where she drew new strength and peace from the Heart of Jesus. "It is less by succeeding than by putting up with setbacks, that you are destined to please me" she heard one day during prayer.
The rebirth of the Church in Russia challenges languages, cultures and many nations on the borders between Europe and Asia. We must respond as RSCJ. What are the calls of the General Chapter 2016? Let us be guided forward!
Maria Stecka, RSCJ, Province of Poland
Image: Maria Stecka, RSCJ
La Nueva Frontera
"Domine, in simplicitate cordis meus laetus obtuli universa…"
Después de la caída del comunismo en Rusia, Moscú se convirtió para las rscj en un lugar privilegiado de misión. En el tiempo de Filipina, decenas de habitantes de la aldea de Florissant recibían cada Pascua el Bautismo. Cada año, decenas de adultos, preparados por las rscj de Moscú, reciben en Pascua los sacramentos de la iniciación cristiana.
Después de la Revolución, Francia necesitaba "obreros" para una nueva evangelización, pero América llamaba con fuerza a Filipina sobre todo los pueblos indígenas que nunca habían oído hablar de la Buena Nueva de Dios. "Heme aquí", fue la respuesta de Filipina.
Filipina encontró en el Nuevo Mundo muchas dificultades: pobreza, enfermedades, un trabajo rudo, distancias, soledad, la perversión de las costumbres. En todas esas contradicciones la FE VIVA fue su apoyo. Esta fe la expresaba en la obediencia a través de una relación continua con Sofía. También la expresaba en un diálogo sincero con los eclesiásticos de Luisiana.
La fecundidad de su misión venía de su aceptación de toda clase de sufrimiento, de humillaciones y de fracasos. Su consolación venía de sus largas horas de oración nocturna delante del Santísimo Sacramento en la que sacaba del Corazón de Jesús paz interior y una nueva fuerza. Un día escuchó en su oración: "No tanto teniendo éxito sino soportando adversidades estás destinada a agradarme".
El renacimiento de la Iglesia en Rusia es un reto de lenguas, culturas y múltiples naciones en las fronteras entre Europa y Asia. Tenemos que responder como rscj. ¿Cómo son las llamadas del Capitulo General 2016? Dejémonos conducir!
Maria Stecka, RSCJ, Provincia de Polonia
Imagen: Maria Stecka, RSCJ
La nouvelle frontière
«Domine, in simplicitate cordis meus laetus obtuli universa… »
Après la chute du communisme en Russie, Moscou est devenu pour les RSCJ un lieu privilégié de la mission.  Au temps de Philippine, des dizaines d'habitants du village de Florissant recevaient le Baptême, chaque Pâques. Chaque année des dizaines d'adultes, préparés par les RSCJ de Moscou, reçevait à Pâques les sacrements de l'initiation chrétienne.
Après la Révolution, la France avait besoin « d'ouvriers » pour une nouvelle évangélisation, mais l'appel de l'Amérique était encore plus important pour Philippine car les peuples indiens n'avaient rien entendu de la Bonne Nouvelle de Dieu. « Me voici ! »,  est la réponse de Philippine.
Philippine a rencontré dans le Nouveau Monde beaucoup de difficultés : la pauvreté, les maladies, un travail rude, les distances, la solitude, la perversion des mœurs. Dans toutes ces contradictions la FOI VIVE était son appui. Cette foi s'exprimait, pour elle, par l'obéissance à travers une relation continue avec Sophie.  Elle s'exprimait aussi dans un dialogue sincère avec les ecclésiastiques de Louisiane.
La fécondité de ses labeurs venait de son acceptation des souffrances de toutes sortes, des humiliations et des échecs. Sa consolation venait des longues heures de prière nocturne devant le Saint Sacrement, où elle puisait de nouvelles forces et paix dans le Coeur de Jésus. «C'est moins en réussissant qu'en supportant des revers, que tu es destinée à me plaire » a-t-elle entendu un jour en prière.
La renaissance de l'Eglise en Russie est un défi des langues, des cultures et des nations multiples sur les frontières entre l'Europe et Asie. Faut-Il en répondre comme RSCJ. Quels sont les appels du Chapitre Général 2016 ? Laissons-nous conduire !
Maria Stecka, RSCJ, Province de Pologne
Image: Maria Stecka, RSCJ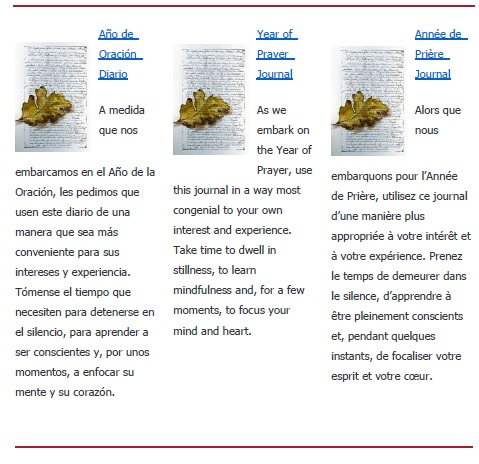 If you received this message from a friend and would like to receive our messages directly in the future, please sign up on our website.
Has your contact information changed recently? Update your full contact information and your mailing preferences.


Society of the Sacred Heart
4120 Forest Park Avenue, Saint Louis, MO 63108