Truest Joy
2018-04-02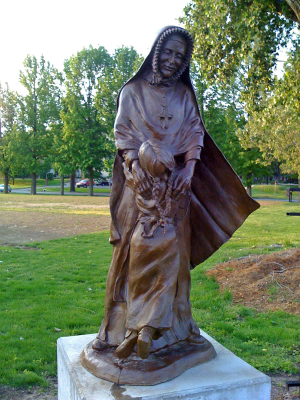 English  |  Español  |  Français | 日本語訳
Truest Joy
To those of us who think we are too old to do something, we have only to look to Philippine Duchesne for inspiration. At nearly 50, she left home for Louisiana, and at 72 she trekked to Sugar Creek, Kansas, to live among the Potawatomi. When, at a certain moment, we may say, like the disciples on Mt. Tabor, "We will sit down now and do no more," Philippine invites us to move off the mountain into the mud of life, from altitude to sea level, from Grenoble and Paris to New Orleans and St. Louis. When, amid despair and powerlessness, when language fails us, Philippine, the woman who prays always, beckons us to courage and confidence born from unceasing contemplation, as if to say, "Excuse me, but we have God's work to do."
Mary Hotz, RSCJ, Province of the United States – Canada
Image: Harry Webber
Una auténtica alegría
Aquellas que pensamos que estamos demasiado mayores para hacer algo, solo necesitamos mirar a Filipina Duchesne para inspirarnos. A sus casi 50, dejó su hogar para ir a Luisiana, y a los 72 emigró a Sugar Creek, Kansas, para vivir entre los Potawatomi. Cuando en un momento dado queremos decir, como los discípulos en el monte Tabor: "instalémonos aquí y ya no hagamos más", Filipina nos invita a bajar de la montaña al barro de la vida, dejar la altura y bajar a nivel del mar, de Grenoble y París a Nueva Orleans y San Luis.  En medio de la desesperación y la impotencia, cuando nos falla el lenguaje, Filipina, la mujer que siempre reza, nos invita con un gesto a vivir con el valor y confianza que nacen de la contemplación incesante, para poder decir "Disculpen, pero tenemos que hacer la obra de Dios".
Mary Hotz, RSCJ, Provincia de los Estados Unidos – Canada
Imagen: Harry Weber
Véritable Joie
Celles d'entre nous qui pensent que nous sommes trop âgées pour faire quoi que ce soit n'ont qu'à regarder Philippine pour trouver l'inspiration. À presque 50 ans, elle partit de chez elle pour se rendre en Louisiane, et à 72 ans, elle marcha jusqu'à Sugar Creek, Kansas, pour vivre parmi les Potawatomi. Lorsque nous pourrions dire, à un moment donné, comme les disciples sur le Mont Thabor, « nous allons maintenant nous asseoir et ne plus rien faire », Philippine nous invite à descendre de la montagne dans la boue de la vie, à passer de l'altitude au niveau de la mer, de Grenoble et Paris à La Nouvelle-Orléans et St-Louis. Lorsque, par désespoir et par impuissance, la langue nous fait défaut, Philippine – la femme qui prie toujours – nous invite à faire preuve de courage et de confiance, qui naissent de la contemplation incessante, afin de pouvoir dire : « Excusez-moi mais nous devons accomplir l'œuvre de Dieu ».
Mary Hotz, RSCJ, Province des Etats Unis – Canada
Image: Harry Webber
¡Ha resucitado!     He is Risen!     Il est ressuscité!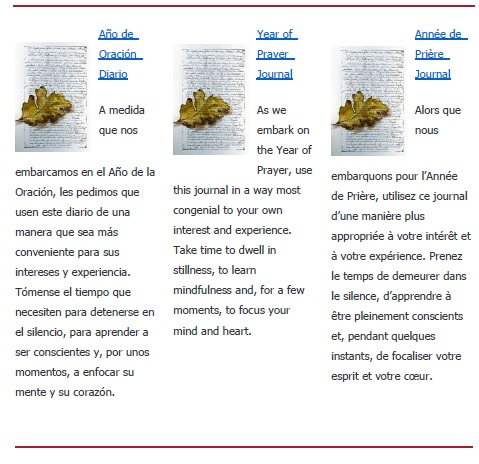 If you received this message from a friend and would like to receive our messages directly in the future, please sign up on our website.
Has your contact information changed recently? Update your full contact information and your mailing preferences.


Society of the Sacred Heart
4120 Forest Park Avenue, Saint Louis, MO 63108