Philippine at a crossroad
2018-03-12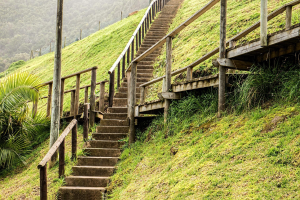 Philippine at a crossroad
To write about Philippine is to focus our gaze on someone who stood out because of her persistence. A valiant and determined woman, she overcame many hardships with the strength of one who knows she possesses a truth, that of the love of God, which must be known further afield by more people. We discover this persistence in her early vocation at the age of twelve, in her admiration for St. Francis Xavier, in Grenoble as a Visitation novice, in her deep friendship with Madeleine Sophie, in the obedience that kept her in France until she was 49 … Her strength is in her character, in her way of being, but also in the message that set her heart on fire.
Philippine was a woman who was all passion, but on her own she would probably never have achieved her aims. What was lacking was something unexpected, a chance event, or the Providence of God. On January 14, 1817, she was in charge of the portry of the motherhouse in Paris. She received a visitor for Madeleine-Sophie, Bishop William Valentine Dubourg. She met the new bishop of Louisiana and Florida and knew that the great moment she had been expecting had arrived. When the bishop asked for religious for his new diocese, Madeleine Sophie accepted his request. It was May 16, 1817, and the moment had come to let Philippine go. She experienced tremendous joy.
The necessary human will and the overshadowing grace of God are two paths which come together at an unexpected point. Today, as then, the God of fidelity bursts into our lives. Let us always live in readiness, attentive to discover him at the crossroads.
Teresa Gomà, RSCJ, Province of Spain
Image:  Pixabay.com
Filipina, en un cruce de caminos
Escribir sobre Filipina es centrar la mirada en alguien que destacaba por su tesón. Mujer valiente y tenaz, superó múltiples infortunios con la fuerza propia de quien sabe que posee una verdad, la del amor de Dios, que debe ser conocida más allá por más gente. Descubrimos esa tenacidad en su temprana vocación a los doce años, en su admiración por San Francisco Javier, en Grenoble como novicia salesa, en la profunda amistad con Magdalena Sofía, en la obediencia que la retuvo en Francia hasta sus 49 años… Su fuerza está en su carácter, en su modo de ser, pero también en el mensaje que le abrasa el corazón.
Filipina fue una mujer toda pasión, pero solo por ella misma quizás nunca habría alcanzado su objetivo. Hacía falta un imprevisto, una casualidad o la providencia de Dios. Encargada de la portería de la casa madre en París, el 14 de enero de 1817 recibió una visita para Magdalena Sofía: Monseñor Guillaume-Valentin Dubourg. Estaba ante el nuevo obispo de Luisiana y las Floridas y sabía que podía haber llegado la gran oportunidad que estaba esperando. Cuando éste pidió religiosas para su nueva diócesis, Magdalena Sofía aceptó. Era el 16 de mayo de 1817 y había llegado el momento de dejarla marchar. La alegría de Filipina se tornó una dicha inmensa.
La necesaria voluntad humana y la asombrosa gracia de Dios son dos caminos que se unen en un punto inesperado. Hoy, como entonces, el Dios de la fidelidad irrumpe en nuestras vidas. Vivamos siempre dispuestos y atentos para descubrirle en el cruce de caminos.
Teresa Gomà, RSCJ, Provincia de España
Imagen: Pixabay.com
Philippine, à la croisée des chemins
Écrire quelques mots au sujet de Philippine revient à porter son regard sur une personne qui se distingue par sa persévérance. Femme courageuse et tenace, elle a surmonté bien des malheurs avec la propre force de qui détient une vérité : celle de l'amour de Dieu, qui doit être diffusée davantage et connue de tous. Nous avons découvert cette ténacité à travers sa vocation précoce, à l'âge de 12 ans, à travers son admiration pour saint François-Xavier, à travers sa vie de novice salésienne à Grenoble, à travers sa profonde amitié avec Madeleine Sophie, à travers l'obéissance qui la retint en France jusqu'à ses 49 ans… Sa force réside non seulement dans son caractère et sa façon d'être, mais aussi dans le message qui embrase son cœur.
Philippine fut une femme de passion mais, si elle n'avait dû compter que sur elle-même, elle n'aurait peut-être jamais atteint ses objectifs. Elle avait besoin d'un imprévu, d'une coïncidence ou de la providence de Dieu. Chargée de la porterie de la maison-mère à Paris, elle reçut, le 14 janvier 1817, Monseigneur Guillaume-Valentin Dubourg, venu rendre visite à Madeleine Sophie. Elle se trouvait devant le nouvel évêque de Louisiane et des Florides et savait que l'opportunité qu'elle espérait tant se présentait à elle. Quand celui-ci demanda des religieuses pour son nouveau diocèse, Madeleine Sophie accepta. Le 16 mai 1817, le temps était venu de la laisser partir. La joie de Philippine fut immense.
L'indispensable volonté humaine et l'incroyable grâce de Dieu sont deux chemins qui s'unissent en un point inattendu. Aujourd'hui, comme à l'époque, le Dieu de la fidélité fait irruption dans nos vies. Vivons en étant toujours prêts et attentifs, afin de le découvrir à la croisée des chemins.
Teresa Gomà, RSCJ, Province d'Espagne
Image: Pixabay.com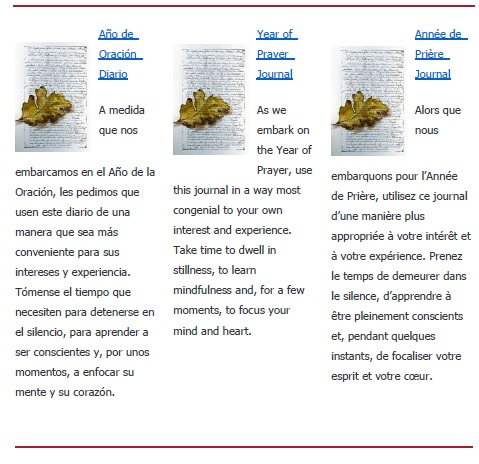 If you received this message from a friend and would like to receive our messages directly in the future, please sign up on our website.
Has your contact information changed recently? Update your full contact information and your mailing preferences.


Society of the Sacred Heart
4120 Forest Park Avenue, Saint Louis, MO 63108