Virtues Needed to Cross Frontiers
2018-03-05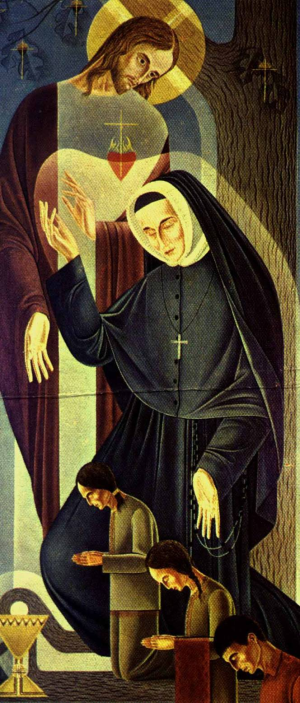 Virtues Needed to Cross Frontiers: prayer, missionary zeal and humility
Prayer shaped Philippine's life, helping her to embrace only what was essential in life, God's promptings. Prayer propelled Philippine to leave her comfortable family to become a religious, totally given to those on the margins of society. It gave her a certain resilience and audacity to leave her own country and go to America and, together with her companions, to become the first missionary of our little Society. Prayer increased her love and trust in Jesus; she would say, "She who has Jesus has everything."
Even at the age of 71, when she was not able to do much, she accompanied her sisters and other people with prayer. Philippine was filled with missionary zeal; but her inability to speak the language of the people she loved and other difficulties she encountered, show us a woman who accepted, even embraced, her limitations with the humility that enabled her to draw out the goodness from those she touched.
The image strikingly communicates Philippine's God-centered life, how she drew strength, zeal, humility, wisdom and all the graces needed from the Heart of God. Philippine's passion to cross frontiers impels us to move out of our familiar comfort zones and open the doors of our hearts to those suffering in myriad ways around us and beyond our physical boundaries. We need to pay attention, to act as a body attending to the needs of those who knock at our doors, inviting us to cross our socio-cultural, political and economic frontiers. She shows us how. May we dare to follow in Philippine's footsteps.
Penina Ann Wambale, RSCJ, Province of Uganda – Kenya
Image: Milton Frenzel
Virtudes necesarias para cruzar fronteras: la oración, el celo misionero y la humildad
La oración ha modelado la vida de Filipina, la ha ayudado a abrazar sólo lo que era esencial en la vida, los impulsos de Dios. La oración impulsó a Filipina a dejar a su familia tan confortable para convertirse en una religiosa, dándose totalmente a los que están en los márgenes de la sociedad. El hecho de abandonar su propio país e irse a América, con sus compañeras, para convertirse en la primera misionera de nuestra pequeña Sociedad, le dio fortaleza y valor. La oración aumentó su amor y confianza en Jesús. Ella diría: "la que tiene a Jesús lo tiene todo".
Además, a la edad de 71 años, cuando ya no era capaz de hacer mucho, acompañaba a sus hermanas y a otras personas con su oración. Filipina estaba llena de celo misionero, pero la incapacidad de hablar el idioma de la gente que amaba, así como otras dificultades que encontró, nos ponen delante a una mujer que aceptó e que incluso abrazó, con la humildad, sus limitaciones. Esto le permitió prolongar la bondad de todos los que tocaba.
La imagen comunica de modo impresionante la vida de Filipina centrada en Dios. Nos muestra cómo sacó del Corazón de Dios la fuerza, el celo, la humildad, la sabiduría y todas las gracias necesarias. La pasión de Filipina de cruzar fronteras nos impulsa a salir de nuestras zonas de confort familiar y a abrir las puertas de nuestros corazones a todos aquellos que sufren en nuestro entorno y más allá de nuestros límites físicos. Tenemos que prestar atención, actuar como un cuerpo que atiende a las necesidades de quienes llaman a nuestras puertas, invitándonos a cruzar nuestras fronteras socioculturales, políticas y económicas. Ella nos muestra cómo hacerlo. Que nos atrevamos a seguir los pasos de Filipinas.
Penina Ann Wambale, RSCJ, Provincia de Uganda – Kenia
Imagen: Milton Frenzel
Des vertus qui atteindent de nouvelles frontières: la prière, le zèle missionnaire et l'humilité
La prière a façonné la vie de Philippine, l'aidant à considérer uniquement ce qui était essentiel dans la vie : les incitations de Dieu. La prière a poussé Philippine à quitter son confortable foyer familial pour devenir religieuse et se consacrer totalement aux personnes en marge de la société. Elle a dû faire preuve d'une certaine résilience et d'audace pour quitter son pays, aller en Amérique et, avec ses compagnes, devenir la première missionnaire de notre petite Société. La prière a permis d'accroître son amour et sa confiance en Jésus ; Elle dirait : " Celle qui a Jésus a tout ".
 
Même à l'âge de 71 ans, alors qu'elle ne pouvait plus faire grand-chose, elle a accompagné ses sœurs et d'autres gens par la prière. Philippine se distinguait par son grand zèle missionnaire ; toutefois, son incapacité à parler la langue des personnes qu'elle aimait et les autres difficultés qu'elle a rencontrées nous prouvent que c'est une femme qui a accepté, voire adopté, ses limites avec l'humilité qui lui a permis de puiser la bonté de ceux qu'elle a touchés.
Cette image communique d'une manière saisissante la vie de Philippine centrée sur Dieu et la façon avec laquelle elle puise dans le Cœur de Dieu la force, le zèle, l'humilité, la sagesse et toutes les grâces nécessaires. La passion qui a mené Philippine à traverser les frontières nous incite à sortir de nos zones de confort familières et à ouvrir les portes de nos cœurs à ceux qui, autour de nous et au-delà de nos frontières physiques, souffrent d'innombrables façons. Nous devons faire attention, agir en tant que corps répondant aux besoins de ceux qui frappent à nos portes, nous invitant à traverser nos frontières socioculturelles, politiques et économiques. Elle nous montre comment. Puissions-nous oser suivre les pas de Philippine.
Penina Ann Wambale, RSCJ, Province d'Ouganda – Kenya
Image: Milton Frenzel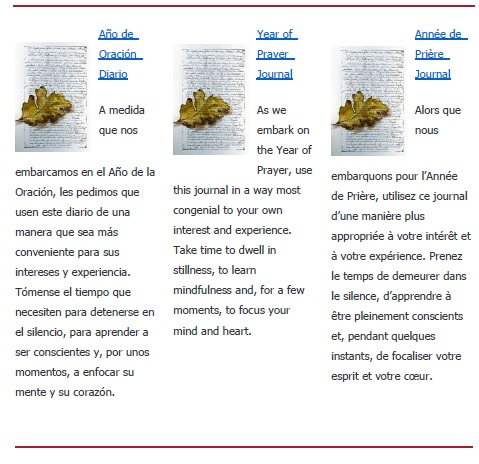 If you received this message from a friend and would like to receive our messages directly in the future, please sign up on our website.
Has your contact information changed recently? Update your full contact information and your mailing preferences.


Society of the Sacred Heart
4120 Forest Park Avenue, Saint Louis, MO 63108