Philippine's Cross
2018-02-26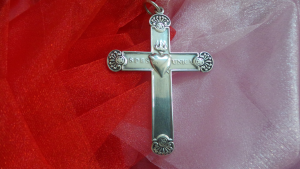 Philippine's Cross
When RSCJ make their perpetual profession of vows, they receive a cross to wear. This is a photo of the cross given to Philippine; it has been stored in our central archives in Rome since 1914.
It may well have spent the past century resting in a box, but with its worn insignia and mottos, it bears the imprint of the many years it has spent on mission. This is a cross that spent two months being battered by Atlantic winds and sprayed with salty water as it crossed the ocean in 1818. Year after year, it endured primitive conditions, mud, humidity and extremes of weather – bitter winter frosts and melting summer heat. Time and again it was clasped in times of crisis, disappointment or difficulty, maybe by hands damp with sweat or tears, providing a welcome reassurance of God's faithful love and presence. It reached new lands and crossed frontiers, spent hours in infirmaries and classrooms, lived in basic log cabins, cramped quarters and with Native Americans, and knew hours and whole nights spent in still, heartfelt prayer.
By 1852, as Philippine lay dying, this cross must have felt its years of service were coming to an end. And then Anna du Rousier arrived from France, en route to Chile, to begin our first Latin American foundation. She and Philippine exchanged profession crosses, and so Philippine's cross went with Anna on the long, arduous journey to a new frontier, trekking for months on tracks and bumpy roads, being bounced and thrown about each time her horse stumbled or she fell.
So much prayer, suffering, passion, fidelity, courage and endeavour are ingrained in this cross, as surely as the insignia and mottos engraved on it. And just as it must have reminded Philippine of her vowed commitment, so it quietly reminds us today of the totality of her gift of herself and the call we all share with her, to give our whole lives to knowing and making known the unlimited love of the Heart of Jesus.
Text and Image:
Silvana Dallanegra, RSCJ, Province of England – Wales
La cruz de Filipina
Cuando las RSCJ pronuncian sus votos en ocasión de la profesión perpetua, reciben una cruz para llevar. Esta es una foto de la cruz donada a Filipina que está guardada en los Archivos Generales en Roma, desde 1914.
Aunque haya pasado el último siglo en una caja, a través de su insignia y lema trae la huella de los muchos años que ha pasado en misión. Esta cruz ha pasado dos meses a la merced de los vientos del atlántico, rociada por el agua salada, durante la travesía del océano en 1818. Año tras año, ha sufrido condiciones primitivas, barro, humedad y extremos meteorológicos – las heladas del invierno y el calor intenso del verano. A menudo y durante periodos de crisis, ha sufrido desilusiones y dificultades, la han apretados manos húmedas de sudor o lágrimas, y ha dado consuelo del amor fiel y de la presencia de Dios. Llegó a nuevas tierras y atravesó fronteras, pasó horas en las enfermerías y en las aulas, vivió en cabañas sencillas, en cuartos apretados y paso del tiempo con los nativos americanos, dedicando horas y noches enteras orando de corazón.
En 1852, en los últimos momentos de vida de Filipina, esta cruz debe haber sentido que estos años de servicios estaban llegando a su fin. Luego, Anna de Rousier llegó desde Francia a Chile, para dar vida a nuestra primera fundación de América Latina. Filipina y ella se intercambiaron las cruces de la profesión, y la cruz de Filipina se fue con Anna en el largo y arduo camino hacia una nueva frontera, caminando por meses en senderos y rutas accidentadas, siendo rechazada y derribada cada vez que su caballo tropezaba o ella se caía.
Así como están grabados la insignia y el lema en la cruz, hay tanta oración, sufrimiento, pasión, fidelidad, valentía y empeño enraizados en ella. Tal y como seguramente la cruz debe haber recordado a Filipina su compromiso de votos, nos recuerda hoy la totalidad del don de sí misma, y la llamada que todas compartimos con ella, la de ofrecer toda nuestra vida para conocer y dar a conocer el amor ilimitado del Corazón de Jesús.
Texto y imagen de Silvana Dallanegra, RSCJ, Provincia de Inglaterra – País de Gales
La Croix de Philippine
Lorsque les RSCJ prononcent leurs vœux de profession perpétuelle, elles reçoivent une croix qu'elles porteront autour du cou. Cette photo nous présente la croix qui a été remise à Philippine ; elle est précieusement conservée dans nos archives, à Rome, depuis 1914.
Bien qu'elle ait passé le siècle dernier dans un écrin, on peut voir d'après son insigne et sa devise qu'elle porte les marques des nombreuses années vécues en mission. Cette croix a été battue par les vents et l'eau salée de l'Atlantique pendant deux mois, lors de la traversée de l'océan en 1818. Année après année, elle a connu des situations rudimentaires, la boue, l'humidité et des conditions météorologiques extrêmes (froid cinglant de l'hiver et chaleur torride de l'été). À maintes reprises, dans des périodes de crise, de déception ou de difficulté, elle a probablement été serrée au creux de mains humidifiées par la sueur ou les larmes, apportant ainsi le réconfort chaleureux de la présence et de l'amour fidèle de Dieu. Elle a atteint de nouveaux territoires, traversé des frontières, passé des heures dans les infirmeries et les salles de classe, vécu dans de modestes cabanes en rondins, à l'étroit et avec des Amérindiens, et connu des heures et des nuits entières de prières silencieuses et sincères.
En 1852, lorsque Philippine était mourante, cette croix a dû sentir que ses années de service touchaient à leur fin. Puis, Anna du Rousier est arrivée en provenance de la France pour se rendre au Chili et créer notre première fondation latino-américaine. Philippine et Anna ont échangé leurs croix de profession ; la croix de Philippine pouvait alors accompagner Anna durant ce long et pénible voyage vers une nouvelle frontière, à marcher pendant des mois sur des chemins et des routes cahoteuses et à être secouée, voire à tomber de son cheval, à chaque fois que celui-ci trébuchait.
Tant de prières, de souffrance, de passion, de fidélité, de courage et d'efforts sont gravés dans cette croix, tout comme le sont l'insigne et la devise. Et, tout comme Philippine se serait rappelée de ses vœux, cette croix nous rappelle paisiblement aujourd'hui son don total d'elle-même et l'appel que nous avons toutes partagé avec elle : consacrer nos vies entières à connaître et à faire connaître l'amour infini du Cœur de Jésus.
Silvana Dallanegra, RSCJ, Province de l'Angleterre – Pays de Galles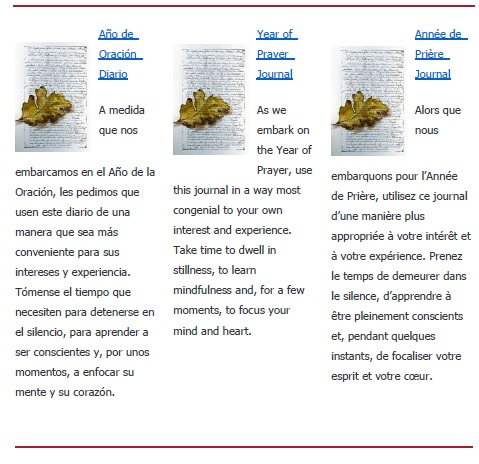 If you received this message from a friend and would like to receive our messages directly in the future, please sign up on our website.
Has your contact information changed recently? Update your full contact information and your mailing preferences.


Society of the Sacred Heart
4120 Forest Park Avenue, Saint Louis, MO 63108