Handling a Broken Heart
2018-02-19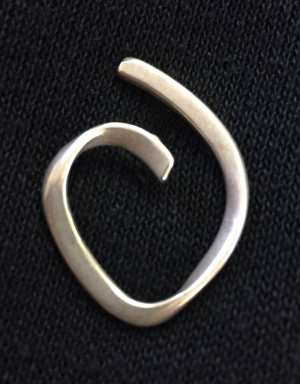 Handling a Broken Heart
"Strong was her heart that heard God's voice when first it called across the seas"… This is the first line of the song sung on Philippine's feast, but it does not really reflect how that heart became so strong, many years before the call "across the seas." Philippine's heart exercised its love and service in her family, her neighborhood, her community at Ste. Marie before the call to the New World came. Her life with the community on her beloved mountain taught her love and then, with events of the Revolution unfolding on every side, broke her heart, demanding that she leave, that she come down from the mountain.
There are many ways to handle a broken heart; Philippine's way was to put it into loving service. She may have left her mountain and her community, but she did not leave her commitment to serve as Jesus did. She sought the poor with clothing, the hungry with food, those in fear with a place to find shelter and hope. She cared for the poor, the children, the sick, and as she did, her broken heart became stronger, more compassionate, turned outwards, away from what she so longed for, to what her beloved longed to share with her.  God's voice called and formed her into a servant of all, long before she felt the urging to come to the New World.
The New World would test her love and find only that her heart, even when broken again, set about becoming whole by loving more deeply, more widely, in silence, in prayer, in little actions of everyday life. Her life asks us to reflect on what we do when we feel our hearts breaking. Are we so sure that our God is Love itself broken, emptied, that we, too, set out to mend our tiny mirrors of that Heart, through service, compassion, interest in the other, recognition of the common humanity of all people?
Bonnie Kearney, RSCJ, Province of the United States – Canada
Tratando un corazón quebrado
"Fuerte fue su corazón que escuchó la voz de Dios cuando la llamó la primera vez a través de los mares" … Esta es la primera línea de la canción cantada durante la fiesta dedicada Filipina, pero realmente no refleja cómo ese corazón se hizo tan fuerte, muchos años antes de la llamada "a través de los mares ". El corazón de Filipina profesó su amor y servicio en su familia, su vecindario, su comunidad de Ste. Marie antes que llegara la llamada para partir al Nuevo Mundo. Su vida con la comunidad, en su amada montaña, le enseñó el amor y después, los acontecimientos de la Revolución que tuvieron lugar en muchas lugares, le exigieron partir, bajar de la montaña.
Hay muchas maneras de tratar un corazón quebrado; la manera en la que lo hizo Filipina fue ponerlo al servicio del amor. Ella pudo haber abandonado su montaña y su comunidad, pero no dejó su compromiso de servir como lo hizo Jesús. Procuraba ropa a los pobres, comida a los hambrientos, un lugar donde encontrar refugio y esperanza a los que tenían miedo. Cuidaba a los pobres, a los niños, a los enfermos y, mientras lo hacía, su corazón quebrado se hacía más fuerte, más compasivo, abierto, alejado de lo que tanto anhelaba, de todo lo que los que la amaban anhelaban para ella. La voz de Dios la llamó y la convirtió en sierva de todos mucho antes de que ella sintiera la urgencia de venir al Nuevo Mundo.
El Nuevo Mundo habría puesto a prueba su amor descubriendo que su corazón, incluso cuando se quebranta de nuevo, se completa al amar más profundamente, más ampliamente, en silencio, en oración, en pequeñas acciones de la vida cotidiana. Su vida nos pide que reflexionemos sobre lo que hacemos cuando sentimos que nuestros corazones se quiebran. ¿Estamos tan seguros de que nuestro Dios es el Amor quebrado, vacío, de que nosotros también nos hemos propuesto arreglar nuestros pequeños espejos de ese Corazón, a través del servicio, de la compasión, del interés por el otro, del reconocimiento de la humanidad común de todos los seres humanos?
Bonnie Kearney, RSCJ, Provincia de los Estados Unidos – Canada
Prendre soin d'un Cœur Brisé
« Fort était son cœur qui entendit la voix de Dieu l'appeler pour la première fois au-delà des mers »… Cette phrase est le premier strophe de la chanson interprétée lors de la fête de Philippine, mais elle ne reflète pas vraiment comment ce cœur est devenu si fort, bien des années avant cet appel « au-delà des mers ». Le cœur de Philippine a exercé son amour et son service dans sa famille, son quartier et sa communauté à Ste Marie avant l'appel vers le Nouveau Monde. Sa vie en communauté sur sa montagne bien-aimée lui a enseigné l'amour, puis, suite aux événements de la Révolution éclatant de toutes parts, a brisé son cœur en exigeant qu'elle parte et qu'elle descende de sa montagne.
Il y a plusieurs façons de prendre soin d'un cœur brisé ; celle de Philippine consistait à le mettre au service de l'amour. Certes, elle abandonna sa montagne et sa communauté mais elle n'abandonna pas son engagement à servir comme Jésus le fit. Elle a cherché des vêtements pour les pauvres, de la nourriture pour les personnes souffrant de la faim, et un toit pour abriter celles qui vivaient dans la peur et leur redonner espoir. Elle a pris soin des pauvres, des enfants, des malades et, ce faisant, son cœur brisé est devenu plus fort, plus compatissant, plus ouvert, loin de ce qu'elle désirait tant, de ce que les personnes qu'elle chérissait désiraient partager avec elle. La voix de Dieu l'a appelée et a fait d'elle une servante de tous, bien avant qu'elle ressente l'envie pressante de se rendre au Nouveau Monde.
Le Nouveau Monde mettra son amour à l'épreuve et permettra à son cœur, même en étant brisé à nouveau, de se remplir en aimant d'une manière plus profonde, plus vaste, en silence, dans la prière, à travers de petites actions de la vie quotidienne. Sa vie nous pousse à réfléchir à ce que nous faisons lorsque nous avons le sentiment que nos cœurs se brisent. Sommes-nous à ce point certains que notre Dieu est Amour brisé, vidé, que nous aussi avons voulu réparer nos minuscules miroirs de ce Cœur, grâce au service, à la compassion, à l'intérêt témoigné aux autres, à la reconnaissance de l'humanité commune de tous les peuples ?
Bonnie Kearney, RSCJ, Province de los États Unis – Canada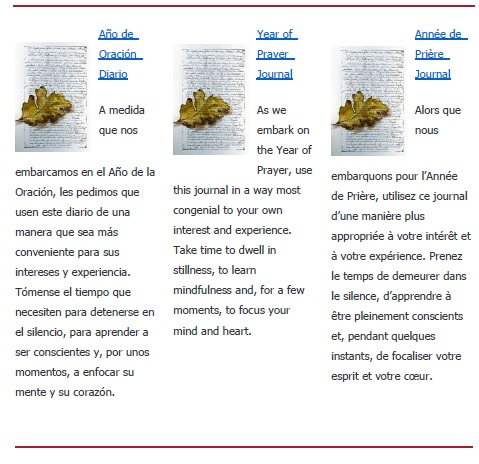 If you received this message from a friend and would like to receive our messages directly in the future, please sign up on our website.
Has your contact information changed recently? Update your full contact information and your mailing preferences.


Society of the Sacred Heart
4120 Forest Park Avenue, Saint Louis, MO 63108