Thinking of Philippine in Fukushima
2018-01-15


Piles of black bags filled with radiation-contaminated soil stretching far and wide.
Montones de bolsas negras llenas de tierra contaminada por radiaciones
que se extiende a lo largo y ancho.
Piles de sacs noirs remplis de déchets et de sols contaminés par
la radioactivité, s'étendant à perte de vue.
Thinking of Philippine in Fukushima
Philippine Duchesne was moved by a strong call from God to go and be with native people in North America. Passion to bring the love of God led her to a land and people unknown to her. She travelled by ship, which took her two months – no internet, no smart phone, no Skype. While in America, she had to wait and wait for the letters from Sophie Barat. Faith, courage and patience enabled her to carry on her mission to spread the love of the Heart of God.
Today it is easier for us to go anywhere, to reach out to people living at a distance. However, not far from us, people live far away from these benefits. The tsunami survivors with whom I have been sharing stories for the past two years are such people.
Here in Fukushima, Japan, after the triple disaster of earthquake, tsunami and the nuclear power plant accident, in March 2011, countless people, after all these years, are still forced to live in a very tough situation. They do not know what their life will be like, when they will be able to go back to their own town, or when they can find jobs in a safer place. They have few certainties at all.
Newcomers cannot understand fully the suffering of these survivors. However, at least, we can be with them – to walk, to cry, or to laugh with them, even when we do not have the language to show our feelings towards them. Isn't this how we too, like Philippine, can spread the love of the heart of God and show that God is always with us?
Masako Egawa, RSCJ, Province of Japan
Image: Masako Egawa, RSCJ
Pensando en Filipina en Fukushima
Filipina Duchesne fue animada por un fuerte llamado de Dios a irse y a estar con la población indígena en América del Norte. La pasión de difundir el amor de Dios la llevó a una tierra y a gente desconocidas. Viajó en barco, lo que le llevó 2 meses – sin internet, sin smartphone, sin Skype. Mientras estaba en América, tuvo que esperar y esperar las cartas de Sofía Barat. La fe, el coraje y la paciencia le permitieron continuar su misión de difundir el amor del Corazón de Dios.
Hoy en día es más fácil para nosotras ir a cualquier parte, llegar a las personas que viven distantes. Sin embargo, no muy lejos de nosotras, la gente vive lejos de estos beneficios como por ejemplo los sobrevivientes del tsunami con los que he estado compartiendo historias durante los últimos dos años.
Aquí en Fukushima, Japón, después del triple desastre del terremoto, tsunami y el accidente de la planta nuclear, en marzo de 2011, un gran número de personas, después de todos estos años, todavía están obligados a vivir en una situación muy difícil. No saben cómo será su vida, cuando podrán regresar a su propia ciudad, o cuando puedan encontrar trabajo en un lugar más seguro. Tienen pocas certezas.
Los recién llegados no pueden comprender plenamente el sufrimiento de estos supervivientes. Sin embargo, al menos, podemos estar con ellos – caminar, llorar o reír con ellos, incluso cuando no tenemos el lenguaje para mostrar nuestros sentimientos hacia ellos. ¿No es esta la manera en la que nosotras, como lo hizo Filipina, podemos difundir el amor del corazón de Dios y demostrar que Dios está siempre con nosotras?
Masako Egawa, RSCJ, Provincia de Japón
Imagen: Masako Egawa, RSCJ
En pensant à Philippine, à Fukushima
Philippine Duchesne a été touchée par un puissant appel de Dieu à aller vivre parmi les Amérindiens en Amérique du Nord. La passion d'apporter l'amour de Dieu l'a menée vers une terre et des personnes qui lui étaient inconnues. Elle a voyagé pendant deux mois à bord d'un bateau – sans internet, sans Smartphone, sans Skype. Une fois en Amérique, elle a attendu et attendu encore les lettres de Sophie Barat. La foi, le courage et la patience lui ont permis de poursuivre sa mission consistant à répandre l'amour du Cœur de Dieu.
Aujourd'hui, il est plus facile pour nous d'aller où bon nous semble, de rejoindre les gens qui vivent dans des régions éloignées. Cependant, non loin de nous, certaines personnes sont à mille lieues de bénéficier de ces avantages. Je pense notamment aux survivants du tsunami, avec qui je partage différentes histoires depuis deux ans.
Ici, à Fukushima (Japon), après la triple catastrophe du tremblement de terre, du tsunami et de l'accident de la centrale nucléaire, en mars 2011, de nombreuses personnes sont encore obligées, après toutes ces années, de vivre dans une situation très difficile. Elles ne savent pas de quoi leur vie sera faite, quand elles pourront retourner dans leur propre ville ou quand elles pourront trouver un emploi dans un endroit plus sûr. Elles ont peu de certitudes.
Les nouveaux arrivants ne peuvent pas comprendre pleinement la souffrance de ces survivants. Nous pouvons toutefois au moins être à leurs côtés – marcher, pleurer ou rire avec eux, même si nous ne trouvons pas les mots pour montrer nos sentiments envers eux. N'est-ce pas ainsi que nous pouvons aussi, comme Philippine, répandre l'amour du cœur de Dieu et montrer que Dieu est toujours avec nous ?
Masako Egawa, RSCJ, Province du Japon
Image : Masako Egawa, RSCJ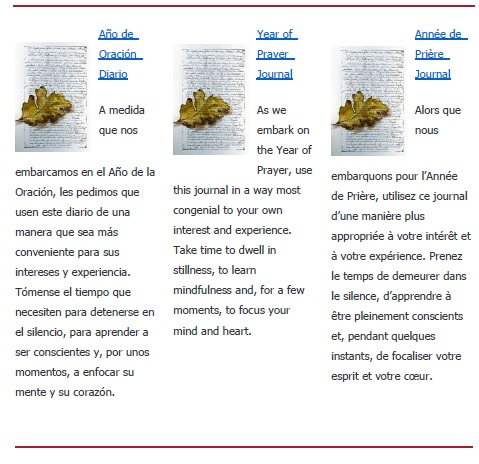 If you received this message from a friend and would like to receive our messages directly in the future, please sign up on our website.
Has your contact information changed recently? Update your full contact information and your mailing preferences.


Society of the Sacred Heart
4120 Forest Park Avenue, Saint Louis, MO 63108