The Wise Men's Star
2018-01-08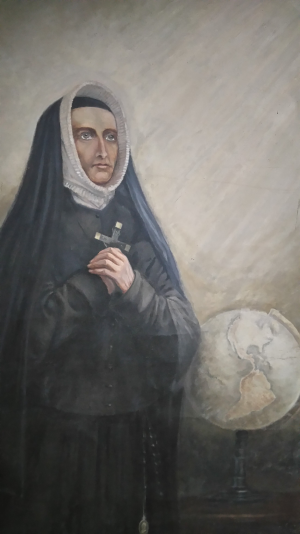 The Wise Men's Star
I have chosen a single small event from the history of the beginning of missionary life of St. Philippine Duchesne, without which, probably, the further history would not exist. One day, when Philippine was in the girls' dormitory (1.10.1806), she was contemplating the detachment of the wise men. This was the moment when she desired to follow in their footsteps. A sign that she considered to be a confirmation of the true desire to be was the feeling of internal freedom. She desired to devote herself to preaching to non-believers.
To do so, like the wise men, she had to set out on a journey and start to look for Jesus in an unknown land. This "setting out," however, did not take place instantly. It was subject to her superior's consideration and involved a wide range of feelings: expectations, prayer, desires, impatience…. Despite difficulties, Philippine remained faithful to the desire that was born during contemplation. In the end, she was given permission to set out like the wise men and travel a long distance. Contrary to that of the wise men, her journey was one-way travel. She stayed on another continent, consequently looking for Jesus and serving him until the end of her days, even when she did not see the light of the star.
Often, I wonder how deep and true this experience of meeting Jesus must have been that it had given her the strength that supported her through her entire life.
There are moments in the life of every one of us when desires are born during prayer. It is worth asking oneself when observing St. Philippine: how long have I been already looking for Jesus? Do I still follow the star?
Boguslawa Ochal, RSCJ, Province of Poland
Image: Maria Korytko, RSCJ, Province of Poland
La Estrella de los Reyes Magos
He escogido un solo pequeño acontecimiento de la historia del comienzo de la vida misionera de Santa Filipina Duchesne, sin el cual, probablemente, la historia posterior no existiría. Un día, cuando Filipina estaba en el dormitorio de las niñas (10.01.1806), estaba contemplando el desapego de los Reyes Magos. Ese fue el momento en que deseé seguir sus pasos. Un signo que ella consideraba como una confirmación del deseo de sentirse verdadera era el sentimiento de libertad interior. Deseaba dedicarse a predicar a los no creyentes.
Por eso, como los Reyes Magos, tuvo que emprender un viaje y comenzar a buscar a Jesús en una tierra desconocida. Esta "puesta en marcha", sin embargo, no fue inmediata. Estaba sujeta a consideraciones tomadas por su superiora y contenía una amplia gama de sentimientos: expectativas, oración, deseos, impaciencia…. A pesar de las dificultades, Filipina permaneció fiel a este deseo que nació durante la contemplación. Al final, se le dio el permiso de partir como los Reyes Magos y de emprender un viaje largo. Contrariamente a los Reyes Magos, su viaje era un viaje unidireccional. Ella se quedó en otro continente buscando a Jesús y sirviéndolo hasta el final de sus días, a pesar de no ver la luz de la estrella.
A menudo me pregunto, cuán profunda y verdadera debe haber sido esta experiencia de encontrar a Jesús que le ha dado fuerzas y que la ha acompañado a lo largo de su vida entera.
Hay momentos en la vida de cada una de nosotras donde los deseos nacen durante la oración. Cuando se observa a Santa Filipina, vale la pena preguntarse: ¿cuánto tiempo he estado buscando a Jesús? ¿Sigo la Estrella todavía?
Boguslawa Ochal, RSCJ, Provincia de Polonia
Imagen: Maria Korytko, RSCJ, Provincia de Polonia
L'Étoile des Rois mages
J'ai choisi un seul petit événement de l'histoire du début de la vie missionnaire de Ste Philippine Duchesne, sans lequel la suite de l'histoire n'aurait certainement pas pu exister. Un jour, lorsque Philippine était au dortoir pour filles (10.01.1806), elle contemplait le détachement des Rois mages. À cet instant, elle désirait plus que tout suivre leurs pas. La liberté intérieure qu'elle ressentit était un signe qui lui permit de confirmer l'envie que ce désir devienne réalité. Elle désirait se consacrer à prêcher aux non-croyants.
 
Pour ce faire, comme les Rois mages, elle dut prendre la route et commencer à chercher Jésus en terre inconnue. Mais ce départ n'eut pas lieu instantanément. Il dépendait de l'avis de sa supérieure et engendrait plusieurs sentiments : attentes, prières, désirs, impatience… Malgré les difficultés, Philippine demeura fidèle à ce désir né lors de la contemplation. Elle obtint finalement la permission de prendre la route, comme les Rois mages, et de voyager sur une longue distance. Contrairement aux Rois mages, son voyage fut sans retour. Elle s'installa sur un autre continent pour chercher Jésus et le servir jusqu'à la fin de ses jours, même lorsqu'elle ne voyait pas la lumière de l'étoile.
Je me demande souvent comment cette expérience de la rencontre de Jésus a pu être si authentique et profonde au point de lui donner la force qui a soutenu sa vie tout entière.
Il y a des moments, dans la vie de chacune d'entre nous, où les désirs naissent pendant une prière. En observant Philippine, il est bon de se demander : « depuis combien de temps suis-je à la recherche de Jésus ? Suis-je encore en train de suivre l'étoile ? ».
Boguslawa Ochal, RSCJ, Province de Pologne
Image : Maria Korytko, RSCJ, Province de Pologne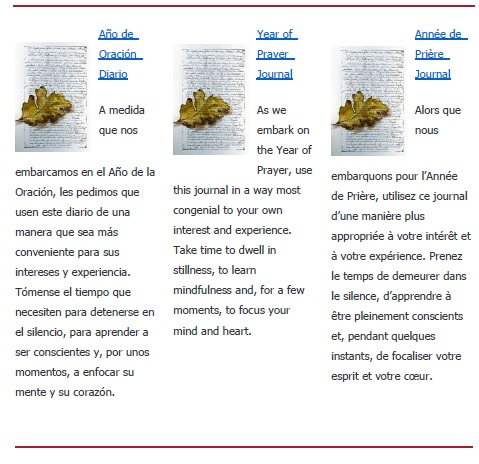 If you received this message from a friend and would like to receive our messages directly in the future, please sign up on our website.
Has your contact information changed recently? Update your full contact information and your mailing preferences.


Society of the Sacred Heart
4120 Forest Park Avenue, Saint Louis, MO 63108