Following the "Star"
2018-01-01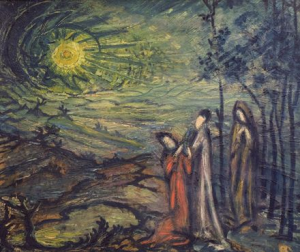 Following the "Star"
   "Go into all the world and proclaim the good news to the whole of creation." (Mk 16:15)
Mission starts here. Philippine Duchesne was the pioneer RSCJ missionary to reach a new frontier. Returning to my own homeland as an RSCJ, I am aware that I walk in her footsteps. 
In my journey of life, there has always been a star placed by God in front of me. The star gives me direction. It is not always very bright, but it is enough for me to see. God's voice is soft, but very strong. The moment a person hears the voice of God and follows the star may be a "Rebecca" moment, one like Philippine Duchesne experienced when she boarded the ship named Rebecca after hearing God's call. Such moments are full of difficulties, yet grace-filled.
Years ago, God's star appeared to me. I followed it and left my hometown for an unknown land. With confusion, uncertainty, and fear I went, because God called. The day when I realised that God was with me in the Society of the Sacred Heart, all fears and doubts disappeared. Foreign cultures and languages enriched me. Through years of formation, I was moulded into a new creature.
Inspired by the zeal of Philippine Duchesne and the calls of the General Chapter in 2016, we sense a new "Rebecca" moment "to discover and reveal the love of the Heart of Jesus" (Constitutions #4) in new frontiers. The star appears again.
Now I have been sent to my home country to begin the Duchesne Project. Because of my long absence, things in my homeland are totally new for me. It will take some time to adjust to new cultures and ways of life. It will take time to communicate with people. But God's star leads me to the place where my heart is to dwell.
Maria Y., RSCJ, Province of Korea – Chinese
Image: Waldemar Flaig
Siguiendo la "Estrella"
   "Id por todo el mundo y predicad el evangelio a toda criatura." (Marco 16:15)
La misión empieza aquí. Filipina Duchesne fue la misionera RSCJ pionera que llegó a una nueva frontera. Regresando a mi país natal como RSCJ, soy consciente de que estoy caminando siguiendo sus pasos.
En mi camino de vida, siempre hubo una estrella colocada por Dios delante de mí. La estrella me da la dirección. No siempre es muy brillante, pero es suficiente para mis ojos. La voz de Dios es suave, pero muy fuerte. El momento en que una persona escucha la voz de Dios y sigue a la estrella, puede ser un momento "Rebecca", como uno de aquellos que Filipina Duchesne ha experimentado al embarcarse en el barco llamado Rebecca, después de haber oído la llamada de Dios. Tales momentos están llenos de dificultades, pero todavía llenos de gracia.
Hace años, me apareció la estrella de Dios. La seguí y salí de mi ciudad natal hacia una tierra desconocida. Con confusión, incertidumbre y temor me fui, porque Dios me había llamado. El día en el que me di cuenta de que Dios estaba conmigo en la Sociedad del Sagrado Corazón, todos los miedos y dudas desaparecieron. Las culturas y las lenguas extranjeras me enriquecían. A través de años de formación, fui moldeada en una nueva criatura.
Inspiradas por el celo de Filipina Duchesne y por las llamadas del Capítulo General de 2016, sentimos un nuevo momento "Rebecca" para "descubrir y revelar el amor del Corazón de Jesús" (Constituciones # 4) en nuevas fronteras. La estrella vuelve a aparecer.
Ahora me han enviado a mi país de origen para comenzar el Proyecto Duchesne. Debido a mi larga ausencia, las cosas en mi país natal son totalmente nuevas para mí. Necesitaré algún tiempo para adaptarme a nuevas culturas y formas de vida. Necesitaré tiempo para comunicarme con la gente. Pero la estrella de Dios me lleva ahí donde mi corazón debe morar.
Maria Y., RSCJ, Provincia de Corea – China
Imagen: Waldemar Flaig
Suivre l'Étoile
   « Allez par le monde entier, proclamez la Bonne Nouvelle à toute la création ». (Mc 16:15)
La mission commence ici. Philippine Duchesne a été la première missionnaire RSCJ à atteindre une nouvelle frontière. En rentrant dans mon pays natal en tant que RSCJ, je suis consciente de marcher sur ses traces.
Dans le voyage de ma vie, Dieu a toujours placé une étoile devant moi. L'étoile me donne la direction. Elle n'est pas toujours très lumineuse, mais l'est assez pour que je puisse voir. La voix de Dieu est douce mais très forte. Le moment où une personne entend la voix de Dieu et suit l'étoile peut être un moment « Rebecca », comme celui que Philippine Duchesne a vécu en montant à bord du navire nommé Rebecca après avoir entendu l'appel de Dieu. De tels moments sont pleins de difficultés et, toutefois, remplis de grâce. 
Il y a quelques années, l'étoile de Dieu m'est apparue. Je l'ai suivie et j'ai quitté ma ville natale pour une terre inconnue. Avec confusion, incertitude et peur, je suis partie car Dieu m'a appelée. Le jour où j'ai réalisé que Dieu était avec moi dans la Société du Sacré-Cœur, mes peurs et mes doutes se sont dissipés. Les cultures et les langues étrangères m'ont enrichie. Après plusieurs années de formation, j'ai été façonnée en une nouvelle créature.
Inspirées par le zèle de Philippine Duchesne et les appels du Chapitre général 2016, nous sentons un nouveau moment « Rebecca » pour « découvrir et manifester l'amour du Cœur de Jésus » (Constitutions §4) à de nouvelles frontières. L'étoile apparaît à nouveau.
Je me trouve aujourd'hui dans mon pays natal, où j'ai été envoyée pour démarrer le projet Duchesne. En raison de ma longue absence, tout est nouveau pour moi dans mon pays. Il me faudra du temps pour m'adapter aux nouvelles cultures et aux nouveaux modes de vie. Il me faudra du temps pour communiquer avec les gens. Mais l'étoile de Dieu me mène là où mon cœur doit demeurer.
Maria Y., RSCJ, Province de Corée – Chinoise
Image : Waldemar Flaig
Feliz año nuevo      Happy New Year      Bonne année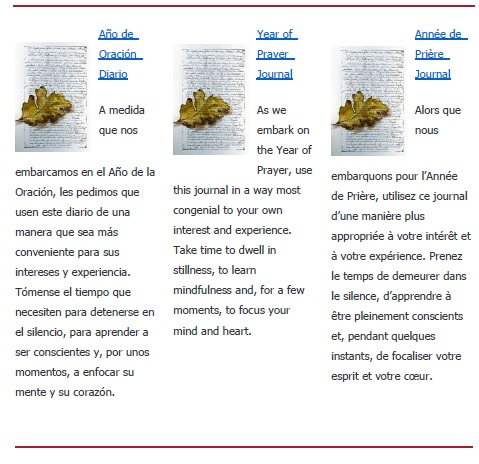 If you received this message from a friend and would like to receive our messages directly in the future, please sign up on our website.
Has your contact information changed recently? Update your full contact information and your mailing preferences.


Society of the Sacred Heart
4120 Forest Park Avenue, Saint Louis, MO 63108