Heart to Heart for Hearts
2017-12-25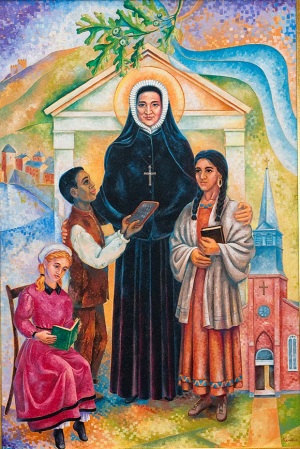 Heart to Heart for Hearts
Ever since I have come to know St. Philippine, she has become my friend and companion on my spiritual journey. Philippine's voyage to the New World resulted from a profound conversation and call from the Heart to her heart for all hearts. God beckoned her to let go, take action and move, to trust in the winds that would pelt the sails of her Rebecca, and to hold onto the rudder tightly and courageously on the high seas.
Philippine faced many setbacks, though they did not alter her dream of reaching the hearts she longed to touch. She was an educator and loved children. Not able to speak the language of the people, she spoke with her heart more than with words. Indeed, she left an indelible mark in their lives. No doubt, the Potawatomi children appreciated her compassion, and those who watched her silently praying named her "the woman who prays always."
Today God's voice is calling us deep in our hearts to rise up against all odds. The assurance that all depends on God, not our own effort, gives us courage and opens our eyes to see everywhere opportunities that are opening up as an invitation to move towards a new world, to walk the unfamiliar plains, rocky grounds, mountains and jungles to meet so many hearts that are waiting to be touched and loved.
Elizabeth Kasyoka, NSCJ, Province of Uganda – Kenya
Image: Mary Beth Kemper, CPPS
Corazón a corazón para los corazones
Desde que he empezado a conocer a Santa Filipina, se ha convertido en mi amiga y compañera de viaje espiritual. El viaje de Filipina al Nuevo Mundo fue el resultado de una conversación profunda y una llamada del Corazón a su corazón para los corazones. Dios la invitó a dejar ir, a actuar y moverse, a confiar en los vientos que habrían chocado con las velas de su Rebecca y a aferrar el timón con fuerza y valentía en alta mar.
A pesar de que Filipina enfrentó muchos contratiempos, estos no alteraron su sueño de llegar a los corazones que anhelaba tocar. Era una educadora y amaba a los niños. No podía hablar el idioma de la gente, hablaba con su corazón más que con las palabras. De hecho, dejó una huella indeleble en sus vidas. Sin duda, los niños Potawatomi probaron su compasión, y los que la veían orar en silencio la llamaron "la mujer que reza siempre".
Hoy, la voz de Dios nos llama a profundizar en nuestros corazones, a levantarnos contra todas las adversidades. La seguridad de que todo dependa de Dios, no de nuestro propio esfuerzo, nos da coraje y nos abre los ojos para poder descubrir cada una de las oportunidades que se abren como una invitación a avanzar hacia un mundo nuevo, a recorrer las llanuras desconocidas, los terrenos rocosos, las montañas y las selvas, para encontrar tantos corazones que están esperando ser tocados y amados.
Elizabeth Kasyoka, NSCJ, Provincia de Uganda – Kenia
Imagen: Mary Beth Kemper, CPPS
Cœur à cœur pour les cœurs

Depuis que je connais Ste Philippine, elle est devenue mon amie et celle qui m'accompagne dans mon cheminement spirituel. Le voyage de Philippine au Nouveau Monde résultait d'une profonde conversation et d'un appel du Cœur à son cœur pour les cœurs. Dieu l'a invitée à laisser les choses derrière elle, à agir et à avancer, à faire confiance aux vents qui souffleraient dans les voiles de son Rebecca, et à tenir fermement et courageusement la barre en haute mer.
Bien que Philippine ait connu de nombreux revers, ceux-ci n'ont pas altéré son rêve d'atteindre les cœurs qu'elle désirait toucher. Elle était éducatrice et aimait les enfants. N'étant pas capable de parler la langue des gens, elle parlait avec son cœur plus qu'avec les mots. En effet, elle a laissé une marque indélébile dans leurs vies. Sa compassion a, sans l'ombre d'un doute, été appréciée par les enfants Potawatomi et ceux qui l'observaient prier en silence et l'ont appelée « la femme qui prie toujours ».
La voix de Dieu nous appelle aujourd'hui, au plus profond de nos cœurs, à nous dresser contre tous les obstacles. L'assurance que tout dépend de Dieu, et non pas de notre propre effort, nous donne du courage et ouvre nos yeux pour nous permettre de voir partout les opportunités qui s'ouvrent comme une invitation à avancer vers un nouveau monde, à parcourir les plaines inconnues, les terres arides, les montagnes et les jungles pour rencontrer tant de cœurs prêts à être touchés et aimés.
Elizabeth Kasyoka, NSCJ, Province de Uganda – Kenya
Image: Mary Beth Kemper, CPPS
Feliz Navidad      Merry Christmas      joyeux Noël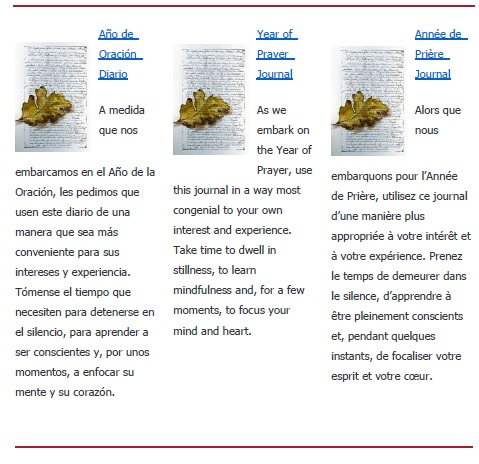 If you received this message from a friend and would like to receive our messages directly in the future, please sign up on our website.
Has your contact information changed recently? Update your full contact information and your mailing preferences.