Pools of Silence in This Thirsty Land
2017-12-17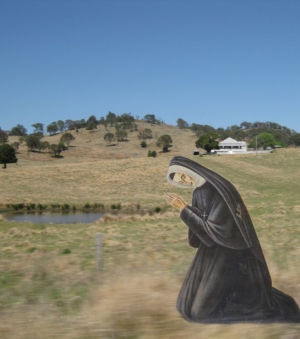 Pools of Silence in This Thirsty Land*
There is much in Philippine's life of prayer that could be a source of reflection for us, but today let us focus on just one aspect – how her prayer touched and inspired others, especially her beloved Potawatomi.
Philippine is nearing the end of her life after physical illness and much heart suffering. She is at last at Sugar Creek among the Potawatomi peoples to whom she longed to bring knowledge of the Heart of Jesus. She is unable to learn their language but they have observed her at prayer and felt her kindness and her concern for them. As is their custom, they have given her a name expressive of who she essentially is, Quah-Kah-Ka-num-ad (woman-who-prays-always).
Philippine is important to them in herself, but she is also a signpost pointing beyond herself to the Great Spirit, the Native American name for God. It is the Great Spirit who gives her life meaning, inspiration, beauty and love. Through Philippine the Great Spirit calls the Potawatomi to find new meaning for their own lives – new inspiration, beauty and love.
Today, Philippine's example invites each of us to live and pray in such a way that others, especially the young, may see new possibilities in their own lives and so choose what is truly life-giving.
Geneviève Bannon, RSCJ, Province of Australia – New Zealand
Image: Rita Carroll/Milton Frenzel
*Title and photograph inspired by the Australian poet, James McCauley, who likens prayer to "pools of silence in this thirsty land."
Charcos de silencio en esta tierra árida*
Hay mucho en la vida de oración de Filipina que podría ser una fuente de reflexión para nosotras, pero hoy concentrémonos en un solo aspecto – en cómo su oración ha tocado e inspirado a los demás, en particular a sus queridos Potawatomi.
Filipina se está acercando al final de su vida después de una enfermedad física y muchos problemas de corazón. Se encuentra en Sugar Creek entre los Potawatomi a los cuales deseaba dar a conocer el Corazón de Jesús. No logra aprender el idioma de este pueblo, pero ellos la han observado durante la oración y han percibido su bondad y preocupación por ellos. Como era su costumbre, le dieron un nombre que expresaba quien era en su esencia, Quah-Kah-Ka-num-ad (la mujer-que reza-siempre).
Filipina es importante para ellos no solo como persona sino como un indicador en el más allá del Gran Espíritu, el nombre nativo americano que se daba a Dios. Es el Gran Espíritu que da un sentido a su vida, le da inspiración, gracia y amor. A través de Filipina, el Gran Espíritu invita a los Potawatomi a buscar un nuevo significado para sus vidas – nueva inspiración, gracia y amor.
Hoy, el ejemplo de Filipina invita a cada una de nosotras a vivir y orar de manera que los demás, en particular los jóvenes, puedan ver nuevas posibilidades en sus vidas y elegir así lo que es realmente vivificante.
Geneviève Bannon, RSCJ, Provincia de Australia – Nueva Zelanda
Imagen:  Rita Carroll, RSCJ/Milton Frenzel
*Título y foto inspirados por el poeta australiano James McCauley, quien compara la oración a los "charcos de silencio en esta tierra árida".
Bassins de silence sur cette terre aride*
De nombreux aspects de la vie de prière de Philippine pourraient être pour nous une source de réflexion mais intéressons-nous aujourd'hui uniquement à l'un de ces aspects : comment ses prières ont-elles touché et inspiré les autres et, en particulier, les Potawatomi qu'elle chérissait tant.
Suite à une maladie physique et à une grande souffrance due à des problèmes cardiaques, Philippine approche de la fin de sa vie. Elle se trouve à Sugar Creek, parmi les Potawatomi, à qui elle souhaite apporter la connaissance du Cœur de Jésus. Elle est incapable d'apprendre leur langue mais ils l'ont observé prier et ont ressenti la bienveillance et l'intérêt qu'elle a pour eux. Comme le veut leur coutume, ils lui ont donné un nom qui exprime ce qu'elle est essentiellement : Quah-Kah-Ka-num-ad (femme-qui-prie-toujours).
Philippine est importante pour eux en tant que personne mais elle sert également de jalon indiquant, au-delà d'elle-même, le Grand Esprit (le nom amérindien pour Dieu). C'est le Grand Esprit qui donne un sens à sa vie et lui apporte inspiration, beauté et amour.
Aujourd'hui, l'exemple de Philippine invite chacun d'entre nous à vivre et à prier de sorte que les autres, en particulier les jeunes, puissent voir de nouvelles possibilités dans leur propre vie et choisir ainsi ce qui est réellement vivifiant.
Geneviève Bannon, RSCJ, Province d'Australie – Nouvelle-Zélande
Image : Rita Carroll, RSCJ/Milton Frenzel
*Titre et photographie inspirés du poète australien James McCauley, qui compare la prière à des « bassins de silence sur cette terre aride ».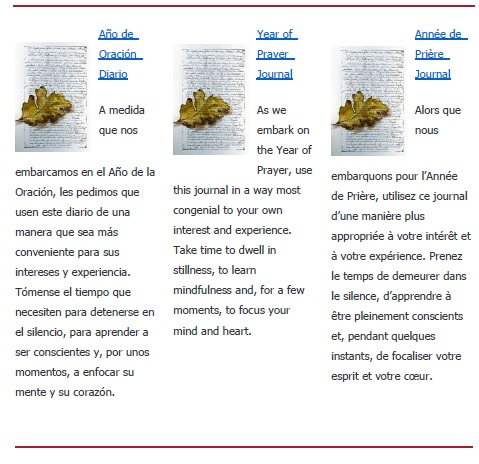 If you received this message from a friend and would like to receive our messages directly in the future, please sign up on our website.
Has your contact information changed recently? Update your full contact information and your mailing preferences.