Healing Love
2017-12-11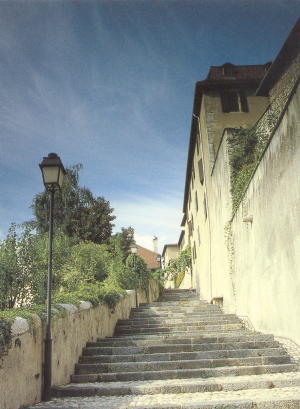 Montée de Chalemont leading up to the Monastery of Sainte-Marie d'En-Haut
Montée de Chalemont que lleva al Monasterio de Sainte-Marie-d'En-Haut
Montée de Chalemont vers le Monastère de Sainte-Marie-d'En-Haut
English | Español | Français | 日本語
Healing Love
In the spring of 1804 Sophie Barat was seriously ill, and doctors in Paris could only ease her condition, not cure it. A turning point came in July 1806, when Sophie spent some weeks in Grenoble with Philippine Duchesne. During this visit Philippine nursed Sophie back to health. However, this recovery took place only when Sophie had left Grenoble, but she was sure it was due to Philippine's loving care.  
On 1 August 1806, Sophie wrote to Philippine telling her how much their deepening friendship meant to her and how she had been healed: 
You know the state I was in when I left you. I was still in Lyon when all symptoms had disappeared. All disappeared in a night. I am completely healed. 
Sophie confirmed her complete cure on 30 August 1806, and told Philippine:
The Lord has blessed your good care of me. I have had no further symptoms of my illness since Lyon.  
 
From 1818, Philippine and Sophie spent their lives apart, one in Europe and the other in Louisiana. The healing energy of love between them would always exist, however long apart they were physically, however difficult and erratic their communications, however diverse and difficult their experiences. That energy, that love, could cross and re-cross the Atlantic waves and reach their shores. And they were sure of it, they could count on it, and they did, to the end.
Author/Image: Phil Kilroy, RSCJ, Province of Ireland – Scotland
Amor sanador
En la primavera de 1804, Sofía Barat estaba gravemente enferma y los médicos en París sólo podían aliviar su condición, no curarla. Un momento decisivo fue en julio de 1806, cuando Sofía pasó algunas semanas en Grenoble con Filipina Duchesne. Durante esta visita, Filipina ayudó a Sofía a recuperar su salud. Sin embargo, esta recuperación tuvo lugar sólo cuando Sofía había salido ya de Grenoble, pero estaba segura de que fue debido a la afectuosa atención de Filipina.
El 1 de agosto de 1806, Sofía escribió a Filipina diciéndole lo mucho que su profunda amistad significaba para ella y cómo había sido curada:
Tú sabes el estado en que estaba yo cuando te dejé. Todavía estaba en Lyon cuando todos los síntomas habían desaparecido. Todos desaparecieron en una noche. Estoy completamente curada.
Sofía confirmó su curación completa el 30 de agosto de 1806, y dijo a Filipina:
El Señor ha bendecido la atención que me has dedicado. No he tenido más síntomas de mi enfermedad desde Lyon.
A partir de 1818, Filipina y Sofía pasaron su vida separadas, una en Europa y la otra en Luisiana. La energía curativa del amor entre ellas existiría siempre, a pesar de estar físicamente separadas, y aunque  sus comunicaciones fueran difíciles y erráticas y sus experiencias diversas y difíciles. Con esa energía y ese amor, podían cruzar y re-cruzar las olas del Atlántico y llegar a sus costas. Y de esto estaban seguras, que podían contar con esto, y lo hicieron, hasta el final.
Autora/Imagen: Phil Kilroy, RSCJ, Provincia de Irlandia – Escocia
Amour guérisseur
Au printemps 1804, Sophie Barat était sérieusement malade. À Paris, les médecins ne pouvaient que la soulager, et non la guérir. Juillet 1806 fut un tournant pour Sophie, lorsqu'elle passa plusieurs semaines à Grenoble avec Philippine Duchesne. Au cours de cette visite, Philippine prit soin de Sophie jusqu'à ce qu'elle recouvre la santé. Sophie fut guérie uniquement lorsqu'elle quitta Grenoble, en étant toutefois convaincue que les soins et l'affection de Philippine y étaient pour quelque chose.
Le 1er août 1806, Sophie écrivit à Philippine pour lui dire combien leur profonde amitié comptait pour elle et comment elle avait été guérie :
Vous savez, quand je vous quittai, en quel état j'étais […] Je n'étais point sortie de Lyon que tout avait disparu […] Tout fut partie dans une nuit ; je suis tout à fait guérie.
Le 30 août 1806, Sophie confirma à Philippine sa complète guérison et lui dit :
Le Seigneur a béni vos soins ; je ne me suis plus ressentie de ma maladie, depuis mon départ de Lyon.
À partir de 1818, Philippine et Sophie ont vécu séparément, l'une en Europe et l'autre en Louisiane. L'énergie de l'amour guérisseur existera toujours entre elles, peu importe la distance qui les sépare physiquement, peu importe leurs communications difficiles et erratiques, peu importe leurs diverses et rudes expériences. Cette énergie, cet amour, pourrait traverser encore et encore l'Atlantique et atteindre leurs rivages. Et elles étaient convaincues de cela, elles pouvaient compter sur cela ; et c'est ce qu'elles firent, jusqu'à la fin.
Auteur / Image : Phil Kilroy, RSCJ, Province d'Irlande – Écosse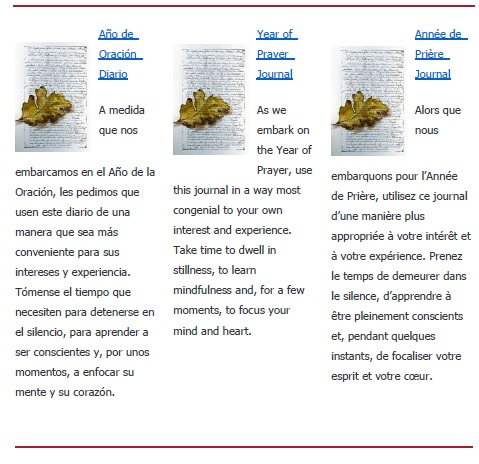 If you received this message from a friend and would like to receive our messages directly in the future, please sign up on our website.
Has your contact information changed recently? Update your full contact information and your mailing preferences.