What Drove Her to Prayer?
2017-12-04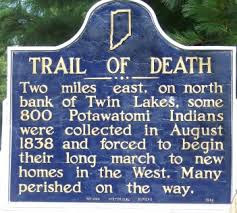 What Drove Her to Prayer?
In 1841 Philippine Duchesne arrived at a new frontier – St. Mary's Mission in Sugar Creek, Kansas. There she lived with people who today we would call internally displaced persons. The Potawatomi had not only been forcibly displaced from their traditional homeland in Indiana, but had suffered deaths, and murders of family members by American militia along the Trail of Death. These events took place between 1838-1840, just before Philippine's arrival.
Like us, Philippine was shaped by her faith and by the social attitudes and political context of her day. The Trail of Death was a 19th century political action that forcibly changed the lives of the Potawatomi. It also influenced Philippine and her companions, whose intention was to join in the Church's mission of evangelization and to start a girls' school for the Potawatomi.
What did Philippine see when she arrived among the Potawatomi with whom she could not communicate? Did she feel their suffering from the brutality of forced displacement? If so, how did she integrate the politics of her day with the Society's mission of love and her faith in the Gospel? What did "Woman Who Prays Always" pray about during long hours while she lived among the Potawatomi? As we reach for new frontiers in our contemporary world, we too come shaped by the politics and attitudes of our day. For what do we pray? Are our social attitudes and political actions congruent with the Gospel values we profess?
Author: Sheila Smith, RSCJ, Province of the United States – Canada
¿Que llevó Filipina a la oración?
En 1841, Filipina Duchesne llegó a una nueva frontera – la misión de St. Mary en Sugar Creek, Kansas. Allí vivió con personas que hoy llamaríamos desplazados internos. Los Potawatomi no sólo habían sido desplazados forzosamente de su tierra natal en Indiana, sino que habían sufrido muertes y asesinatos de familiares por parte de las milicias estadounidenses a lo largo del Camino de la Muerte. Estos acontecimientos tuvieron lugar entre 1838-1840, justo antes de la llegada de Filipina.
Como nosotros, Filipina estaba moldeada por su fe y por las actitudes sociales y el contexto político de su tiempo. El Camino de la Muerte fue una acción política del siglo XIX que cambió forzosamente las vidas de los Potawatomi. También influenció a Filipina y a sus compañeras, cuya intención era unirse a la misión evangelizadora de la Iglesia y fundar una escuela de niñas para los Potawatomi.
¿Qué vio Filipina cuando llegó entre los Potawatomi con los que no podía comunicarse? ¿Sentía su sufrimiento por la brutalidad del desplazamiento forzado? Si es así, ¿cómo integró la política de su tiempo con la misión de amor de la Sociedad y su fe en el Evangelio? ¿De qué oraba la "mujer que ora siempre" durante las largas horas en las que vivía entre los Potawatomi? A medida que avanzamos hacia nuevas fronteras en nuestro mundo contemporáneo, nosotros también estamos formados por las políticas y actitudes de nuestros días. ¿Para qué oramos? ¿Nuestras actitudes sociales y acciones políticas son congruentes con los valores evangélicos que profesamos?
Autora: Sheila Smith, RSCJ, Provincia de los Estados Unidos – Canada 
Ce qui l'a menée à la Prière ?
En 1841, Philippine Duchesne a atteint une nouvelle frontière – la Mission de St. Mary à Sugar Creek, Kansas. Là-bas, elle a vécu avec des gens que nous appellerions aujourd'hui des personnes déplacées à l'intérieur de leur propre pays. Les Potawatomi n'ont pas seulement été déplacés de leur terre natale (Indiana) par la force, mais ils ont aussi subi des décès et vu des membres de leurs familles assassinés par la milice américaine sur la Piste de la Mort. Ces événements ont eu lieu entre 1838 et 1840, juste avant l'arrivée de Philippine.
Tout comme nous, Philippine a été façonnée par sa foi et par les comportements sociaux et le contexte politique de son époque. La Piste de la Mort était une action politique du 19e siècle qui a changé la vie des Potawatomi par la force. Elle a également influencé Philippine et ses compagnes, dont l'intention était de se joindre à la mission d'évangélisation de l'Église et d'ouvrir une école pour les filles Potawatomi.
Qu'a vu Philippine lorsqu'elle est arrivée chez les Potawatomi, avec qui elle ne pouvait communiquer ? A-t-elle ressenti leur souffrance due à la brutalité de leur déplacement forcé ? Si oui, comment a-t-elle intégré la politique de son époque à la mission d'amour de la Société et à sa foi en l'Évangile ? Pour quoi la « femme qui prie toujours » priait-elle pendant de longues heures alors qu'elle vivait parmi les Potawatomi ? Alors que nous cherchons à atteindre de nouvelles frontières dans notre monde contemporain, nous sommes également façonnés par les politiques et les comportements de notre époque. Pour quoi prions-nous ? Nos comportements sociaux et nos actions politiques sont-ils en accord avec les valeurs de l'Évangile que nous professons ?
Auteur : Sheila Smith, RSCJ, Province des États Unis – Canada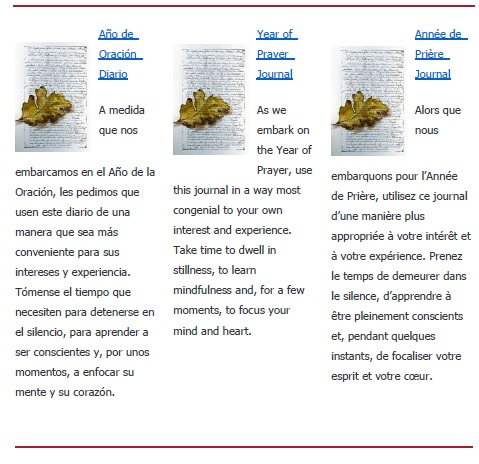 If you received this message from a friend and would like to receive our messages directly in the future, please sign up on our website.
Has your contact information changed recently? Update your full contact information and your mailing preferences.